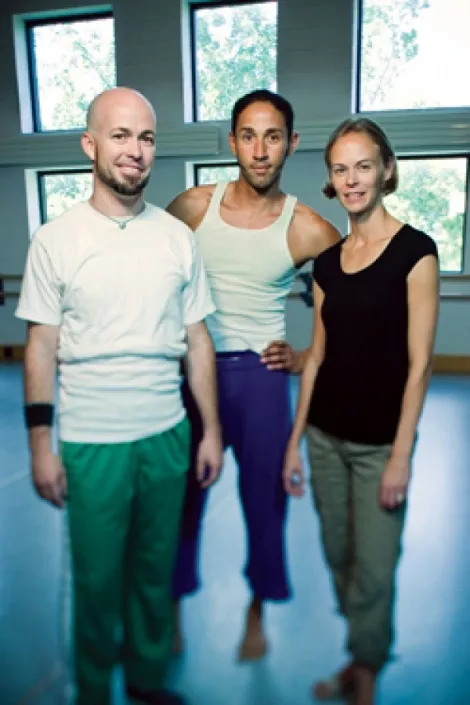 Umbrella titles for multichoreographer dance concerts often have little or no relevance to the actual collection of works.
Momentum
, on the other hand, actually does seem to fit the bill.
An evening of modern dance independently produced by a trio of Ririe-Woodbury Dance Company alumni,
Momentum
surely was chosen as a moniker describing the promising continuation of three creative careers. It suggests that even after leaving the rewarding limelight as full-time stage artists for a professional company, there are plenty of creative challenges that lie ahead. Sometimes, all you need is a little push.
Take, for instance, our trio of first-time producers: John Allen, Juan Carlos Claudio and Jill Voorhees Edwards. Although Allen is busy as a Tulane University professor, Claudio keeps himself occupied as an MFA candidate at the University of Utah, and Edwards chases after and cares for her three children, they still felt compelled to choreograph new work. With naïveté leading the way, they thought producing an evening-length vehicle for their own work would be the best way to go—sort of how out-of-work actors might write screenplays with themselves in the leading roles.
Although it probably isn't the intended allusion,
Momentum
must also refer to the fact that once a crazy idea gets that little nudge, projects commonly take on the energy of a downhill-rolling boulder. "It's as simple as 'We wanted to do it,' so we did," says Claudio. "All three of us felt very strongly about it, and we've been tossing the idea around since September. By the time January rolled around, we were all just willing to throw ourselves at it, willing to suffer any consequences."
In the beginning, the concept was that the three of them would fill the evening with their own work—which ultimately would mean creating two to three pieces apiece. But, as the responsibilities of the daily grind intruded, they quickly realized that a better way to go would be to open the evening up to more diversity.
The calls went out, and the roster grew with names such as local favorite Stephen Brown of SBDance; John Mead, an internationally acclaimed educator, choreographer and former Repertory Dance Theatre member; and Anna Morris, a former member of First Physical Theatre in South Africa.
"John Allen wanted to bring a number of dancers with him for his piece," says Claudio. "One was Diogo de Lima, [whom] he worked with in New Orleans and is also a member of Grupo Corpo in Brazil. For us, it was easy to see that one of Diogo's works would not only add dimension to the program, but it would also help to draw people into buying tickets."
Once they began to involve friends and call in favors, it seemed there was no way to stop the … well, momentum, especially within this community. Here in Salt Lake City, if people believe in what you're up to, they are more than happy to do things for free. From the dancers to the sponsors to the choreographers, artists simply line up for the chance to help create something innovative and engaging. And it's not as though there's nothing else going on, so that they don't have a choice. There's plenty of work in this valley—work that generally involves getting paid.
Luckily, the community doesn't just run on dollars and cents. That pro-bono thing can be kind of a deal breaker, especially when there is no funding whatsoever. Zero budget. And if the trio that seems content to place all their bets on Momentum is luckier still, they might just get a decent audience for the two evening performances. Ticket sales could generate enough to cover most of the random expenses. As Claudio puts it, when all is said and done, he'll be happy if not too much has to come out of his own stretched-thin pockets.
So why take on a project like this, exactly? Because nobody likes to feel like an artist without a home.
"In a way, we thought, 'Why not?'" says Edwards, "'Why can't we do this, especially if we're all feeling the need to create?'"
"The thing is, we haven't done a lot of choreography," he continues. "I've done several pieces in the past, but I'm not seasoned in that world of creating. I used to just get grumpy and nauseous with the process. I find that I get itchier and itchier to create something if I don't have anything in the works. For me, this whole thing is about me finding my voice. I think that's part of the frustration, but it's also the thrill. How do you find your true voice now as an independent artist?"
Apparently, it never hurts to have a little momentum.
MOMENTUM Rose Wagner Performing Arts Center, 138 W. Broadway, Aug. 24-25. 8 p.m 355-ARTS, ArtTix.org
cw