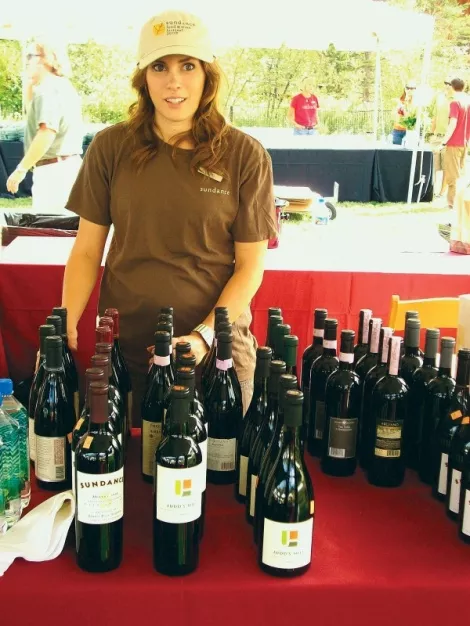 Sundancing

Get your calendars out%uFFFD —you don't want to miss this: On Saturday, Sept. 5, from 12-4 p.m., Sundance Resort will host the fourth annual Food and Wine Festival on Ray's Lawn, at the base of Mount Timpanogos. The event features food from some of Utah's top chefs and restaurants in combination with the featured vintners of Sundance's Celebrating Wine as Art program. According to Sundance spokewoman Lucy Ridolphi, "[with] Celebrating Wine as Art, established in 2004, the resort partners with distinctive vintners who exemplify an aspect of the Sundance values and mission, including the commitment to environment, the celebration of independent voice and spirit, and creativity."

Among the Sundance Label wines being showcased at the Sundance Food and Wine Festival will be Honig- Sundance Sauvignon Blanc, Selby- Sundance Chardonnay, DeLoach- Sundance Pinot Noir, Viader-Sundance Cabernet Sauvignon, Bethel Heights- Sundance Justice Redford Reserve Pinot Noir, Judd's Hill-Sundance Merlot, Altamura-Sundance Cabernet Sauvignon and Mer Soleil-Sundance Late Harvest Viognier, along with more than 150 additional wines from all over the globe.

Restaurants participating (as of press time) are Pizzeria 712, Blue Boar Inn, Tony Caputo's/Tipica, Lug%uFFFDno, Snake Creek Grill, Pago, Texas BBQ, Biaggi's, Magleby's, Shabu, Donovan's, Ruth's Chris, The Tree Room, Foundry Grill and Zoom. Admission is $65 per person and includes access to all vintner and restaurant booths. You can purchase tickets online at SundanceResort.com or by phoning 801-223-4242.
The Royal Treatment

Deer Valley Resort's Royal Street Café is open daily for lunch, from 11:30 a.m.-2:30 p.m., through Labor Day. If you haven't made it up to Royal Street yet this summer for lunch on its beautiful slopeside deck, you owe yourself that treat. My advice: Begin lunch with Deer Valley's award-winning Elderflower cocktail and the shrimp and lobster "margarita" with papaya salsa and guacamole. I'm also a big fan of the yellowfin tuna tartare with crispy herb chips, lime-caper aioli, arugula, white truffle oil and lemon juice. It's also hard to top the gazpacho and iceberg lettuce wedges this time of year. Phone 435-645-6724 for reservations.
Quote of the week: All real men love to eat. —Marlene Dietrich
Send Food Matters tips & info to tscheffler@cityweekly.net