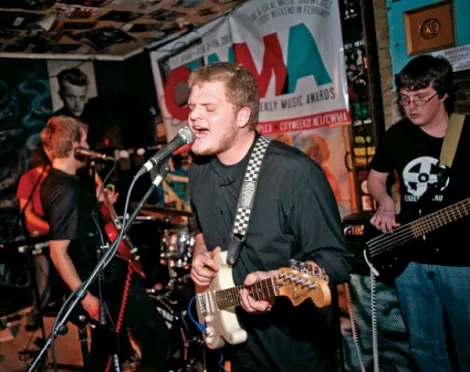 Against a backdrop of smokestacks and refineries, Fox Van Cleef sits at a sturdy, oak table at The Garage, where the Ogden-based five-piece just wrapped up a set. The steins of dark beer and PBR tallboys stack high on the table, and folks overflow from the surrounding seats.
With a crowd that includes the band, their manager and numerous friends, there are more people than is necessary or prudent for an interview. When the first questions are fired off, there's a cacophony of half-yelling/half-laughing responses from everyone. With that, however, it's instantly obvious that this band, and its fans, have an absolute passion for the music.
Their set included a dozen or so original songs that date back to 2006, when the guys first started delivering soul-soaked jam tracks that are rolled in psych and graciously dunked in funk. It's easily consumable, full of flavor and all Utahn, albeit bent—like the fried Mormon funeral potatoes at The Garage.
This sound is delivered on Fox Van Cleef's two EPs: the 2009 release Cigarettes, Terrorism, etc. and the 2010 release Pleasure Junkies. Keeping the pace up, the band will release its first full-length album, Prescription Tea Party, this year.
Originally, the album was to be released exclusively on vinyl. "We thought about not putting it out on CD, because we got [a CD] recently from another band and brought it home and realized that none of us own a CD player," says manager Matt Hinds. After weeks of numbers crunching and assuming that even fewer people own record players, the band opted for both CD and MP3 releases and to nix the vinyl altogether. "It just wasn't realistic," says vocalist Dustin Bessire from behind a tallboy. He is the most soft-spoken of the group, despite his strong bluesy pipes from behind the mic.
The CD release will be at at The Garage in conjunction with the SLUG Day of the Dead Party. The show serves two purposes for the band. "They want to break out and help [establish] this new venue, while at the same time releasing an awesome CD," says friend Blake Hirschi.
"Fox Van Cleef doesn't like to dilute their music, and they'd rather keep it secular and in a venue where they can mainstream [their music], but not in a sense where everybody hears it every single day," Hirschi says, eliciting another half-dozen "Exactly!"s.
The sipping and chatting goes long—eventually the bar starts to close. A few more questions are squeezed in before the Fox Van Cleef crowd becomes "those people."
Bassist Chase Baur has a chance to chime in to answer a question about how their sound is different from other local acts. Their sound stems from their super-diverse musical tastes, he says, crediting artists like Adele, Jurassic 5, Tom Waits, Led Zeppelin and Pink Floyd. "There are a lot of [members] in the band, and we all listen to a huge variety of music, and it comes out when we're writing a new song," he says.
Their brand of rock might not be for everyone, though, the band members all agree. They explain that some radio stations, like community-supported KRCL 90.9 FM, aren't particularly savvy on their sound. They love the station, though, and aren't heartbroken when people won't give them a spin.
Before chugging his last gulp of beer so the band can finally leave the bar, guitarist Jesse Hodshire puts it perfectly: "Our love of music comes out in our songs, and you can tell."
SLUG DAY OF THE DEAD PARTY
Fox Van Cleef CD Release
w/ Max Pain & The Groovies, DJ Curtis Strange
The Garage
1199 N. Beck St.
Saturday, Oct. 29, 8 p.m.
$6