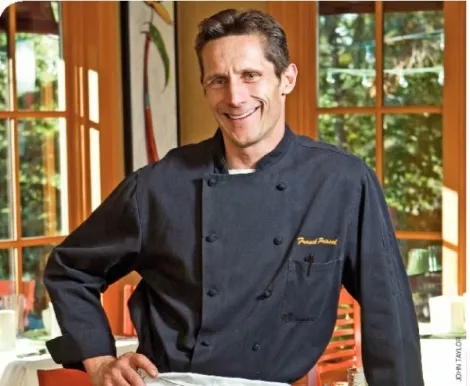 I have known Franck Peissel—for whom Franck's restaurant in Holladay is named—since he was drafted from New York City by the owners of Tuscany to open L'Avenue, the loss of which I still sadly lament. Over the years, I've found Peissel to be affable, witty, creative, intelligent and, most important, sane.
Looking over the new menu he launched this fall, however, I thought Peissel had possibly lost his mind. Either that, or he'd been dipping a bit too heavily into the absinthe: Pork with bacon root beer sauce? Soy-strawberry polenta? Scallops with white chocolate wasabi sauce? Are you freaking kidding me?
Portions of the new Franck's menu seemed to be a put-on. In my mind, I could picture the kitchen crew—via the unique "chef-cam" at Franck's—consorting and issuing challenges: Let's see if we can get someone to eat this!
So, naturally, I had to take these nutty-sounding creations out for a spin. Peissel won me over long ago with his "Southern" fried chicken, pork/veal/chicken meatloaf, coq au vin, three-cheese fondue, classic escargot and filo-wrapped salmon, all of which still appear on the current menu. But, when presented with the opportunity to taste soy-strawberry polenta cake, how could I resist?
Returning to Franck's after a long absence, I'd forgotten how visually appealing the restaurant is. A Mediterranean color palette and retro-cool "chandeliers" combine with well-chosen art and tunes—a Carla Bruni recording filled the air as we sat down—to create a cozy but vibrant ambience where service is simultaneously friendly and professional. Situated in what was previously a small house, the warmth of Franck's reminds me of other cozy dining spots around town, such as Café Madrid, Fresco, Martine, Cucina Toscana and the like—not exactly the type of setting in which I'd expect to encounter foie gras ice cream.
Normally, I'd just say no to foie gras ice cream. But, at Franck's, it comes alongside the pan-seared foie gras ($14.95)—and I never say no to foie gras. Perched atop a small medallion of tender, rich, slow-braised lamb breast, the melt-in-the-mouth foie gras slice is drizzled with mushroom-truffle sauce and served with, yes, foie gras ice cream in a tiny liqueur glass. To me, foie gras ice cream sounded dreadful, but it tasted exquisite— although the petite serving is all you'd really want or need. Like foie gras itself, a little foie gras ice cream goes a long way. Paired with a glass of Chandon Blanc de Noirs, the pan seared foie is a classy way to kick off a Franck's meal.
Judging from the oohs and ahhs at the table next to ours, the wild mushroom tart with port wine reduction, truffle essence and baby arugula ($9.95) was another great starter. I tasted it a couple of years ago and loved it as much as our dining neighbors. I can also vouch for Franck's calamari Provencal ($8.95), which is a generous helping of calamari rings and tentacles presented in a tilted/angled white bowl and bathed in a delectable basil pesto, with Nicoise olives and oven-dried tomatoes. This entrée-size appetizer pairs beautifully with Olivier Leflaive Les Setilles Bourgogne Blanc. Incidentally, every item on Franck's menu comes with a suggested wine pairing—a very nice touch that more restaurants should consider. (Special kudos to Tuscany/Franck's bar manager Daniel Cuthbertson for his spot-on pairings to accompany Peissel's admittedly complex fare.)
You want complex? I'll give you complex. How about pan-seared diver scallops ($33.95) with baby veggies, braised turnips, Thai eggplant and soy-strawberry polenta cake? And, oh yeah, it comes in a white chocolate wasabi sauce. Reading the dish's description on the menu made me think of the line in The Rocky Horror Picture Show: "Madness takes its toll." Soy-strawberry polenta and white chocolate wasabi sounded mad to me. But I'll be damned if this dish didn't work. I don't know how Peissel conceives of such outlandish concoctions—nor am I sure I want to know—but, thanks to his impeccable palate and tremendous technical skills, Peissel succeeds where lesser chefs would crash and burn. His scallop dish is all about subtlety. A hint of strawberry in the polenta cakes lends a subtle sweetness of the type you typically find in good cornbread. And, frankly, I couldn't detect white chocolate in the scallops' sauce (which is probably a good thing). All I know is that the sauce, with just the remotest hint of wasabi, was silky and sublime.
Between courses, Franck's co-owner (along with new partner Guy Wadsworth) and ex-Utah Jazz great Mark Eaton dropped by for a quick visit and a glass of wine. At our superb server Wendy's insistence, we all sampled a new soup Peissel had conjured up: apricot and Nicoise olives. Again, I thought, "No way." Again, I was proved wrong. It turns out that you can make a happy marriage of olives and apricots. The soup was simply lovely, and I wouldn't be surprised if it became a Franck's mainstay. A light touch with the truffle-herb jus helped make boneless, slow-braised beef short ribs with Israeli couscous ($33.95) yet another home run. My head was spinning as we pondered dessert.
I am nothing if not Proustian in my remembrances of dishes past. And Franck's warm chocolate "tart" with sea salt and pistachio ice cream is now seared permanently into my memory banks, having entered onto a short list of about a dozen of the most spectacular things I've ever put into my mouth. My wife, who normally eschews chocolate, concurs; she said of Peissel's delectable dessert, "That is the only thing I want for my birthday this year … and I'll eat it off of any part of your body." Such are the sensuous pleasures of Franck's.

FRANCK'S
6263 S. Holladay Blvd.
801-274-6264
FrancksFood.com