If there are three bands that expertly mine horror and sci-fi caverns of popular culture with big success, it's The Fleshtones, Southern Culture on the Skids and Los Straitjackets. Out Oct. 1, they jointly released Mondo Zombie Boogaloo: 100 Years of Roc (Yep Roc), a collection of fun and freaky tunes, just in time for the holidays—you know, Halloween, All Souls Day, Día de los Muertos, Devil's Night, etc. It's a helluva good time—"more bloody fun than Bela Lugosi hosting American Bandstand," according to SCOTS themselves—with each band turning in originals and covers of Halloween's greatest hits.
Southern Culture on the Skids, with bassist Mary Huff on vocals, channel Deadbolt's deadpan rockabilly sound on "Demon Death." The Fleshtones get scathingly topical with "Haunted Hipster." Surf-instrumental purveyors Los Straitjackets provide crowd-pleasing covers of the themes from Halloween and Ghostbusters—both of which, especially the latter, are irresistible.
Here are a few more tunes you can add to your Halloween playlist:
John Zacherle, "Halloween Hootenanny" (Halloween Hootenanny, Zombie-A-Go-Go/Geffen, 1998)
"Monster girls and monster men, patiently wait for the fun to begin … a glorious hootenanny called … Halloween." This is just a nice way to start a Halloween mix, with John Zacherle (aka Zacherley). Now retired, he hosted a late-night horror-movie show on TV in 1957 and '58 called
Shock Theater
and recorded similarly themed albums. Check out the 2012 reissue of
Monster Mash/Scary Tales
(Real Gone, 2012).
The Born Losers, "Werewolves on Wheels," (Halloween Hootenanny, Zombie-A-Go-Go/Geffen, 1998)
The band behind this track—named for the B-grade movie—is actually The Ghastly Ones. Here, they're The Born Losers, probably so they wouldn't seem like overt favorites of Zombie-A-Go-Go label honcho Rob Zombie, who released The Ghastly Ones' 1998 album A-Haunting We Will Go-Go. This isn't freaky so much as it's just a cool biker-surf instro with a howling intro. In fact, it sounds more like a cartoon theme song—but those are all good things.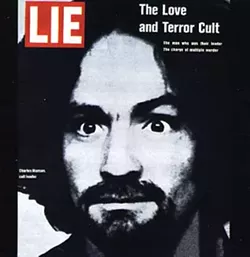 Charles Manson, "Look at Your Game, Girl" (Lie: The Love & Terror Cult, ESP Disk Ltd., 1970)
Perhaps the scariest thing about this song by the notorious Svengali-slash-slasher(-enabler, probably, since he never actually did his own dirty work), is that it's a relationship song. And it ain't half bad. Even Guns N' Roses thought so—they covered it as a hidden track on
The Spaghetti Incident
. There are some odd lyrics, but if you heard the tune at a coffeehouse open mic, you'd actually listen and think, "You know, I'll bet this dude is really into Terry Callier." And maybe even buy the CD.
45 Grave, "Partytime" (The Return of the Living Dead OST, Restless, 1985)
This, from the 1985 zom-com
The Return of the Living Dead
, is the more popular version of 45 Grave's song. The original "Partytime" lyrics—about a 5-year-old girl who was done immeasurable wrong by her mother and her mother's friends—are tough to hear; you have to keep telling yourself that "it's only a song," and that 45 Grave singer Dinah Cancer wasn't celebrating the act, but condemning it. That song rocks hard otherwise, but get this
Return of the Living Dead
soundtrack version instead, 'cause it's all about partying in a graveyard.
The Minus 5, "Lies of the Living Dead" (In Rock, Yep Roc, 2004)
As with a lot of rock & roll tunes, The Minus 5 is just using horror-film imagery as metaphor for real-life stuff. It's not the first time Scott McCaughey has done it, but here in a raucous, snotty, kickass anthem, it's pretty effective. Think of your soulless ex and how he or she took liberties with the truth as though it was no big deal. If it walks and talks like a zombie …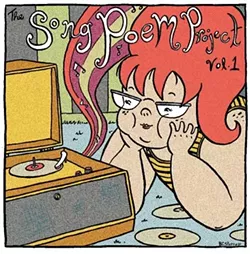 Thompson Owen, "Hollow Earth Hypothesis" (The Song-Poem Project Vol. 1, Swoody Records, 2013)
Sounding a bit like Daniel Johnston, Owen performs a song based on a poem by B.C. Sterrett, a local comic- book writer/illustrator and ringmaster of Incredibly Strange Movie night at Brewvies. It's about cheese, and it starts out all sexy: "Peeling back the plastic now, the cheese is in the nude/ so white and pure and stinky/ this cheese is my favorite, dude." It takes a turn for the worse, though, as our song's protagonist winds up underground among strange creatures that also really want that cheese. Maybe not so scary … but definitely strange.
Mike Oldfield, "Tubular Bells Parts One and Two" (Tubular Bells, Virgin, 1973)
The main piano part is what everyone recognizes as the theme from The Exorcist. That's how side one of Oldfield's now-classic album starts out: haunting and urgent and rather cold—and it only gets creepier. Oldfield jumps between time signatures and minor and major keys, and brings in new instruments and vocalizations so the piece is constantly changing. The only constant is that the listener is never at peace. The changes, even when they sound calm or beautiful, are only setups—especially in Part 2. The subsection "Peace" nearly lulls you into its titular state. Then, "Bagpipe Guitars" returns the tension and even ratchets it up before heavy drums herald the arrival of the "Caveman" (or "Piltdown Man"). His guttural utterances suggest a much more frightening entity—an angry demonic presence. Rumor has it that it's just Oldfield, drunk on Jameson, pitching a fit against Richard Branson's insistence that one track on the album have vocals. But the screams, howls and growls sound positively baleful. He must've been pretty pissed.