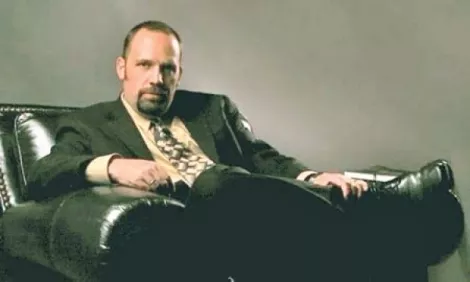 The day before Utah County businessman Rick Koerber's June 18 arraignment on three counts of federal fraud for operating a $100 million Ponzi scheme, he changed the header on his Website from "Capitalist. Mormon. Dad" to just "Capitalist."
Before the federal charges, however, investors and former employees say Koerber was less bashful about advertising his religious beliefs. Insiders to Koerber's business allege one of his tactics was telling potential investors that a former general authority of The Church of Jesus Christ of Latter Day Saints, Hartman Rector Jr. was also an investor in his business. Rector's name carries some ecclesiastical weight among LDS members, and, critics allege, Koerber would drop it routinely, especially when attempting to recruit new investors.
While Koerber spoke often of his religious beliefs and casually recited LDS scripture in discussing faith and capitalism on his "Free Capitalist" radio show, formerly on KTKK (K-TALK) 630 AM, he also emphasized in his writings that people should not be judged simply by their affiliations. Nevertheless, some say, Koerber couldn't help but reference his LDS Church membership.
"He would use Hartman Rector routinely in conversation," says James Smith, a former employee who worked for Koerber between 2005-06. "It was always in conjunction with establishing himself and why people should trust him with their money."
Smith had come to learn about Koerber and his teachings by attending a Free Capitalist seminar in 2005 and, later, he would become an editor of Koerber's short-lived Free Capitalist magazine and an assistant producer for his "Free Capitalist" radio show.
Smith recalls a specific time, in early 2006, when Koerber was talking to a number of employees before taping a show. "Rick was explaining 'enlightened self-interest' and 'wealth stewardship.' He stated that these things were principle-driven, and 'principles govern,'" Smith says, referring to a slogan once advertised on Koerber's billboards that dotted Interstate-15 in Salt Lake and Utah counties. "He stated that he didn't think that Hartman would be involved with him if he wasn't acting on principle."
Rector, an 86-year-old former LDS general authority, served for nearly 20 years in the LDS First Quorum of the Seventy, on the hierarchy one step below the LDS First Presidency, which includes the church prophet. He retired from his calling in 1994. (Despite repeated attempts to reach him for comment, Rector would not return calls to City Weekly for this story.)
In an e-mail statement, Koerber would not confirm or deny Rector's position as an investor, except to say: "I consider Elder Hartman Rector Jr. a close personal friend. Any questions regarding Elder Rector and his reported involvement with me and/or my business would be best addressed directly to him."
Smith, however, says he specifically remembers a seminar Koerber held at the Provo Marriott in late 2005 where Koerber singled out Rector in the crowd in the middle of his presentation.
Koerber says such an event was not focused on business investment. "That event had nothing to do with any of what all this news is about. That was about the principles of prosperity," Koerber says, referring to an enumerated list of principles Koerber markets in his teachings, seminars and literature. He formulated the principles from studying the U.S. Constitution and the works of the Founding Fathers.
But it was exactly these kinds of gatherings that federal prosecutors claim, in their May 24 complaint, allegedly were used by Koerber to recruit investors for the Ponzi enterprise.
In 2007, another seminar was put on by Koerber in St. George called the Prosperity Quest. Koerber's Website says 500 people attended. One of those in attendance was Gordon Hamm.
One of Hamm's first observations of the meeting was Koerber welcoming and singling out Rector to the entire audience, as a video camera operator was zooming in on Rector and projecting his image on screens for the entire audience to see.
"He was singled out in the beginning of the meeting," Hamm says. "It bothered me, because some may have thought or assumed that the LDS Church was endorsing Rick." The whole feel of the meeting was off for Hamm, as one speaker who introduced Koerber "talked up Rick, told us how wonderful he was and how he had just purchased a new $300,000 sports car. Yucky and nauseating," Hamm says of the experience. The seminar was capped off by Koerber's own testimonial, which Hamm says lasted "five hours, literally."
Starting at 7 p.m. and ending near midnight, with no breaks, Hamm says Koerber talked about his life experiences, referencing in one moment the fact that he had been an LDS seminary teacher, and in the next, boasting about his wealthy lifestyle. In concluding the talk, Hamm says Koerber offered to hand-pick a few members of the crowd for private mentoring.
"They would need to write him a letter explaining why they should be chosen, then he would mentor a few, and teach them how to invest and be successful like he is—all the while playing like he was doing the world a favor," Hamm says. The next day, Hamm actually wrote a letter to Koerber and Rector, expressing his distaste for the attention given to Rector.
While Hamm questions the appropriateness of calling out Rector at the seminar, especially one where he also invited people to apply to take part in his business program, others, like former employee Smith, say Koerber also mentioned Rector's name as an investor in other, more private, situations. Several sources also confirmed to City Weekly that Rector's name was used in those smaller meetings.
Investor William Hoopes recalls seeing Rector present at several smaller gatherings for Koerber's investors during 2007. Hoopes notes, however, that in these meetings Rector was not singled-out by Koerber in any special manner. "When [Rector] was at a meeting, he was there only as a participant, and there were several meetings when he was there and he wasn't even recognized."
For Smith, Koerber was an individual who could be incredibly defensive of criticism—especially when it came to religious issues. Smith took serious objections to a common theme for Koerber on his Website and radio program, a talk he called "God is a Capitalist: So why are so many Christians socialists?"

"Being an active Mormon I called him on that," Smith says, arguing that by LDS doctrine such revelations can only be divulged through prophets. "In order for you to state that God is a capitalist, then you have received revelations on the nature of God that our religion has not taught. Probably within two weeks, I was let go. Go figure."
Koerber disagrees with that interpretation of events, saying that Smith quit over pay issues. "I don't know what Jim's angle is here, probably just trying to get his name in the paper." E-mail correspondence between Smith and his immediate supervisor, however, indicates Smith was an hourly employee in 2005, making $160 a week. But, in February 2006, it was Koerber's decision to demote him to a freelance writing position—approximately the same time Smith says he challenged Koerber's use of religion.
For both Smith and Hamm, the way Koerber advertised his religious associations helped dissuade them from investing with his business. For many others, it may have been a selling point, as is often the case with what is known as "affinity fraud."
"Unfortunately, the most common way we see affinity fraud work is through church connections," says Keith Woodwell, director of the Utah Division of Securities. Woodwell could not comment on the particulars of Koerber's case, as the state is continuing its investigation of Koerber. In general, though, Woodwell says affinity fraud flourishes in communities with strong religious networks, whether that's Catholic communities in New Mexico, Baptists in Alabama or Mormons in Utah.
"Churches tend to be a strong social bond between people," Woodwell says. "They're people you feel you know well and you trust—[trust] is the coin of the realm for con men." Woodwell says that, technically, affinity fraud is a way to market fraud.
"If you can tap into a network of trust that already exists and get your fraud to start multiplying in that network, then your job is done for you," he says.
While Koerber would not confirm a business relationship with Rector, according to Utah County land records, Koerber's property acquisition company, Hill Erickson, LLC, is listed as the owner of Rector's property in April 2007, but in August of that year the company began to default on payments and Rector's home currently is owned by an investment group out of Minnesota. Koerber would only comment on the ownership of Rector's house to assure City Weekly that Rector was still living at the Provo residence.
Incredibly, this is not the first incident where Rector's home may have been linked in some degree to unscrupulous speculators. According to the land records prior to an affiliated Koerber company buying the property, Rector's home was one of many owned by Brad Kitchen's Homeowner's Group, LLC, the group responsible for much of the fraudulent house-flipping that went on in the Provo Riverbottoms subdivision. Kitchen, who is currently serving a 51-month federal sentence for securities fraud, could not be reached for comment for this story.
Koerber would not comment on general allegations of using Rector's name for private gain. He recalls Rector's attendance at a meeting but is unclear as to what kind of attention he made of his appearance.
"I don't have any memory of singling out Elder Rector at all," Koerber says, "except maybe to just give him a hug."
More on Koerber:
How Rick Koerber's real-estate scheme helped wreck Utah's economy