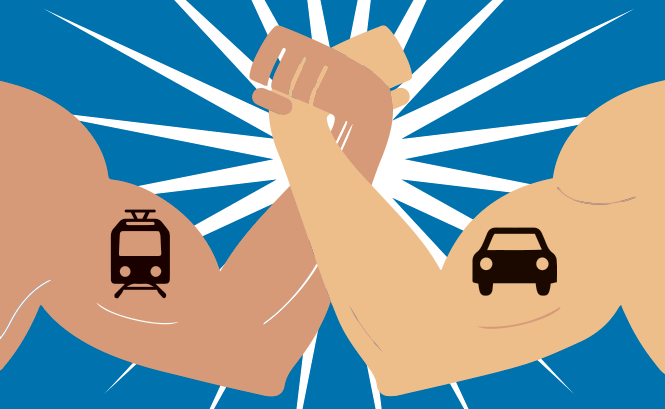 Atop a North Temple viaduct, Salt Lake County Mayor Ben McAdams proclaimed his intention to ride public transit the following Friday with his children, and encouraged all residents who could to do the same.
The air was cold and clear that morning. Off in the distance, wisps of smog hung around the Oquirrhs to the west. That's what registers as a good–air day, one in which you can distinguish the Wasatch and the sky. But it was only a few days before that the thick blanket of dirty air covered the Salt Lake Valley.
McAdams and other local leaders—under enormous pressure to craft a policy that will help clean the air—banked on the idea that if residents gave public transit a shot, they'd see that it's not as costly, inconvenient or unpleasant as it might appear. In tandem with the Salt Lake City Council, the mayor's office foot the $70,000 bill for its Free Fare Friday.
After the press conference announcing the initiative, the media scrum hopped in our cars and vans underneath the overpass and zoomed off. But Free Fare Friday encouraged City Weekly to test a couple city routes and compare driving with public transit service.
Route 1: Third Avenue to the downtown City Weekly office.
To the minute, the bus arrived on time at the stop in front of a 7-Eleven. A pair of fresh-faced missionaries for the Church of Jesus Christ of Latter-day Saints attempted to pay as they boarded before noticing a plastic, red bag covering the payment slot. They took their seats across the aisle from one another and then without saying a word to each other hopped off at Temple Square, leaving three riders to continue along the route.
"Slow," the driver says when asked how the day has been. "Slow, slow day."
Normally, this ride would have cost $2.50. Start to finish, a ride from Third Avenue to a stop on West Temple, then a two-block walk to this paper's HQ takes 18 minutes.
The price comparison is a little wonky, but cost is likely one of the most important factors for commuters: The average price for a gallon of gasoline in Salt Lake City is $2.10. The drive was made in a vehicle that gets an estimated 21 miles per gallon driving in the city. Divided out, fuel cost is about a dime per mile—a difference of $2.40 saved by the car driver.
(This doesn't take into account car payments or insurance. Though many people use public transit as their only mode of transportation, the folks who the city leaders hope to entice into taking Trax and the buses will continue to own, pay for and insure a vehicle—but choose to drive them less.)
While the car driver saves in cash, the bus rider saves a smidge in time. Opting not to pay for parking, the car commuter has to find free parking north of Temple Square and trek down Main Street. The time to travel from Third Avenue, snag free street parking and then walk into the office in the heart of downtown runs about 20 minutes.
The cost to park downtown varies, but can run $2 per hour at a meter or $7 per day at select parking lots.
A return ride from downtown to the Avenues is empty except for one man sprawled across the back bench with his hood up and earbuds lodged in his ears. He appears to be sleeping.
Although convenience is harder to quantify than time or money saved, it is certainly a factor to consider when choosing public transit. For example, it's convenient to be able to do a little work while commuting (point public transit). It's also convenient to be able to leave at any moment rather than wait for a scheduled bus (point personal vehicle). It's also convenient not to have to park (point public transit). If applicable, it's convenient to be able to drive directly to a destination (point personal vehicle).
Route 2: Sherwood Park in the Poplar Grove neighborhood to Westminster College.
In a car, head west, then hook a right onto Redwood Road. Hop onto I-80 headed toward the city, then merge onto I-15 until the I-80 eastbound exit. Get off at 1300 East and drive north until about 1800 South to the Westminster campus. The total distance is about 9 miles [90 cents in gas] and took 14 minutes.
By bus, you'd catch the 516, then transfer to the 220 on 100 South just east of State Street. On Free Fare Friday, the 216 bus route was altered due to construction on 400 South. After a few unsuccessful phone calls to UTA, the transit authority sent out a tweet clarifying the route change and off we went.
With the transfer, the trip was 47 minutes. The last leg was packed with riders, though many of them appeared to be regulars.
Ken Allred, a car-free Sugar House resident, relies on public transit to get around.
"I've been taking UTA for years. I gave up my car a long time ago. Most of the time, I've worked downtown and you don't have to worry about parking, scraping cars in the wintertime, upkeep of stupid cars," he says.
His employer pays for a UTA pass.
Susan Gale sat inside a glass bus stop enclosure waiting for the 220. She isn't able to drive, and usually lugs an oxygen tank around. The buses, she says, are convenient enough and easier than walking.
"Most of the drivers are very courteous," she adds. "They're very good to lend a hand with my oxygen tank so I can get off safely."
To attract new riders, though, UTA will have to improve its service, something President and CEO Jerry Benson is aware of. Lauding the commuter service, he recognizes the need for progress.
"We have a strong culture of continuous improvement here," he says. "We're not afraid of saying we're not perfect."
Around a year ago, Benson says he went on a "listening tour" and met with stakeholders, community leaders, nonprofits and customers. "The overwhelming theme of those conversations was people want more," he says. "They want earlier and later service. They want more frequent service and they want better connections into destinations that are not currently serviced. If you pick one thing that we need to focus on doing, it's finding ways to improve our service."
For some, getting cars off the road and luring commuters onto public transit is key to cleaning up the air.
Heal Utah Policy Associate Jessica Reimer notes that nearly half of the winter pollution is caused by vehicles, and while the nonprofit advocates for clean air policy changes, it also encourages residents to modify their habits.
"We're getting to the point where people have to look at their own behaviors and say, 'Where am I willing to cut back? Are there little tweaks that I can make to my schedule or to my routine that could help contribute to helping solve this greater problem of air quality that we have,'" she says.
McAdams accompanied his four children to school Friday morning on the bus. That same evening, he and his family rode Trax downtown to see Christmas lights.
"Free Fare Friday was a good chance to learn the transit routes near my house to see how my family and I could make use of it in the future," he says. "It was fun taking Trax downtown. The ride was stress free, not having to deal with holiday traffic or worry about parking."