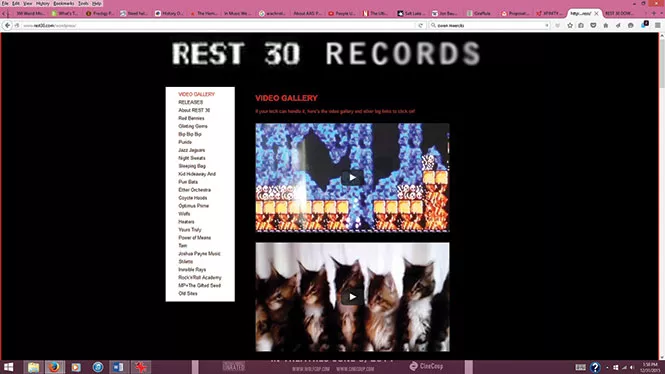 Yeah, thanks to the Internet, music is free. But when you're searching for something to download, is it—to borrow from Portlandia—local? Chances are you're looking for something else, like the latest from Jack White or that rare out-of-print jewel that, if you can find it, is priced out of your reach. It's not local music you're lookin' for, either, because you buy it at shows to support them—or it just doesn't occur to you (or me).
Isn't that weird? Considering the abundance of great music Salt Lake City has to offer, and the fact that it's priced cheap to free, we should be gorging ourselves on local ear candy. Alas, this is not the case.
When interviewing Starmy this week, they mentioned how all five, and soon to be six, of their albums are available to download free on Bandcamp. "But nobody's listening to it," says Starmy frontman Mike Sartain. Since uploading Starmy's catalog on March 1, 2012, the band has only 1,482 total plays according to the statistics graph Sartain shared with City Weekly. That's taking into account every song on all five current releases—and it includes full plays, partial plays and even skipped tracks.
Here's a guide to local music that can be had for free—or purchased for the proverbial song (ha!). You'll have an embarrassment of local music riches in no time at all. In fact, I'm at five gigabytes and counting as my computer chugs like a frat boy. Binge away, readers!
Rest30 Records
Dave Payne of Red Bennies (and a zillion other bands) put up this site for his Rest 30 Records label ages ago, and continues to update it with new music and liner notes. The tracks are all high-quality (320 kbps) mp3s. You'll have to download them track-by-track, but it goes faster than you'd think. And for music from bands like Glinting Gems, Purr Bats, Coyote Hoods, Night Sweats, Wolfs, Tarn, Red Bennies, Ether Orchestra, Optimus Prime, Puri-do, Heaters and 11 other local acts.
Bandcamp
Most bands nowadays upload their stuff to a Bandcamp site, which makes distribution and sales easy. Especially because artists can make their music free, let fans name their price (read: free), or charge whatever they want, sharing a portion with the site. Some bands, like Starmy and Max Pain & the Groovies, choose the second option and let the bucks fall where they may. Others, like one-man loop-rocker Giraffula, charge selectively. If you want the newest album, 2014's Smile & Wave, it'll cost you a fiver. His eponymous 2012 album, however, is name-your-price. Hip-hop group Rotten Musicians charge for their first album, Make A Face, and their most recent, Rotten Zoo—but make their second album, Say You Love Her, their EPee and a couple of singles available gratis.
Some local record labels even put most or all of their catalog on Bandcamp. Salt Lake-based Exigent Records (Worst Friends, God's Revolver) and Layton-based indie rock/outsider label Swoody Records let listeners name their price on all but a few of their artists' albums.
If It's Not Free, It's Still Affordable
Most musicians, especially local ones, realize they're not gonna get rich playing music. But there are costs to cover, and you can't blame someone for wanting to make a living doing what they love. A lot of local musicians meet us more than halfway, posting their music for cut-out bin prices. Hip-hop artist King Niko charges from $0.89 cents for single tracks to $1.50 for an EP to $5 for full albums—but he still tosses out stuff like his Live on KUER EP for nuttin'. Groove rockers Honest Engine have three tracks up on Bandcamp—two at $1 and one for free. At those prices, you can't afford not to buy!
If It's Not Downloadable, There's Always Streaming
ReverbNation, SoundCloud, YouTube, even Spotify—you know the drill. You just can't keep most of the stuff you find here.
...or Flat-Out Piracy.
But you wouldn't do that to our local musicians, would ya? Not when they give like they do.