Thursday Nov. 4


Free Moral Agents, 2MexFree Moral Agents
began as the solo side project of Mars Volta keyboard man Isaiah "Ikey" Owens, eventually evolving into a improv-heavy six-piece band a few years later, when he discovered guitarist/singer Mindee Ichikawa and realized he wanted a better, bigger sonic palette for showcasing her skills than simply his keyboards. The band's music is a dreamy, shifty blend of jazz, R&B and soul—with some rock and hip-hop thrown in—and should be a fine main course after an appetizer of 2Mex, a rapper who Ikey Owens also collaborates with on occasion.
Bar Deluxe, 666 S. State, 9 p.m.
Sons of the San Joaquin
One of the best things about living in the West is getting to dip your toe in the cowboy culture that seems a relic of the past. Take a trip to the Heber City Cowboy Poetry Gathering, though, and you quickly realize ranch life is alive and well. It's obvious through the poetry, and through the bevy of top-notch Western music acts that come by for the party. This show features the cowboy songs of California family band Sons of the San Joaquin along with the Brigham Young University Symphony. Among the other worthy artists performing through the weekend are gypsy-jazz and swing group Hot Club of Cowtown, singer/songwriter Suzy Bogguss and Utah's own cowboy crooner, Brenn Hill. For a complete schedule of the 16th annual gathering's entertainment, visit HeberCityCowboyPoetry.com. Wasatch High School Auditorium, 930 S. 500 East, Heber, 7 p.m., $25-$35
Friday Nov. 5
Mayer Hawthorne

Check out a picture of Mayer Hawthorne, and the first thought that leaps to mind is probably closer to "science teacher" than "soul savior." Yet, the Michigan native's love of all things Motown helped him craft a brilliant soul treatise with his A Strange Arrangement album, and the fact it arrived on uber-cool Stones Throw Records helped turn a nation of hipsters on to the likes of Smokey Robinson, Curtis Mayfield and the Holland-Dozier-Holland songwriting and production team that put out a string of hits in the late '60s. Hawthorne tours with a seven-piece band, The County, to bring the songs on A Strange Arrangement to life. As far as making the show seem as lively as Hawthorne's source material, well, that's up to you. Gordon Voidwell opens the show. The Urban Lounge, 241 S. 500 East, 9 p.m., $13 advance/$15 day of show
Aloud, Bronco, La Farsa
Singer/guitarists Jen de la Osa and Henry Geguiristain have been writing and singing together since their early teens, but the Boston duo finds itself reborn on Aloud's newest album, Exile. For one thing, they are now newlyweds in addition to sharing duties as bandleaders. And they lost the band's rhythm section before they started recording Exile, resulting in a year in the studio when they could tinker with every sound under the sun. The result is an album of expansive, orchestral pop, and as finely tuned as the production might be, it still relies on the distinct boy/girl harmonies of de la Osa and Geguiristain to succeed. And it does. Bronco and La Farsa are also on the bill. The Woodshed, 60 E. 800 South, 9 p.m., $5
Sunday Nov. 7
The American Shakes
Begin is the debut album by The American Shakes, a side project of sorts for Band of Annuals' Brent Dreiling, who wrote the vast majority of the 11 nuggets of gorgeous folk rock found here. Although, I'm not sure you can call it a side project when so many familiar faces took part in its birth, from a passel of Dreilings' fellow Annuals to David Williams and Casey Prestwood. Regardless, these songs written throughout 2009 while Dreiling was spending "way more time in Salt Lake City than I had been used to," and recorded through 2010 are finally seeing the light of day, and they were well worth the wait. The next step: An album release party, where The American Shakes will be joined by the Annuals' Jay William Henderson solo-style. Slowtrain, 221 E. 300 South 7 p.m., $5
Tuesday Nov. 9
The Heavy

You've probably heard The Heavy without even realizing it: The Brit soul-rock quartet's "How You Like Me Now?" has been played a gazillion times as the soundtrack to a Kia Sorento commercial. The commercial's been played more than 1.4 million times on YouTube, and you know that ain't because of the car. So, it's either because of the adult-size toys unleashed on America, or The Heavy's horn-heavy brand of modern soul music that inspired David Letterman to request an encore when the band was on his show—a first. Wallpaper opens the show. Club Sound, 579 W. 200 South, 8 p.m., $12.50 in advance/$15 day of show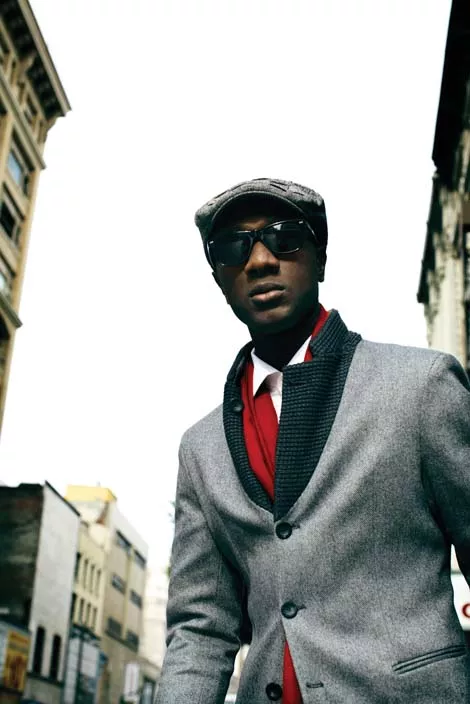 Aloe Blacc
This rapper-turned-soulster is generating some big buzz via his new album, Good Things, thanks to a soul style that is anything but retro (And what is it with modern soul invading Salt Lake City this week? Wow!). Unlike his modern-soul peers who might focus on the personal, Aloe Blacc is more of a social-commentary man, aiming his songs to address issues like unemployment, homelessness or a lack of compassion in society at large. His album is a nice companion piece to the new project by the Roots and John Legend in that way. Even with the serious song topics, though, you can bet Blacc and his band The Grand Scheme will still turn his concert into a party. Maya Jupiter opens. The Urban Lounge, 241 S. 500 East, 9 p.m., $10
Coming Up
The Hold Steady (In The Venue, Nov. 11), Watain, Goatwhore (Club Vegas, Nov. 11), Circa Survive (In The Venue, Nov. 12), Greg Laswell (Avalon Theater, Nov. 12), Mike Gordon (The State Room, Nov. 12), Bad Religion, Bouncing Souls (In The Venue, Nov. 13), Hey Monday (Avalon Theater, Nov. 13), Kaskade (The Rail, Nov. 13), Young Prisms (Kilby Court, Nov. 13), Candye Kane (Pat's BBQ, Nov. 15), Frank Vignola (Salt Lake City Sheraton, Nov. 15), Lifehouse, Kris Allen (In The Venue, Nov. 15), Black Label Society, Clutch (Great Saltair, Nov. 16), Dawes, Moondoggies (The State Room, Nov. 16), Filter (The Complex, Nov. 16), Brandon Flowers, Fran Healy (The Depot, Nov. 17), Mr. Gnome (Burt's Tiki Lounge, Nov. 17), Po' Girl (The State Room, Nov. 17), Sara Bareilles, Cary Brothers (Avalon Theater, Nov. 17)