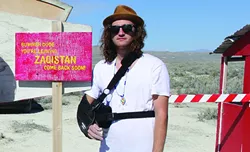 Mike Abu is a freelance writer from Salt Lake City who represents the self-proclaimed Republic of Zaqistan, a remote patch of land (and art project) located west of the Great Salt Lake. It came into being 10 years ago, when Zachary Landsberg bought 2 acres of land in Box Elder County for $610 off eBay, because he wanted a piece of the American West before it was gone. Abu is managing Zaqistan's Independence Day celebration in Salt Lake City, honoring the republic's decennial anniversary. Abu will operate a one-night embassy at Twilite Lounge (347 E. 200 South, 801-532-9400, TwiliteLounge.com) on Thursday, Nov. 19, from 8 p.m. to 1 a.m., offering free citizenship as well as $40 passports. Art gallery CUAC will buy all citizens a beer and will host an academic symposium on the project on Dec. 3 as well as a monthlong embassy in the spring. For information on the history and various expeditions to the republic, visit Zaqistan.com.
Describe the living conditions at Zaqistan.
It's so quiet that sometimes your ears ring from the sound of nothing. The sound waves don't carry. They get absorbed, so there's no echo whatsoever. There's cryptobiotic soil—living soil that you're not supposed to walk on—rattlesnakes and sage brush. The only things that apparently can live there are the ground itself and things that can kill you. So it's a terrible place in a weird way.
With a decade under its belt, where does Zaqistan go from here?
The conception's built up—but what is a nation, anyway? What are these things—they're just figments of our imagination, but they're real because of that. Who says whether you can have a nation or not? What are the rules here? Are there any? That's where it's at now, and we want to see how far we can take this. We want to legitimize this nation.
Have you ever wanted to quit working on Zaqistan?
Every single day. Yet every single day, I wake up, and I start working on it. Much as I'd like to take a step back and say, "Well, whatever," my nation needs me, and this won't work without me. It's part of me now, and I'm part of it.
What do you hope Zaqistan inspires in people?
Thoughtfulness. Instead of taking things for granted, actually think about what is happening, why is it happening—just probe reality itself. We want to plant seeds of thought and see where they sprout.
What if someone else wants to found another Zaqistan?
I would advise them to be honest with themselves. I'd say just be yourself and, if you want to do it, do it. And make it like you. Be thoughtful, be yourself, and don't declare war on us.