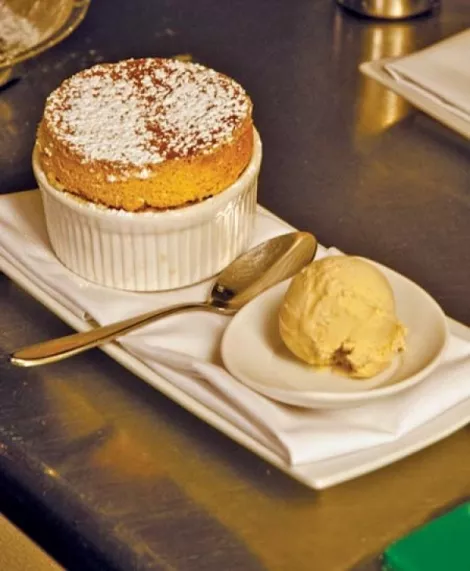 In his book, Lang's Compendium of Culinary Nonsense and Trivia, George Lang shares a story about chef Auguste Escoffier: "Once, when Escoffier did not know the exact timing of a dinner ... he made 10 different batches of soufflés, starting three minutes apart, to assure that one would be ready at just the right moment. The others were thrown out."
Yikes! I don't know about you, but I can't recall the last time I saw a bona-fide soufflé on a local restaurant menu. And it's no wonder, because so many things can go so wrong when beaten egg whites are involved. So, when I heard about the amazing pastry chef Melissa Phillips' Friday-night dessert soufflés at Fresco Italian Cafe, I thought "good for her," and couldn't wait to indulge.
There's nothing more dramatic at the end of a meal than an ethereally light and piping-hot soufflé delivered to the table. Its crown slightly trembling, the dessert is transformed as a spoon releases sweet steam and the delicate crown collapses. At Fresco, a generous dollop of creme Anglaise is poured into the void to mingle with the custardy base. Our soufflé, on the last Friday night of October, was a pumpkin soufflé with vanilla-bean creme Anglaise and cinnamon gelato, and it was perfection: light, luscious and instantly memorable. For November, Phillips says she will be serving "Thanksgiving in a ramekin," a gingerbread soufflé with cranberry creme Anglaise and cream-cheese gelato. Soufflés are served Fridays and require a 25-minute lead time.

FRESCO ITALIAN CAFE
1513 S. 1500 East
801-486-1300
FrescoItalianCafe.com