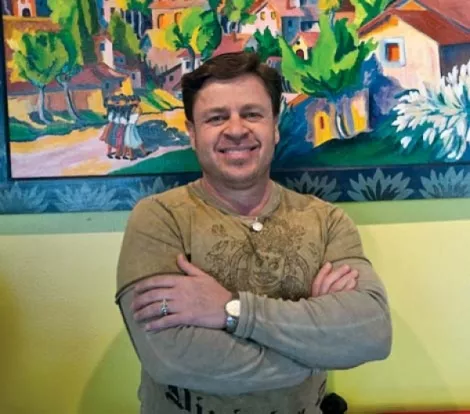 They had me at the daily special, a huitlacoche quesadilla. When it arrived on the table at the just-opened Frida Bistro, I "got" it. Jorge Fierro's (of Rico fame) newest venture is going to deliver something different to the local dining scene: Mexican food at a higher level—beyond the taco/burrito/enchilada basics. Not that there's anything wrong with the basics. But it's going to be fun for Salt Lake City diners to do some culinary adventuring in the wide, largely unexplored world of Mexican cuisine, especially when the restaurant's dinner menu debuts (more about that later).
Right now, Frida Bistro serves lunch only, and it's worth the trip. Step into the sleek space with its lime green and fuchsia walls, craft-paper-covered tables (with linen napkins) and be prepared to be wowed. An artichoke, cheese and asparagus tamale steamed in a banana leaf didn't really sound all that interesting until I tasted it. Presented like a gorgeous painting on a plate, it was moist and light, nicely paired with tomatillo and avocado salsa and a side of frijoles ranchero—pinto beans with a chunk or two of pork belly. Tender shredded turkey cooked in mole negro was equally impressive—sticky, sweet and savory, served with tiny blue corn tortillas.
As for that huitlachoche: It's a delicacy, unfortunately known as "corn smut or fungus." I prefer to think of it as a type of mushroom, with an earthy quality. Often found on restaurant menus throughout the Southwest, it's not the usual fare in Salt Lake City—but then, Frida Bistro isn't the usual Salt Lake City eatery.
Latest scoop on the dinner menu? Blake Spalding of Hell's Backbone Grill is now collaborating with Fierro and chef Rick Bruno—innovative wine list to follow. Stay tuned.

FRIDA BISTRO
545 W. 700 South
801-433-9923