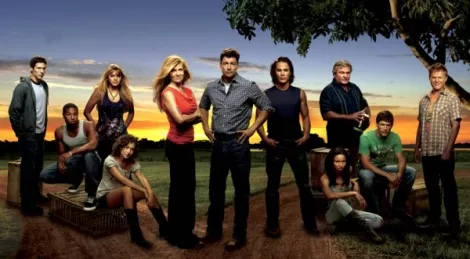 Friday Night Lights
Friday, May 7 (NBC)
Season Premiere:
The Only TV Column That Matters™ has never recommended
Friday Night Lights
over three previous seasons—it's a drama about high school football, which ranks on my interest level right below smooth jazz and non-bacon-related food items. But,
FNL
's adult leads (Kyle Chandler and Connie Britton) are excellent, good enough to lift the show's occasional teen-soap deviations. Likewise, the series' organic style of location filming in Austin, Texas, gives it a more realistic feel than anything else on TV—including "reality" shows. Besides,
Friday Night Lights
is almost over (next year's Season 5 will be its last), so it's not like you can't go back to
Ghost Whisper
later. Unless you're Jamie Kennedy.
Mongolian Death Worm
Saturday, May 8 (SyFy)
Sean Patrick Flanery (The Boondock Saints) and Victoria Pratt (uh … Mutant X?) star as a scruffy adventurer-for-hire and a U.N. doctor who favors tight tank tops, respectively. Between the requisite arguments and lustful gazes, they must stop a multitude of passably animated giant worms—which were set loose by American oil drilling (of course!)—from eating all of the locals and, in his case, find Genghis Khan's hidden treasure (which, coincidentally, is "guarded" by the aforementioned Mongolian Death Worms). Incorrect worm plurality and Pratt's impressively reinforced tank top aside, Mongolian Death Worm doesn't top April's Mega Piranha. Try again, SyFy.
Ashes to Ashes


Funk to Funky


Major Tom's a Junkie

The Amazing Race
Sunday, May 9 (CBS)
Season Finale: Here's how every season of The Amazing Race goes: Backpack-laden contestant duos scream at each other in the back of foreign taxis while fumbling with maps, arrive at a cornfield/mud patch/rock pit, scream at each other while searching for some innocuous item, break down and cry, then breathlessly run said item to smirking chimp/host Phil Keoghan, who then says "You're the last team to arrive—get the fuck out of Zagreb, losers." Every season. They can't stop throwing Emmys at this. Finally, I agree with my archenemy, Survivor host Jeff Probst, on something: Enough with the Amazing Race awards!

The Boondocks
Sundays (Adult Swim)
New Season: The third season of Aaron McGruder's controversial animated series based on his controversial comic strip debuted last Sunday to … no controversy. No publicity, either—was Adult Swim too busy flogging that Aqua Teen Hunger Force nag to death last week to even mention The Boondocks, which hasn't aired a new episode since 2008? Probably works in its favor, actually: The Boondocks, a social satire delivered mostly from radical 10-yearold Huey Freeman's point of view, is never going to be as marketable as South Park (the white Boondocks), even though it's more subtle and lushly animated—this kind of series needs to exist under the radar.
Undateable
Monday, May 10-Friday, May 14 (VH1)
Miniseries Debut: Celebrities (clarification: VH1-level celebrities, which means unemployed comics and the cast of Jersey Shore) dish on all the qualities that make men "undateable": Wearing socks with sandals, rocking a mullet, writing TV columns, etc. Undateable will be on every night this week, which assumes you had no plans anyway, dude.

Ashes to Ashes
Tuesday, May 11 (BBC America)
Season Premiere: As with previous BBC series Life on Mars, a present-day cop is mysteriously transported back in time and works to fit in with the police force and society there—in this case, it's detective Alex Drake (Keeley Hawes) and she's stuck in 1982. Ashes to Ashes nails the look and the music of the time (the Brits had the better tunes in the '80s), and it's just another example of how BBC America is delivering smarter sci-fi these days than … SyFy.