2015: Over & Out
During the final weeks of December, two competing urges seem forever to be at war. There's the desire to "nest"—to settle into your coziest spot at home as the days and nights get chilly and snowy, and brave the outdoors as little as possible. And then there's the need to get out, as winter vacation makes the children stir-crazy, visiting relatives need entertaining and the urge to share the seasonal spirit with other human beings kicks in.
City Weekly's Holiday & New Year's Eve Guide is here to help you break free of your inertia, and discover all the ways you can add a kick to the winter holiday experience. Deann Armes has gathered a list of displays, decorations and activities you can share with kids and company, from downtown to the mountain resorts. Pick one of the many local live theater, dance or music performances with a holiday flavor—or, better yet, pick more than one. Then make your New Year's Eve plans, whether that might mean a night of dancing in a club, or enjoying the delights of the EVE SLC celebration. No matter your interests, there's something with your name on it.
So throw off those fuzzy slippers and put on your dancing shoes—or your snow boots, if that's what's needed to get you where you want to go. All those twinkling lights can light a spark in your joy this season, and warm you up just as much as that home nest.
—Scott Renshaw
Arts & Entertainment Editor
This story was updated Dec. 18, 2015.
These holiday performances will make your days merry and bright.
The holidays mean different things to different people: stressful interactions with family; stressful trips to the mall; stressful wishes that radio stations would stop playing Paul McCartney's "Wonderful Christmastime," for the love of all that's good and holy. But there are also plenty of joys, many connected to memories of stories, movies and performances that use the winter holidays as a backdrop. If Christmas is not quite complete for you without watching Rudolph the Red-Nosed Reindeer or Miracle on 34th Street, you know what I'm talking about.
This year, like every year, Utah stages are full of performers looking to get you into that perfect holiday spirit, whether by sharing tales you know by heart or introducing you to something brand-new but rich with the glow of the season. These are just some of the offerings for those who want to spend part of their holidays being entertained live and in person.
Time Honored Traditions
Local theaters understand the timeless appeal of certain stories, offering productions that return annually. A Christmas Carol will delight audiences both in Utah County and the Salt Lake Valley, as Hale Center Theater Orem and Hale Centre Theatre in West Valley City feed our need to remember Charles Dickens' account of Ebenezer Scrooge's Christmas Eve conversion from coal-hoarding and general humbugging. 3333 S. Decker Lake Drive, West Valley City, 801-984-9000, through Dec. 24, $16-$35, HCT.org; 225 W. 400 North, Orem, 801-226-8600, through Dec. 23, $12-$22, HaleTheater.org
Also in Orem, SCERA presents a musical version of It's a Wonderful Life, based on Frank Capra's beloved 1946 film about a downtrodden man who learns from an apprentice angel how the world would have changed for the worse without him. 745 S. State, Orem, 801-225-2787, through Dec. 19, $6-$12, SCERA.org.
For many Utah families, Christmastime isn't complete without experiencing Ballet West's The Nutcracker. Now in its 60th year, the magnificent production, beguiling Tchaikovsky score and traditional choreography have made for an experience passed down through generations. Capitol Theatre, 50 W. 200 South, 801-355-2787, $19-$91, ArtTix.org
Back by Popular Demand
Some productions, though less familiar across generations, have taken root in recent years. The Sting & Honey Co. brings back its fascinating This Bird of Dawning Singeth All Night Long. It combines masked performers, beautiful choreography, music and readings of Nativity-themed poetry spanning Shakespeare to the modern day. Rose Wagner Center, 138 W. 300 South, 801-355-2787, Dec. 18-19, $12, ArtTix.org
Hope springs maternal: The Sting & Honey Co.'s This Bird of Dawning Singeth All Night Long
And while the old-school Nutcracker is perfect for some audiences, others might get a kick out of the return of Odyssey Dance Theatre's off-beat ReduxNut-Cracker Kingsbury Hall, 1395 E. Presidents Circle, 801-581-7100, Dec. 16-23, $20-$40, http://OdysseyDance.com
Something New & Different
Many of Utah's most talented theater professionals are working on holiday-themed or family-friendly shows that may not be immediately familiar, but can offer plenty of entertainment. Pioneer Theatre Co. presents an original musical revue combining traditional Christmas carols, dramatic readings and the dynamic dancing of a talented cast—all in a story about trying to insure Christmas snow for Utah—in It Happened One Christmas. 300 S. 1400 East, 801-581-6961, through Dec. 19, $40-$62, PioneerTheatre.org
Salt Lake Acting Co. once again offers a kid-oriented holiday production with Art Dog, a stage adaptation of Thatcher Hurd's picture book about an intrepid canine painter who tries to recover a stolen painting after he becomes a suspect. 168 W. 500 North, 801-363-7522, through Dec. 23, $16-$26, SaltLakeActingCompany.org
Let's Laugh
If you need a laugh to dispel any seasonal doldrums, plenty of theatrical offerings are up to the task. The Pickleville Playhouse and TJ Davis's beloved local character Juanito Bandito put a twist on Dickens as the bumbling thief tries to steal Christmas in Juanito Bandito's Christmas Carol. Grand Theatre, 1575 S. State, 801-957-3322, Dec. 17-21, $18-$28, PicklevillePlayhouse.com
Ogden's Ziegfeld Theater takes a holiday-themed swipe at the world of J.K. Rowling's wizards—as well as other familiar Christmas stories from Dickens to Seuss—in the all-new musical presentation A Fairly Potter Christmas Carol. 3934 Washington Blvd., Ogden, 855-944-2787, through Dec. 23, $17-$20, TheZiegfeldTheater.com.
The jolly folks at Desert Star Theatre serves up its silly version of A Christmas Carol in Ebenezer Scrooge and His Nightmare Before Christmas. 4861 S. State, Murray, 801-266-2600, through Jan. 2, $12.95-$22.95
In Off Broadway Theatre's The Grouch Who Stole Christmas, Dr. Seuss is mashed up and mingled with Sesame Street and plenty of classic holiday TV specials, to hilarious effect. 272 S. Main, 801-355-4628, through Dec. 26, $8-$16, TheOBT.org

In the heart of downtown: Ice skating at Gallivan Center
'Tis the Season
Downtown, around town or just out of town, holiday hot spots abound.
By Deann Arme
comments@cityweekly.net
This time of year can be so busy with shopping and preparations that fun often takes a back seat. In addition to your annual trip to Temple Square to see the lights, there's an abundance of winter magic out there; you just need to make the time to enjoy something delightful. So, take a deep breath. We've hunted down the best holiday hot spots in Utah—and many of them are completely free of charge. Unless otherwise indicated, most activities are available through Jan. 1.
Downtown Charm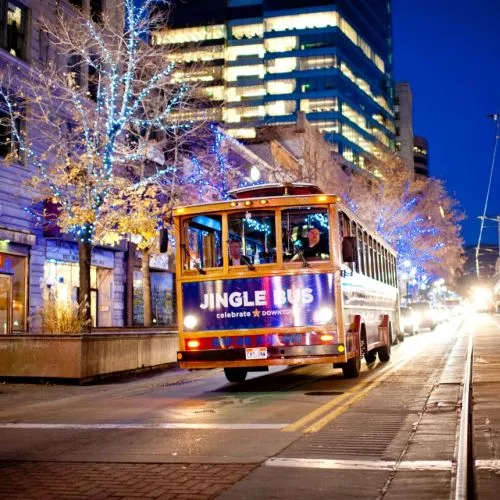 The Jingle Bus loops around downtown through Dec. 28
Jingle Bus
The Jingle Bus is your holiday miracle. The free bus, twinkling with lights, offers lively narration as it circles your favorite downtown locations: The Gateway, Temple Square, City Creek Center, Gallivan Plaza and Capitol Theatre. It's the perfect way to see the traditional lights on Temple Square—and, better yet, free of parking hassles.
Various locations, downtown Salt Lake City, through Dec. 28, 5-10 p.m., free, DowntownSLC.org
Ice Skating at Gallivan Center
This outdoor ice skating rink in the heart of downtown is one of the most popular holiday pastimes for couples, friends and families.
Gallivan Center, 239 S. Main, Salt Lake City, 801-535-6110, open now through the end of February: Monday-Thursday, noon -9 p.m.; Friday & Saturday, noon -12 a.m.; Sunday, noon -7 p.m.; $8 adults, $7 children, TheGallivanCenter.com
Santa Claus at City Creek Center
Hop off the Jingle Bus at City Creek Center for a visit with Santa. Check out the huge Christmas tree and holiday fire fountain show while you're there.
City Creek Center, 50 S. Main, Salt Lake City, 801-521-2012, through Dec. 24, Monday-Saturday, 10 a.m. -9 p.m., free, ShopCityCreekCenter.com/holidays
Macy's Candy Window Displays
This year's theme is the Peanuts gang. Visitors of all ages will delight in these one-of-a-kind displays—made entirely of candy—seen through Macy's large historic windows.
Macy's at City Creek Center, 50 S. Main, Salt Lake City, 801-736-8950, nightly, free, ShopCityCreekCenter.com
Holiday Window Stroll & Gingerbread House
The luxurious Grand America Hotel offers its Songs of the Season window stroll, bringing to life 17 carol-inspired windows throughout the hotel in collaboration with local artists, artisans and designers.
Grand America Hotel, 555 S. Main, Salt Lake City, 801-258-6000, Sundays, 11 p.m.- 3 p.m.; Friday & Saturday, 10 a.m. -9 p.m.; Monday-Thursday, 5 p.m. -9 p.m.; free, GrandAmerica.com
Villages, Shopping, Festivities & Lights
His name's Cocoa Chanelf: The Great Christmas Adventure at Gardner Village
The Great Christmas Adventure at Gardner Village
The elves are back at Gardner Village with a sleighful of new traditions: storybook windows, building indoor snowmen, riding the Elf Express through the lighted tree forest, and flights to the North Pole on Santa's Magic Sleigh. Admission includes complimentary hot cocoa and cookie. Elf scavenger hunt and window displays are free.
Gardner Village, 1100 W. 7800 South, West Jordan, 801-566-8903, through Dec. 23, Monday-Saturday, 5:30-8 p.m., $7 adults/ $5 children, GardnerVillage.com
Holiday Central at Thanksgiving Point
At this beloved holiday destination, you can travel through one of the grandest holiday light displays in Utah, shop for unique gifts, watch live ice sculpture demonstrations, and see real reindeer. Father Christmas makes regular visits, and visitors can even have breakfast with old St. Nick.
Thanksgiving Point, 3003 N. Thanksgiving Way, Lehi, 801-768-2300, various days & times, prices vary, ThanksgivingPoint.org
Ogden's Christmas Village
Ride the UTA FrontRunner to 25th Street in Ogden, where downtown is transformed into a brightly lit, whimsical winter fantasyland. See the delightful displays inside each tiny village house, shop on site or up and down Two Bit Street for unique holiday gifts, ride the Polar Express train, and visit Santa in his castle nightly.
2549 Washington Blvd., Ogden, 801-629-8000, Monday-Friday 6-9 p.m., Saturday 5-9 p.m., free, OgdenCity.com
Christmas in Color
In this brand new experience, you and your family can take a 20-minute drive through an outdoor display of more than a million LED lights, including tunnels and towering Christmas trees. Tune in on the radio for beloved holiday tunes that work in synchronization with the light show, all from the warmth of your own vehicle.
Ed Mayne Street near 4800 West, Oquirrh Park, Kearns, through Jan. 2, Monday-Thursday, 5:30-10 p.m., $20 per vehicle; Friday-Saturday, 5:30-11 p.m., $25 per vehicle; pre-purchase only. ChristmasInColor.net
Candlelight Christmas at This Is the Place Park
This is the place to slow down and experience an old-fashioned Christmas. Visitors stroll through historical homes and pioneer cabins decorated in lights, while the Heritage Village Carolers wander the streets. Children can visit with Father Christmas and make crafts and handmade gifts.
This Is the Place Heritage Park, 2601 E. Sunnyside Drive, Salt Lake City, 801-582-1847, Dec. 7-23 & Dec. 26, Monday-Saturday evening, 5-9 p.m., $11 adults/ $8 children, ThisIsThePlace.org
Mountain Magic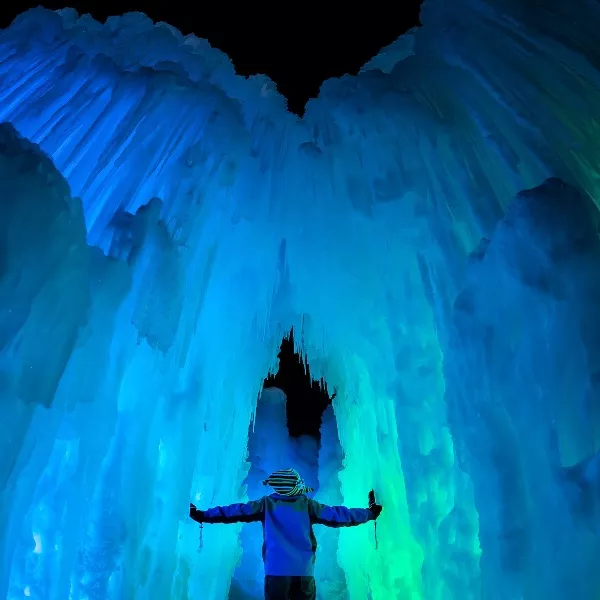 Bryan Rowland
Looking through the ice of love: Ice Castles, Soldier Hollow, Midway
Ice Castles
The enchanted frozen wonder that captivated hundreds of visitors last year returns for a second season. The acre-sized ice castle features slides, tunnels, and caves to explore, and a musical light show.
Soldier Hollow Resort, 2002 Soldier Hollow Road, Midway, 435-654-2002, late December-March, various prices & times, IceCastles.com
Holiday Tree & Gingerbread House
Rumor has it that the Montage at Deer Valley is home to Utah's biggest Christmas tree. The tree is dressed in thousand of lights and stands over 50 feet tall. A life-size gingerbread house can be found inside the grand hotel, making this a worthy stop next time you're in town for skiing or shopping.
Montage Hotels & Resorts, 9100 Marsac Ave., Park City, 435-604-1300, MontageHotels.com
Children's Christmas Eve Celebration
An elegant dinner is served, accompanied by a torchlight parade, fireworks and visit from Santa on his sleigh just before he takes off to spread Christmas cheer. Come early for a fanciful feast, or stop in to view the free outdoor festivities.
Snowbasin Ski Resort, 3925 East Snowbasin Road, Huntsville, 801-620-2000, Thursday, Dec. 24, prices & times vary, Snowbasin.com
Christmas Eve Parade & Fireworks
Santa and Mrs. Claus will be flying The 'Bird around Snowbird throughout the day, and stepping off the tram for one last visit on Christmas Eve. Festivities will ensue at dusk: bonfires, a torchlight parade, and fireworks ending with a Candlelight Service.
Snowbird Ski Resort, 9385 S. Snowbird Center Dr., Snowbird, 801-933-2222, Dec. 24, 9 a.m. -7 p.m., Snowbird.com
Fa-la-la-la-la!
Can't get enough Christmas music? Here's a stockingful.
By Randy Harward, Brian Staker & Kimball Bennion
comments@cityweekly.net
There are two kinds of people in the world: Those who enjoy holiday music and those who lapse into humbuggery on Nov. 1 when moneychangers everywhere are suddenly filled with the spirit of Christmas. And it's usually the former group that drags the latter to concerts like these, leading—in, let's say, 87 percent of cases—to everyone getting on the same page (at least until all the gifts have been unwrapped, exchanged and/or flat-out returned). That's the power of holiday music, folks! ("Jingle bells, Batman smells ... fa-la-la-la-laaaaaa ...)
Christmas Carol Service
Passes to the free carol services on Dec. 17 & 18 are gone, but standby lines start at 7 p.m. daily. No pass is required for the 4 p.m. Christmas Eve service, but arrive early for a good seat. (KB)
Cathedral of the Madeleine, 331 E. South Temple, Dec. 17 & 18, 7 p.m., free, UTMCS.org
Temple Square Performances
Temple Square offers tons of free choral and orchestral concerts featuring a variety of performers. (KB)
LDS Church Office Building, 50 E. North Temple, weekdays Dec. 17-23, noon & 1 p.m., free, LDS.org
Devil Whale of a Christmas Party!
Don't get too excited, Devil Whale fans. They're not playing tonight, but they're "continuing the tradition of getting people together" for a holiday party. Here's who you will get to see tonight, performing Christmas tunes and originals: Quiet Oaks, The Bully, Will Sartain, Coyote Vision Group, The Hound Mystic, Daisy & The Moonshines, Kelli Moyle, Microwave Mountain and more. Suggested attire: the always popular ugly Christmas sweater. (RH)
The Urban Lounge, 241 S. 500 East, Dec. 18, 9 p.m., free, TheUrbanLoungeSLC.com
Davis County Symphony Messiah Sing-Along
Sing along to Handel's Messiah with the Davis County Symphony, or at least muddle through until it gets to the "hallelujah" part. (KB)
LDS Cultural Hall, 261 E. Center St., North Salt Lake, Dec. 18, 7 p.m., free, DavisCountySymphony.org
George Dyer Christmas from Branson
Tenor George Dyer is no stranger to Salt Lake, as previously performing with Kurt Bestor, Lex de Azevedo and the Mormon Tabernacle Choir. He reprises his visit from last year, and who knows; the seasonal performance might become local tradition. (BS)
Wasatch Junior High, 3750 S. 3100 East, Dec. 18, 7 p.m., $20, GeorgeDyer.com
Park City Singers
The professional, non-audition choral group Park City Singers celebrates their 20th year. They involve community members in their performances, and their annual Christmas concert is the climax of their singing season. (BS)
St. Mary's Catholic Church, 1505 W. White Pine Canyon Road, Park City, Dec. 18, 7 p.m.
$12 in advance;
$15 at the door;
12 & under, $5;
ParkCitySingers.com
Home Alone: Feature Film With the Utah Symphony
Tonight Jayce Ogren leads the Utah Symphony and the Viewmont High School Chorus as they perform John Williams' original Home Alone score live while the film plays behind them. (RH)
Abravanel Hall, 123 W. South Temple, Dec. 18-19, 11 a.m. & 12:30 p.m., $6-$18, UtahSymphony.org
Park City Holiday Spectacular & Sing-Along
This local holiday favorite is not only an opportunity to hear local performers in their renditions of holiday tunes; it's a chance to sing along. Even if you can barely carry a tune, it's a holiday treat for the whole family. (BS)
Egyptian Theatre, 328 Main, Park City, Dec. 18-20, 8 p.m., $15-$25; 12 and under, $12; EgyptianTheatreCompany.org.
Utah Symphony-Here Comes Santa Claus!
Conductor Rei Hotoda leads the Utah Symphony through a family-friendly program of holiday classics. Santa is confirmed as a special guest. (RH)
Abravanel Hall, 123 W. South Temple, Dec. 19, 11 a.m. & 12:30 p.m., $6-$18, UtahSymphony.org
Peter Breinholt Christmas Concert
One of Utah's most successful singer-songwriters performs his 10th annual Christmas concert tonight. Expect to hear a blend of holiday standards and well-crafted Breinholt originals. (RH)\
Rose Wagner Performing Arts Center, 138 W. 300 South, Dec. 19, 8 p.m., $15-$17, SLCCFA.org/venues/rose-wagner-performing-arts-center/
A one-man tradition: Kurt Bestor
Holiday Concert Series: Bob Peterson
Jazz trumpeter Bob Peterson and friends bring a flurry of Christmas favorites, including many of Bob's own arrangements from his time with the U.S. Army Bands. (KB)
Orem Public Library, 58 N. State, Orem, Dec. 19, noon, free, OremLibrary.org
Christmas Comes Anew
The Salt Lake Symphonic Choir has been performing since 1949, and although it's not as well-known as other organizations locally, the group has received international renown, traveling to performances across the globe, often performing for civic groups. Their holiday program is titled after the traditional French carol of the same name. (BS)
First Baptist Church of Salt Lake, 777 S. 1300 East, Dec. 19, 7 p.m., $5, SaltLakeSymphonicChoir.org
Wesley Bell Ringers Concert
Ring in the season with one of the premier youth handbell choirs in the United States: Utah's own Wesley Bell Ringers. (KB)
Christ United Methodist Church, 2375 E. 3300 South, Dec. 20, 4 p.m. & 7:30 p.m., free, WesleyBells.org
Jazz Solstice Concert
What better way to celebrate the solstice than jazz? The 22nd annual local concert commemorating the turning of the seasons will feature the Larry Jackstien Quartet will be joined by a host of local guest artists in a program of jazz standards to lighten the heart at a time of year when sunlight is scarce. (BS)
St. Mark's Episcopal Cathedral, 231 E. 100 South, Dec. 21, 7 p.m., free (donations accepted), StMarksCathedralUT.org
Cathedral of the Madeleine: Britten's A Ceremony of Carols
The Madeleine Choir School's performance of Benjamin Britten's A Ceremony of Carols is free and does not require pass, but plan on a full house. Show up early for good seat. (KB) Cathedral of the Madeleine, 331 E. South Temple, Dec. 22 & 23, 12:15 p.m., free, UTMCS.org
Kurt Bestor Christmas
It's Kurt Bestor Christmas, the rest of us just live in it. The prolific, multi-faceted performer has managed like no one else to add to the repertoire of a season whose musical canon is composed of firmly-entrenched chestnuts. Even more remarkable is the shows 27 year run, still popular in no small amount to Bestor's gregarious stage demeanor. (BS)
Egyptian Theatre, 328 Main, Park City, Dec 23-25; Wednesday, 8 p.m.; Thursday & Friday, 6 p.m.; $29-$45, EgyptianTheatreCompany.org
A breath of fresh air: Mannheim Steamroller
Mannheim Steamroller Christmas
Before Trans-Siberian Orchestra came along with their guitars, these synth-jockeys made the edgiest holiday music around. They remain a top holiday draw because their arrangements of favorite holiday tunes are both faithful and innovative. (RH)
Abravanel Hall, 123 W. South Temple, Dec. 26 & 27; Saturday, 8 p.m.; Sunday, 3 p.m.; $50-$75, ArtTix.org
The Ann Wilson Thing
Best known as the lead singer for the sister rock band Heart, singer-songwriter of "Crazy on You" and "Barracuda," Wilson's solo mini-tour features "edgy" blues. Enjoy a Heart-felt, intimate New Year's Eve show.
Eccles Center for the Arts, 1750 Kearns Blvd., Park City, Dec. 31, 8 p.m., $45-$185, EcclesCenter.org
Mokie & Talia Keys
Bring in New Year's with Mokie & Talia Keys, presented by City Weekly, KRCL and The Fallout. Also, fire dancers, cirque aerialists, gourmet food, midnight Champagne toast.
The Fallout, 625 S. 600 West, Dec. 31, doors open, 7 p.m.; show, 9 p.m.; $40-$70; The FalloutSLC.com
Decadence SLC: V2 & Global Dance Present Knife Party w/ Figure, Infected Mushroom, Pegboard Nerds, Virtu
Ring in the new year with lots of pretty colors, bass drops and funny lollipops at this massive NYE dance party featuring Israeli psytrance duo Infected Mushroom.
The Great Saltair, 12408 W. Saltair Drive, Magna, Dec. 31, 7 p.m., $50-$100, 18 & over, DecadenceNYE.com
Having a Ball
EVE SLC keeps building a better downtown New Year's Eve event
By Scott Renshaw
scottr@cityweekly.net
Last year, for the first time, a giant mirrored ball was raised high above downtown Salt Lake City as part of the annual EVE SLC New Year's Eve celebration. This year, that sphere will be staying a little bit closer to the revelers.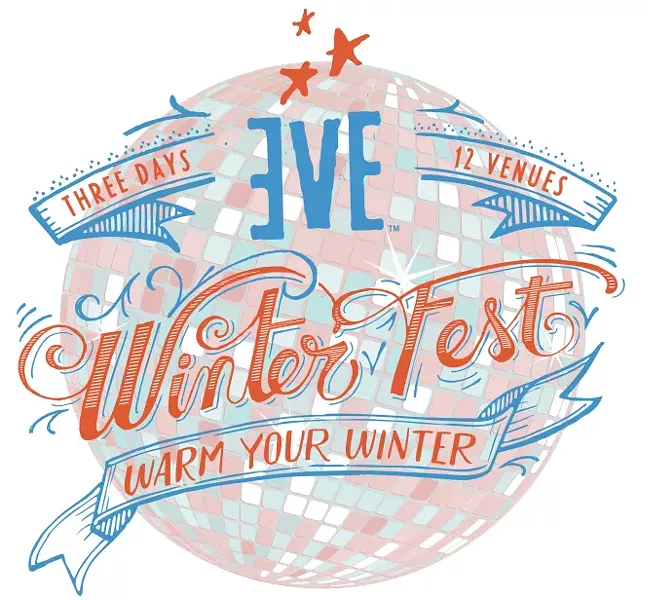 "Last year we just tried to raise it as high as we could," said EVE SLC organizer Nick Como of Downtown Alliance. "And some people felt it was really far away. We're lowering it to about 65 feet so that it feels like it's part of the celebration, then drop it to the stage at midnight."
That's just one example of the way the event keeps making adjustments every year to entertain more than 40,000 guests over the course of the three-day event, and show off the many activities available downtown. Some of those adjustments over time have included addressing worries about frigid temperatures by moving, per Como's estimates, "95 percent of the event" indoors, as well as providing more and more family-friendly activities.
EVE SLC's New Year's Eve 2016 will find a return of many of the activities that have become familiar and popular. Three-day wristbands still allow access to several downtown venues, including classic silent short films at the Broadway Centre Cinemas; exhibits at The Leonardo, Discovery Gateway and Clark Planetarium, and fun at the Salt Palace with live music and a Bouncetown inflatable play area.
But there have been a few necessary logistical changes. In past years, wristbands allowed unlimited access to venues like Discovery Gateway and Clark Planetarium. But this year, guests with wristbands will be permitted one admission to each of those participating venues. Activities at the Salt Palace and City Creek still will be unlimited access. "Some [of the venues] would just get overwhelmed," Como said. "There was too much stress on some that have limited capacity. And we don't want people to just go to one venue over and over; we want them to experience all of downtown."
EVE SLC has also simplified the process for persons wanting to take advantage of each EVE SLC three-day wristband that allows one admission to a Utah Jazz game, this year against the Portland TrailBlazers on Dec. 31. In past years, there was difficulty getting individual guests—each of whom had to receive a voucher for the game ticket—seated together if they came as part of a group. "Come on the 29th," said Como, "and we'll be able to scan tickets and create a master database so groups can sit together. We think we've figured out that whole seating issue." Jazz game tickets are limited to the first 1,000 guests in person on Dec. 29 at 6 p.m. at the Salt Palace—not Vivint HomeSmart Arena—box office.
The most interesting change leading up to the big Countdown Stage show on Dec. 31—featuring New Orleans-based Stooges Brass Band as headliner—may be the Game Room at the Salt Palace, where giant representations of games like Jenga, Connect Four and Minecraft will give those familiar pastimes a super-sized twist. Like most EVE SLC activities, it's something that offers—cliché though it may sound—fun for all ages. When that mirror ball drops, you'll want to be there.
EVE SLC Various downtown venues
Three-day pass: $20 adult/$15 child
Single-day ticket: $15 adult/$5 child
UTA Trax FarePay: 99-cent rides through Dec. 31
eveslc.com
Waiting for Midnight
Get your New Year,s Eve party on in any one of these 39 bars.
By Brian Staker
comments@cityweekly.net
How should one spend the final hours of 2015?—that is the question. If you love the sound of clinking glasses while a band tears up a raucous version of "Auld Lang Syne," then check out this list of bars in the Salt Lake area that are rolling out the red carpet out for you. From DJs to live music, party favors to champagne, these local clubs have dreamed up a variety of ways for you to bid farewell to 2015. Here's a roundup of what local clubs have on tap for New Year's Eve.*

Salt Lake Metro:
Area 51
Cover $15; New Years Eve Masquerade Ball; Party favors, masks, midnight balloon drop, prizes. Doors 9 p.m.
451 S. 400 West, Salt Lake City, 801-534-0819, Area51SLC.com
Beer Bar/Bar X
Free concert: Joshua Payne Orchestra. Party favors. Party starts 8 p.m., music 9:30 p.m.
161 E. 200 South, Salt Lake City, 801-355-3618, BeerBarSLC.com
Bar Named Sue (Highland)
Cover $3; DJ SamIAm; champagne toast at midnight. 11 a.m.-2 a.m.
3928 S. Highland Drive, Salt Lake City, 801-274-5578, A-Bar-Named-Sue.com
Bar Named Sue (on State)
Cover $3; DJ Jello. 11 a.m.-2 a.m.
8136 S. State, Salt Lake City, 801-566-3222, A-Bar-Named-Sue.com
Black Sheep
No cover; DJ playing Michael Jackson; champagne.
1520 W. 9000 South, West Jordan, 801-566-2561, TheBlackSheepBarandGrill.com
Bourbon House
No cover; giveaways; DJ, 10 p.m.- midnight; champagne, 11 p.m.-1 a.m.; College Bowl games on TVs.
19 E. 200 South, Salt Lake City, 801-746-1005, BourbonHouseSLC.com
Club 90
$15 cover; Band: Natural Causes. Buffet 6-8:30 p.m. ($20, not included in cover). Noisemakers. Doors open 6 p.m.
9065 S. 150 West, Sandy, 801-566-3254, Club90SLC.com
The Fallout
Tickets $40; Mokie with Talia Keys. Fire dancers, cirque aerialists. Midnight champagne toast. Doors open 7 p.m., show 9 p.m.
625 S. 600 West, Salt Lake City, The FalloutSLC.com
Gracie's
Cover $5; DJ Gawel. Party favors. 11 a.m.-2 a.m.
326 S. West Temple, Salt Lake City, 801-819-7565, GraciesSLC.com
Green Pig
No cover. DJ Latu. 11a.m.-2 a.m.
31 E. 400 South, Salt Lake City, 801-532-7441, TheGreenPigPub.com
Habits
Tickets $25 adv/$30 door. NYE Party with DJ Scotty B. Balloon drop, party favors. Open 11:30 a.m., starts 6:30 p.m.
832 E. 3900 South, Murray, 801-268-2228, ClubHabits.com
The Hotel
Cover $20; NYE party with DJ Erockalypse, giveaways. 5 p.m.-2 a.m.
155 W. 200 South, Salt Lake City, 801-478-4310, Facebook/TheHotelClubElevate.
Huka Bar
Masquerade ball; balloon drop at midnight; three different DJs; giveaways and a New Year's flag.
151 E. 6100 South, Murray, 801-281-4852, TheHukaBar.com
Ice Haüs
Ballroom Blitz with DJ Nix Beat & Jeremy Harmon, no cover. Open 8 p.m.
7 E. 4800 South, Murray, 801-266-2127, IceHausBar.com
Johnny's on Second
No cover; Candy's River House, 11 a.m.-2 a.m.
165 E. 200 South, Salt Lake City, 801-746-3334, JohnnysOnSecond.com
Keys On Main
Cover $10. Jazz trio 7- 9 p.m., dueling pianos 9 p.m.-1 a.m. Party favors, champagne.
242 S. Main, Salt Lake City, 801-363-3638. KeysOnMain.com
Liquid Joe's
Cover $5. Bands: Dirt Cheap, Reloaded, Roll the Bones, $1 champagne midnight toast, doors open 7 p.m.
1249 E. 3300 South, Salt Lake City, 801-467-5637, LiquidJoes.net
Lumpy's Downtown
No cover; regular menu, 11 a.m.-2 a.m.
145 Pierpont, Salt Lake City, 801-883-8714, LumpysDowntownSLC.com
Lumpy's Highland
No cover; 11 a.m.-2 a.m.
3000 S. Highland Drive, Salt Lake City, 801-484-5597, LumpysBar.com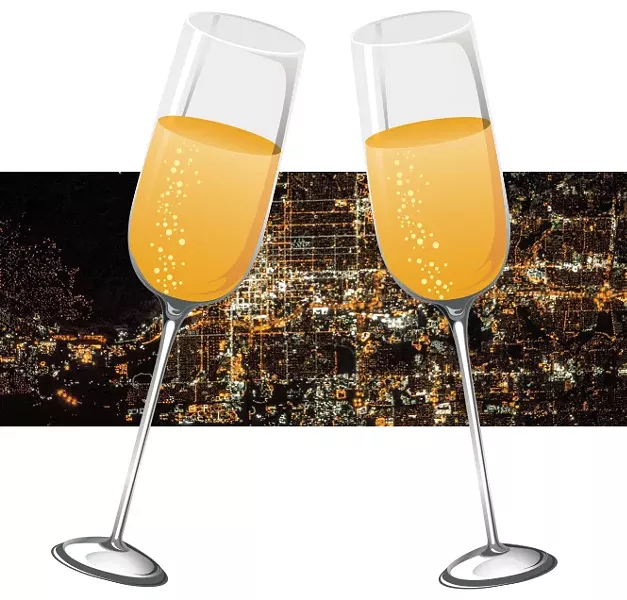 Maxwell's
Cover $20; All White Party. Live DJ, prizes. Bottle service. Doors open 8 p.m., no cover till 9:30 p.m.
357 S. Main, Salt Lake City, 801-328-0304. Facebook.com/MaxwellsSLC
Metro Bar
Cover $5 till 9 p.m.; $10 after 9 p.m. Dance Evolution & Bad Kids Collective. Party favors. Doors 8 p.m.
615 W. 100 South, Salt Lake City, 801-652-6543, MetroSLC.com
Piper Down
Cover $5. NYE bingo with $2016 cash jackpot. Swag, door prizes, midnight toast. Starts 9 p.m.
1492 S. State, Salt Lake City, 801-468-1492, PiperDownPub.com
The Royal
Cover $5 after 10 p.m. DJ Butch Wolfthorn. Food/drink specials. 5 p.m.-1 a.m.
4760 S. 900 East, Murray,801-590-9940, TheRoyalSLC.com
Sandy Station
Tickets $10 advance/$15 door. DJs Celly Cel & Bad Boy Brian. Balloon drop, champagne toast. Dress to Impress. Starts 9 p.m.
8925 S. Harrison St., Sandy, 801-255-2289, SandyStation.com
Sky Lounge
Tickets $30 advance/ $40 door. Performer: singer-songwriter Bright Lights. Black tie. 9 p.m.
149 Pierpont Ave., Salt Lake City, 801-883-8714, SkySLC.com
Tavernacle
Cover $10. Dueling Pianos show, party favors, prizes. Starts 9 p.m.
201 E. 300 South, Salt Lake City, 801-519-8900, Tavernacle.com
Twist
Cover $3. DJ Birdman; giveaways. 9 p.m.-2 a.m.
32 S. Exchange Place, Salt Lake City, 801-322-3200, TwistSLC.com
Urban Lounge
Cover $3 till 10 p.m., $7 after. Bands: Flash & Flare, Matty Mo, Chase One Two. Disco ball. Photos by Photo Collective Studios. Doors open 8 p.m.
241 S. 500 East, Salt Lake City, 801-746-0557. TheUrbanLoungeSLC.com
The Westerner
Cover $5 after 8 p.m. Band Caleb Austin 9:30 p.m.
3360 S. Redwood Road, 801-972-5447, WesternerSLC.com
The Woodshed
Cover $5, Live music: Reggae party night. 5 pm-2 a.m.
60 E. 800 South, Salt Lake City, 801-364-0805, TheWoodshedSLC.com
Whiskey Street
Standard hours; kitchen open till midnight.
323 S. Main, Salt Lake City, 801-433-1371. WhiskeyStreet.com
Zest Kitchen & Bar
Cover $5. Clandestine Nights—dark, sexy house music. DJs 9 p.m., dancing 10 p.m. Open 11 a.m.
275 S. 200 West, Salt Lake City, 801-433-0589. ZestSLC.com
Park City
Cisero's
Tickets $40; The Snowball with DJ Battleship & Street Jesus; giveaways. 9 p.m.-2 a.m.
306 Main, Park City. 435-649-6800. Ciseros.com
Downstairs
Tickets $75; New Year's party with Chris Masterson & Miss DJ Lux, bottle service, doors open 8 p.m.
625 Main, Park City. 435-226-5340. TheDownstairsPC.com
Park City Live
Tickets $50, Black & White Masquerade, DJ RossONE. Doors 8 p.m.
427 Main, Park City, 435-649-9123, ParkCityLive.net
Ogden
Alleged
Cover $5; DJ Mathematiks; champagne, promo girls, giveaways, party favors. Doors 5 p.m.; No cover until 9 p.m.
201 25th St., Ogden, 801-990-0692, Alleged25th.com
Funk'n Dive
Cover $5. Band: Highway Thieves. Swag, door prizes, free midnight toast. Open 3 p.m.-2 a.m.
2550 Washington Blvd., Ogden, 801-521-3483, FunkAndDive.com
Outlaw Saloon
Cover $5 after 7 p.m. Band: Hearts of Steel. Party favors, giveaways, drink specials. Doors 5:30 p.m.
1254 W. 21st St., Ogden, 801-334-9260, OutlawSaloon.com
Utah County
ABG's Libation Emporium
Cover $8; Bands: martini temple, champagne, party favors. 3 p.m.-2 a.m.
190 W. Center St., Provo, 801-373-1200. ABGsBar.com

*Bar events are based on information available at press time.
Celebrate in the Mountains
Snowbird Resort (9385 S. Snowbird Center Drive, Little Cottonwood Canyon, Snowbird.com) is dialed in for New Year's Eve. For starters, food options abound with The Aerie serving a gourmet prix fixe New Year's menu including lobster bisque, braised veal Osso Buco, Port wine-poached Forelle Pear and more (reservations required). Meanwhile, the Lodge Bistro will offer an à la carte menu with beef tenderloin satay, orange and beet salad, spinach & bacon stuffed rib-eye and more (reservations recommended). The Steak Pit will serve a filet Oscar: an 8-ounce tenderloin filet of beef topped with a crab meat and Béarnaise sauce, served on asparagus (reservations recommended). Reserve online or call 801-933-2181. Meanwhile, don't miss the hot cocoa and waffles on the Plaza Deck from 3-5 p.m.; the Torchlight Parade, 6 p.m., and Fireworks at 6:30 p.m. Get your groove on at bars including Wildflower Lounge (DJ Scott Johnson) and the Tram Club (Blues on First, DJ Velvet).
The New Year's Eve Celebration at Canyons Village (4000 Canyons Resort Drive, Park City, 435-615-8040) takes place Dec. 31, 3-8 p.m. with family-friendly activities that include live entertainment, sleigh rides, music and a massive fireworks show. Meanwhile, indoors at the Grand Summit Hotel , Canyons has planned a New Year's Eve disco extravaganza. Start the evening with a family dinner at The Cabin from 5-7 p.m. Afterward, from 7:30 a.m. to 1 p.m., wear your best disco attire to the Kokopelli Ballroom for a New Year's Disco Fever Party ($149, adults; $99, children 3-12). Phone 1-844-234-2970 to reserve your spot.
Alta Ski Area (Highway 210, Little Cottonwood Canyon, 801-359-1078, Alta.com) and Solitude (12000 Big Cottonwood Canyon Road, 801-534-1400, SkiSolitude.com) resorts also plan New Year's Eve torchlight parades (bring a food donation for Alta's), at 6 p.m. on Dec. 31, while Deer Valley (2250 Deer Valley Drive South, Park City, 435-649-1000, DeerValley.com) has its torchlight parade on Dec. 30. At Sundance Resort (8841 N. Alpine Loop Road, Sundance, 866-259-7468, SundanceResort.com), the Owl Bar's New Year's Eve celebrates with the live music of Carlos Cornia.
Masquerade
The problem? Where to wear that smashing holiday gown or suit you bought for a special occasion? And also, what to do with that sensational mask in your closet? The solution: Big Easy Entertainment is hosting a classy New Year's Eve Masquerade Ball on Dec. 31 at the Sheraton Salt Lake City Center. For those who go all in, there's a dinner buffet, champagne toast, dancing, party favors at $65 per person. Or skip the dinner and just show up to dance, with music provided by the Sensations Soul Band and Salt Lake's Finest DJ for only $25 per person. There are discount hotel rooms for those wishing to enjoy the cash bar. A great way to get all your problems solved!
New Year's Eve Masquerade Ball
Sheraton Salt Lake City Center, 150 W. 500 South, Salt Lake City
After-five attire required: Wear your best mask
Dinner tickets, $65 per person
Includes: Live jazz cocktail set, buffet dinner & a glass of champagne for midnight toast, live band & DJ, party favors
Dinner reservation cutoff: Dec. 21, 2015
Dance reception-only tickets, $25 per person
Doors open @ 9:15 p.m.
For more info, phone 801-414-1428 or 801-403-9588, or visit BigEasyNewYear.com
Laugh in the New Year
Whether or not 2015 was a barrel of laughs for you, there are far worse ways to start 2016 in a jolly mood than spending New Year's Eve watching live comedy.
In Park City, the Egyptian Theatre hosts legendary/infamous watermelon-smashing comedian Gallagher for a series of shows Dec. 26-Jan. 2. Over the course of a 40-year performing career, he virtually invented the one-man cable comedy special, and has splattered more audiences with his trademark Sledge-O-Matic than could be counted. Be prepared with a water-proof tarp if you get the cabaret seats. 328 Main St., Park City, 435-649-9371, Dec. 26—Jan. 2, 8 p.m., $29-$45, EgyptianTheatreCompany.org
Wiseguys Comedy's two Utah venues also showcase headliners that should be familiar to local audiences. At the new downtown location, Jeff Dye—soon to be hosting the NBC reality/travel show Better Late Than Never with Henry Winkler, Terry Bradshaw, William Shatner and George Forman—brings an easy-going, hoodie-wearing demeanor to town for two New Year's Eve shows. 194 S. 400 West, 801-532-5233, Dec. 30-31, 7:30 p.m. & 9:30 p.m., $15
And at Wiseguys Ogden, Mormon cinema writer/director John Moyer (The Singles Ward, Mobsters & Mormons) shares his funny perspective on local culture. 269 25th St., Ogden, 801-622-5588, Dec. 31 & Jan. 2, 8 p.m., $10
-Scott Renshaw
scottr@cityweekly.net