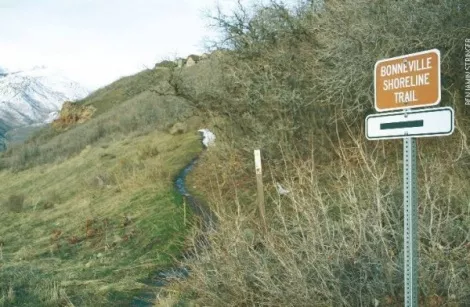 As do most things concerning the great outdoors, the term "urban fringe" sounds downright extreme. Without trying to deflate it, it really isn't as exciting as it first sounds. Yet, inarguably, all this outdoor recreation at our fingertips is what makes living in Salt Lake City—and the greater Wasatch Front—worth all the razzing one takes from those who live elsewhere.
There are many different types of "urban fringe"—that liminal zone between rural and urban areas where various uses and causes often mix and clash. Metropolitan Salt Lake City not only has some of the best urban fringe in the country, it also has a killer recreational trail system to mark it: The Bonneville Shoreline Trail (BST).

Once upon a time, there was a gigantic body of water known as Lake Bonneville that swallowed up a large portion of the Western United States—what is now referred to as the Great Basin—and eventually gave birth to the Great Salt Lake. The majority of the BST runs on top of the Wasatch Fault, at approximately 5,100 feet elevation. It follows the contours of what was once the eastern shoreline of this ancient Lake Bonneville upon a terrace known as the Bonneville Bench—commonly referred to as the foothills.

This Bonneville Bench makes a superb natural piece of urban fringe. One of the best things about this terrace is that because the glacial lake was so big, the BST when cultivated could eventually run 300 miles or so, connecting central Utah (we're talking Nephi) to the Idaho border—not to mention city pavement to nearby mountain peaks. Even though a good portion of the trail is already well defined, many of its tributaries and access points weave in and out of both private property and federal lands, making the trails a bit more difficult to access. But with approximately 90 miles cemented in place, keep your fingers crossed that the remaining two-thirds will be developed in a timely manner.

A ragtag group of community-oriented citizens—known collectively as the Bonneville Shoreline Committee—has been working on this access predicament since 1990. As a regional collective, this committee focuses on trail development, maintenance, conservation and implementation in Salt Lake County proper. Other counties, communities, towns and cities have since jumped on board developing their own local trails, designating them with the BST moniker, and connecting them to the ever-growing greater whole.

Because the BST serves such a large population center as it skirts urban sprawl, these groups have been essential in coordinating efforts to make the trail inviting and accessible to everyone wishing to enjoy the trail system—joggers, bikers, hikers and equestrians alike. With sections of the trail like those that the run from City Creek, across the top of the Avenues neighborhood, behind University Hospital, through Red Butte Gardens down to Hogle Zoo and Emigration Canyon, one can only imagine just how many people take advantage of this prime outdoor recreation.

According to BST Committee member, Rick Reese, such use is a boon for all, "More of the right kind of use by the right kind of people generally tends to drive out trouble-causers who thrive on seclusion and anonymity."

And when you think about it, that coming together for mixed use is truly the key. Everyone can have an opinion, everyone can have a say and everyone can have access. It is this progressively communal nature of the Bonneville Shoreline Trail that makes it the best damned urban fringe imaginable.
For more information, maps or to volunteer, visit BonnevilleShorelineTrail.org