You're no doubt prepping for school. You've already dropped by Banana Republic, Express, Gap, and maybe the D.I. to get yourself ready to look like a bad-ass. Don't get me wrong—looking GQ for school is a good idea. It's better than taking a derelict approach. But, have you considered how you're going to get around campus in style? You'll want to weigh your options as to which mode of transport best expresses the inner hipster that is you.
Bicycle
The bike may seem a tad vanilla but, if you really want to milk the two-wheel approach, get yourself a beach bike—the old-school bikes with skinnier tires and often sans gears. The best way to get a beach bike is at a thrift store, where they often can be found for as little as $20. Or, check out new beach bikes at Fishers Cyclery, 2175 S. 900 East, 801-466-3971, where a three-speed beach bike can be purchased for $420.
Longboard
This is probably the most en vogue way to get around campus. Longboarding makes for an easy commute between classes. Just don't be uncouth like those guys who weave in and out and between students walking down the halls. There are several places to purchase longboards, including Balance Longboards, 736 S. 400 West, 801- 918-7793, where they start at $229.
Unicycle
Why not be that zany oddball who decides to take his or her circus ambitions to the campus? Somebody's got to do it. A nice plus about the unicycle is that it is small and compact, unlike the bulky bicycle. Considering how difficult it is to ride a unicycle, you'll impress your classmates riding one and make quite a statement. Unicycles can be purchased at Bicycle Center Inc., 2200 S. 700 East, 801-484-5275.
Campus Shuttle
Parking at a university can be a bitch. A campus shuttle can ameliorate this problem by taking you from the outskirts to the heart of campus. When the snow is falling and the winds are blowing, you'll be glad that your student fees pay for this service. If your college doesn't offer a shuttle, complain to somebody, make a petition; do what you need to do.
Razor Scooter
Convenient, foldable, lightweight and compact—it's hard to hate the razor scooter. You can zoom with ease to class in no time and maybe pull off a cool jump on your way. That will get some attention. Razor scooters can be found at Big 5 Sporting Goods, 2236 S. 1300 East, 801-466-4290.
Inline Skates
Don't laugh—you associate Rollerblades with hemp necklaces and Smashing Pumpkins T-shirts. But, inline skates have never gone away, and they just may usurp the transportation crown. Sadly, Rollerblades are weather-sensitive and difficult to use when surfaces are wet or snow-covered. The Sports Authority carries a current selection of inline skates and is located at 5550 S. 900 East, 801-263-3633.
Segway
Gliding to class on the ever-awesome Segway personal transporter will make you the most envied or admired student on campus. It could also put you on par with campus law enforcement officials who are also riding Segways. But, you'll love the ease and lightning-quick speed by which you travel on these two-wheeled electric vehicles while getting to stand a little taller than everyone else. Check out Segway of Utah, 136 S. Main, Spanish Fork, 801-794-6262. Until Aug. 31, the I2 and X2 models—which go for $5,350 and $5,850 respectively—will be marked down $1,000.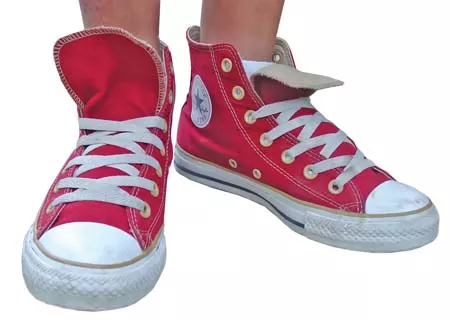 Walking
It's not just the act of walking, it's walking the walk. Do you walk with your chin up? Or do you sulk, shuffling aimlessly from class to class? If you're in the latter camp, you should work on your walking technique. Try sucking in your gut and bringing your shoulders back slightly. Now, put the chin up and walk—but move nice and slowlike. You might just attract some attention—even if you arrive late to class.
On campus, as in life, it's the journey, not the destination. Getting to class may be the best part of your day. Go ahead; buy your expensive Kenneth Cole cologne and pop the collar of your Polo shirt. But, do that while zipping to class in style, and you've got it made in the shade.