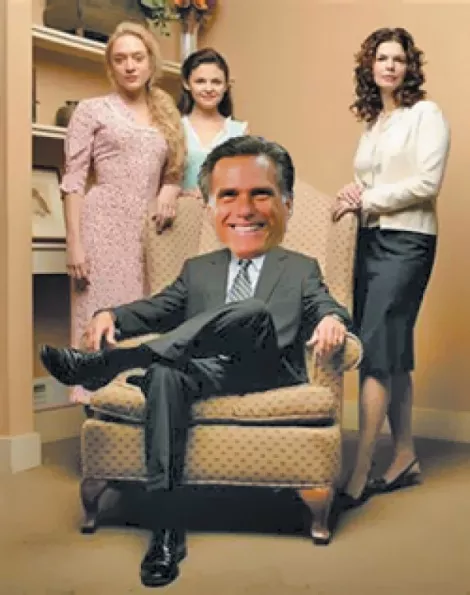 Rejoice! In Sunday's second-season finale, HBO's Sandy-set polygamy dramarama Big Love finally got around to name-checking Utah's favorite 2008 presidential candidate—sort of. Early in the "Oh, Pioneers" episode, Juniper Creek patriarch Roman Grant is listening to the TV news when a female pundit says "He saved the Olympics—who cares if he lets his dog ride on the roof of his car?" an obvious reference to Mitt Romney's Chevy Chase-esque vacation adventures with his pooch riding shotgun on top of the family cruiser. She continues, "People are just out to get him for any little thing …" before the action resumes. Romney wasn't mentioned by name, but come on—dog on the car roof? The Washington Times contacted a Romney spokesman about the reference, who reportedly laughed and said that the boss man probably doesn't watch Big Love. Likely true, but his sons Craig and Josh list Flight of the Conchords as TV favorites on their Mitt-linked MySpace profiles, so you know somebody on the Romney bus has HBO.


• On basic cable Tuesday, Romney showed little love for Sen. (and former Idaho Go Mitt! Chairman) Larry Craig, who was busted for putting the sexy moves on another man in a Minneapolis airport bathroom in June. "I think it reminds us of Mark Foley and Bill Clinton. … It reminds us of the fact that people who are elected to public office continue to disappoint, and they somehow think that if they vote the right way on issues of significance or they can speak a good game, that we'll just forgive and forget," Romney said on CNBC's Kudlow & Company. "Frankly, it's disgusting." Not like slyly dragging the husband of your opponent into the discussion; not at all.


• Unlike Idaho, The Beehive State may be lacking in political cock-ups, but those potato-heads don't hold a spot in CounterPunch.org's list of "America's Top 10 Sex Scandals," now do they? As pointed out/linked by the always-entertaining VoiceOfUtah.blogspot.com, we're No. 4! "[Arthur] Brown was one of Utah's first senators, elected when the state joined the union. He was shot and killed in Washington, D.C., by his mistress for many years, Anna Madison Bradley, for failing in his promise to leave his wife and marry her," wrote CounterPunch's David Rosen "After securing a divorce and making a financial settlement, Brown returned to Utah and, to Bradley's chagrin, claimed to have made a full reconciliation with is wife. Bradley, three months pregnant with a second child she insisted Brown had fathered, could take no more of his lies." That was 1906—we can do better!


• Unlike The Missionary Position. Apparently, City Weekly has run out of missionaries willing to share for that particular feature hole; frankly, we're shocked we found as many as we have so far. Have a genius idea for a replacement? E-mail frost@slweekly.com and we'll consider all comers—as long as they're better than Frost Bytes' plans of running drink recipes or Stripper of the Week there. Bring 'em on …
cw