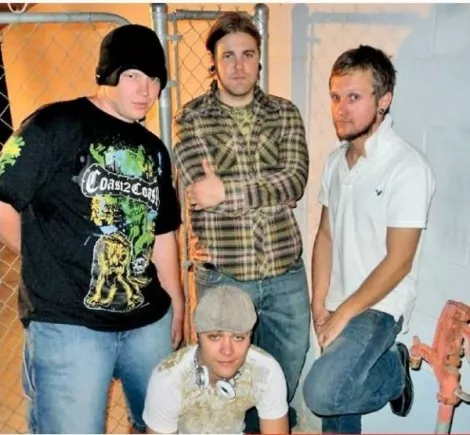 One EP? You'd think a band that's been together for three years would have more recordings under their belt or, at the very least, a full-length album. For the better part of their career, Funk & Gonzo have been plenty productive—they just didn't get around to hitting the studio until recently, teaming up with fellow Utah funk artist Jebu to lay down tracks over the course of a month.
Bassist Jeremy Mower believes that the experience, like many lightbulb moments, "just came to us without very much effort."
But between recording and tying up loose ends on the release date, the group experienced several difficult changes, beginning with the loss of longtime guitarist Justin Vigos, who announced his departure after a late-March show at Urban Lounge, packing up and leaving the band cold. According to Mower, Vigos' absence opened up the door for a longtime sought-out replacement, former VoxCarnage guitarist Landon Coleman.
"He's someone we've wanted in the band for a long time, but just had no room," he says. A second lineup change followed with the decision cut ties with a former member.
"Our music didn't mesh well with a hippie bongo player. We have transformed our spastic dance music into very melodic rock hip-hop," Mower says.
The transformation is evident on the self-titled EP, which hit record stores last spring. Released on the VoxCarnage Productions label, it features an eye-catching design by artist Neil Finch that almost perfectly captures the feel of the music within. Songs like "The Pretty One," pair old-school reggae rhythms with drifting acoustic riffs propelling an ode to a knockout. "Sincerity Simplicity" creeps into a slow rock beat with a smooth chorus that begs the audience to sing along to the groove. And the fast paced "Best Manifest" touches on a danceable ska vibe while singer Eric James belts out mad rhymes. The EP showcases F&G's finest elements, refined to a short listing of tracks that hints at good things to come.
"We love the new disc and hope that our current and future fans will dig it as much as we do," Mower says. "The local scene is booming right now, and we're excited to be apart of it!"

The group will attempt to expand its following next week as they hit the road for a regional tour. Help send them off in style.

FUNK & GONZO EP RELEASE
w/ Spearit
Mo's Bar & Grill
358 S. West Temple
Saturday, Sept. 19
9 p.m.