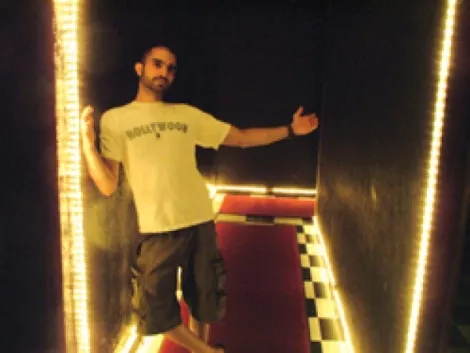 Apart from a guy in a clown costume and the tall, husky guy with the even huskier 'fro, you can't tell the comedians from the crowd at Wiseguys open-mic night. Among the four-dozen people gathered in the West Valley comedy club, all look like parents, siblings or friends, here to support the family goofball.
The fact is that most of them are the goofball. We're looking for one in particular, by the name of Sina Amedson. Although he's nowhere to be seen, his trebly voice is projecting strong through the P.A. system, introducing tonight's host—who, in turn, introduces the man who introduced him. Upon hearing his name, Amedson does the requisite jog-sprint to the stage, where, beer in hand, he proceeds to race through a set of jokes that tonight target Dane Cook, a comic who, some say, loves himself even more than his devoted throng of fans.
"He does this [stand/squats, moves his arm in a sweeping left-to-right motion à la Cook] for a punch line?" Amedson says, incredulously. It's not terribly funny, Cook being a favorite and easy target for a lot of comics who take exception to his superficial SuperFinger (SuFi) frat-boy aesthetic, but it gets a big laugh. Perhaps that's because most everyone here—Amedson included—can relate. They're trying to reach similar heights as Cook, but by being smarter and funnier.
Amedson's three minutes race by and he scampers off stage toward a bullpen where comics queue up, awaiting their turn. City Weekly meets Amedson here, and after a warm greeting, the comedian urges attention toward the stage. "That's Trenton James," says Amedson. "He's sort of a local celebrity; he's been in a lot films like Pirates of the Great Salt Lake." Like Amedson, James is confident, prepared and well received. So, too, are the next two guys, although they're all a little rough.
That's why they're here. Open-mics are where you test new stuff. That might be material (always best to work it out before performing it at a real show), or it might be the stand-up experience itself.
A skinny guy with tight, curly red hair goes up and works through new material (and stage fright). A nervous 50- or 60-something woman who, evidently, found something fascinating about her shoes rubberstamps Diet Coke addiction ("There's nothing wrong with that") and Paris Hilton, whom she actually likes enough that she didn't have any real jokes about her—just thought she'd bring her up—and goes painfully overtime. The guy in the clown costume and his partner do a positively impenetrable routine involving balloon animals, poorly executed physical comedy and bad Slovakian accents. A small woman resembling the diminutive psychic from Poltergeist deadpans Roseanne Barr-esque material.
All—hacks and rising stars alike—are applauded just for getting up on stage­—it's tough to test your humor in front of a live audience. Still, they do—partly because they have big dreams, but mostly because they share the common desire to make people giggle.
It's this desire that prompts Amedson to go beyond performing his own material by booking and promoting shows featuring local and touring comedians, as well as forming the Underground Comedy Movement of Salt Lake City (MySpace.com/SCLUnderground), a group of local comedians who "believe that the greatest comedy lies floating under the radar of mainstream media." The group lures the best underground stand-ups (Doug Stanhope, Sean Rouse, the legendary Ron Shock) to town, books them at Burt's Tiki Lounge or Mo's Grill, gives them a "door deal" (all proceeds less costs) and functions as supporting act, gaining experience with longer sets and larger crowds.
Amedson, who has been doing stand-up for four years, is already reaping the benefits. "I feel I have evolved in an exponential way since performing our own shows," he says. "I've also learned a lot about being on the other side of the business." He's most enthused at the response, noting that the recent Stanhope shows sold out, that the Sunday Mo's and Wednesday Burt's comedy nights have thrived (and attracted headliner pop-ins: "Lewis Black popped in [to Mo's] and did a show one night after a day of filming Unaccompanied Minors. He told us he liked what we were doing and was drawn to our room because he had to do the same thing in New York City when he couldn't get stage time in the big rooms." The best part, though, is that his fellow comics are growing as artists.
"The end we're trying to achieve is a comic-friendly room," says Amedson, who intends for the UCM activity to exist alongside—and in concert with—Wiseguys to promote the rich local comedy scene. "We want people to feel supported and nurtured creatively," he says—adding that the "comics are having a blast."
cw