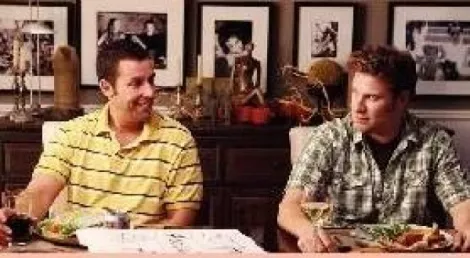 Adam Sandler and Judd Apatow's attempt to blend their styles of humor failed in You Don't Mess With the Zohan (which they co-wrote with Robert Smigel), but Funny People—written and directed by Apatow, with Sandler as the star—brings out the best in both men. Sandler, playing a superstar comic who's diagnosed with leukemia, mixes comedy and drama more than he's ever done before (his much-praised work in Punch-Drunk Love and Reign Over Me was mostly somber). Apatow, meanwhile, stretches beyond the high jinks of The 40-Year-Old Virgin and Knocked Up to make something a little deeper, a little more ambitious. It looks like this partnership might work after all.

Sandler's character is George Simmons, an average stand-up comedian who has become a millionaire by starring in idiotic Sandler-like films. He lives alone in a Los Angeles mansion and occasionally pines for Laura (Leslie Mann), his one true love, who left him 12 years ago. When George learns he's dying, he hires an up-and-coming young comedian named Ira Wright (Seth Rogen) to be his personal assistant and de facto best friend, and he begins to take stock of his life.

The film's mix of drama and comedy is never maudlin. One is reminded that Apatow's previous films had their underlying sweetness, too; Funny People just feels like the next step in the maturation process. Apatow's trademark obscene banter is in full force (in the first half, anyway) thanks to Jonah Hill and Jason Schwartzman as Ira's roommates, both fellow showbiz strivers.

Sandler and Rogen give respectable, grown-up performances, functioning as co-leads with separate character arcs, though it's ultimately Sandler who matters most. For perhaps the first time, he is playing an actual human being here. His occasional playful lapses into baby talk and silly voices are endearing rather than dumb—probably because they're occasional, rather than defining the character. You'd enjoy hanging out with this guy. His story matters.

And yes, there are still plenty of jokes about genitalia.

FUNNY PEOPLE


Adam Sandler, Seth Rogen, Leslie Mann
Rated R.