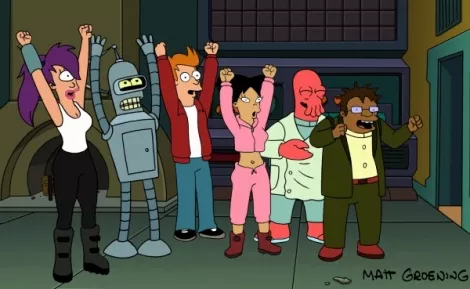 Futurama
Thursday, June 24 (Comedy Central)

Season Premiere:
"Canceled by idiots, brought back by bigger idiots." So begins the sixth season of 31st-century
Futurama
, which was snuffed by Fox after four sporadically aired seasons in 2003, then resurrected as four Comedy Central TV/DVD movies over 2008-09 (which they're calling "Season 5," and I don't care to argue as all these numbers are giving me a headache). The Planet Express crew were headed toward certain doom at the end of
Into the Wild Green Yonder
, so Professor Farnsworth "rebirths" them with a stem-cell stew (even robot Bender—just go with it), generating mixed results and a cyber-clone love quadrangle (of course).

Party Down, Gravity
Friday, June 25 (Starz)
Season Finales: Since the ratings for catering comedy Party Down aren't even good enough to be considered "dismal," we—meaning me, a few dozen TV critics and the occasional post-shift bartender who catches it on a 3 a.m. repeat—aren't likely to get a third season. Too bad, because Party Down is the anti-Entourage, the flipside to Hollywood aspirations where very little "works out" in the end. Oh, and it's funny, too. And if Party Down has no viewers, then first-season lead-out Gravity—a dark/strange/touching/daaark little dramedy about suicide survivors—is completely screwed.
Good News, Everyone!


Sweet Zombie Jesus!


Bite My Shiny Metal Ass!

Hung, Entourage
Sunday, June 27 (HBO)
Season Premieres: When last we left luckless-in-life/lucky-in-the-pants Detroit gym teacher/man 'ho Ray (Thomas Jane), he'd taken on a second pimpstress (Rebecca Creskoff) and skipped out on a "date" appointment that turned out to be his remarried ex-wife (Anne Heche). As Season 2 gets underway, first pimpette Tanya (Jane Adams) is having second thoughts about bringing ruthless Lenore into the "company" so she consults a real pimp, Ray's having conflicted feelings about servicing a pregnant client (hence the episode's title, "Just the Tip") and conflicted-er new romantic feelings for his ex—and, he still has to get his school's baseball team to the state finals. There's a lot going on in Hung, but it's still simply about finding happiness in a downsized world. Insert huge-dick pun here.
If only Entourage were half as complex anymore: Vince's (Adrian Grenier) biggest problem in Season 7 is getting a bad haircut. And next year there's going to be an Entourage movie? Whuck? Jeremy Piven's obviously still having fun as power-hungry agent Ari, but the rest of the cast (even previous show-saver Kevin Dillon) are just going through the motions and cashing the checks. Billy Walsh would be appalled.

Rescue Me, Louie
Tuesday, June 29 (FX)
Season Premiere/Series Debut: Not really a Spoiler Alert: Tommy (Denis Leary) isn't dead, despite last year's shot-in-the-bar cliffhanger finale. His brief encounter with The Afterlife, however, is less heavenly than utterly hellish—and, contrary to my belief, hell isn't an Entourage movie. This vision prompts Tommy to get right with Jesus—at least for a few episodes, anyway. Meanwhile, the 62 Truck firehouse is in danger of being shut down due to NYC budget cuts, and Sheila (Callie Thorne, still waiting for that Emmy) wants her son out of the firefighter life now. This is shaping up to be the most chaotic/cathartic season yet, and there's still another to go before it all ends on Sept. 11, 2011—unlike the fizzling Entourage, Rescue Me is going out in a blaze (Entourage slam/fire metaphor achieved!).
As for the premiere of Louie: If you liked comic Louis C.K. before, you'll love him now; Louie is a no-compromise, no-comfort comedy—even more so than his HBO series Lucky Louie. If not, move along ...