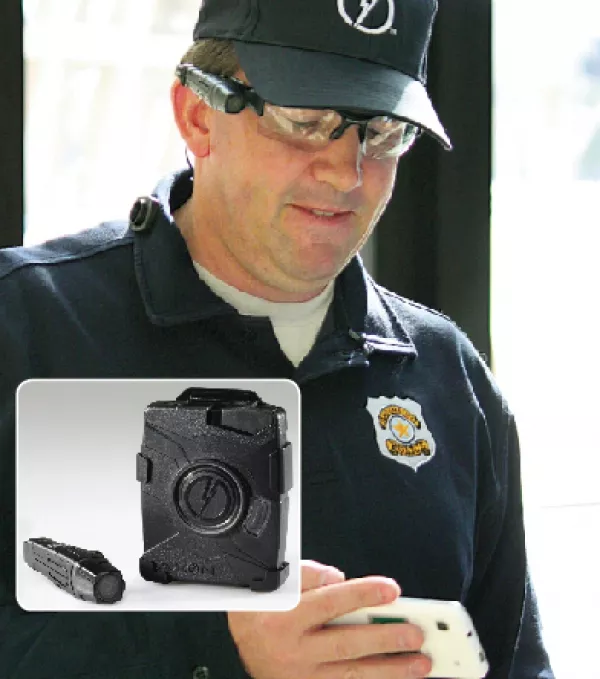 SLCPD
Detective Bill Silver of the Salt Lake City Police Department demonstrates the AXON Flex body camera. SLCPD has 95 of the camera
In addition to the handguns, extra ammunition magazines, Tasers, batons and handcuffs lugged around by law-enforcement personnel, about one-third of Salt Lake City's police officers also wear cameras—cameras that cost hundreds of thousands of dollars in taxpayer money and were bought without the consent of City Hall.

Each AXON Flex body camera costs $3,368. The total purchase price for 80Â  cameras came to $269,493, according to documents obtained by City Weekly. But the 2013 purchase was not accounted for in the department's budget, nor was it reviewed by the Salt Lake City Council.

The cameras, which have been propped up by SLCPD Chief Chris Burbank as "the way of the future," also did not go through a competitive bid process. And other local police agencies, citing high costs of data storage and the functionality of the cameras, have greeted the technology with less enthusiasm than Burbank.

The Salt Lake City Mayor's Office didn't know the ins & outs of the purchase, although Art Raymond, the mayor's spokesman, says he's sure that at some point, an expense of this size was routed through the budget.

"It's all taxpayer money and it's all tracked very, very closely," he says. "At some point, there has been de-facto approval given through the budget process; the council is the budget-making body."
But City Council staff say it isn't unusual for city departments to make unbudgeted purchases during the year without seeking permission from the council. Red flags rise, they say, only when a department seeks more money than was allotted in the budget.

"We didn't talk about it in the budget at all," says council chairman Charlie Luke, who notes that he had heard SLCPD was testing cameras but was unaware of a large purchase. "That's the only thing I'd be surprised about, that there was 300 or so thousand dollars available in the operational budget; where exactly that came from, what it was initially appropriated for."

Burbank says he sought to have the cameras placed in the budget, but other expenses, like $250,000 for new Taser guns, and $25,000 for ballistic vests, took priority. Then, Burbank says, the department came across money that had been budgeted for other expenses and wouldn't be used. Since budget surpluses don't roll over, Burbank explains, he made a point, as he's done in the past, to use these funds. And in this case, the quarter of a million dollars was perfect for the cameras.

Burbank says this is "how we've always done business in the police department," adding, "The overall amount that we spent on cameras represents about .002 percent of our overall budget, so yes, I do have quite a bit of discretion in my budget." The department's operating budget for the current fiscal year is $55.8 million.

There are advantages to making purchases outside of the budget arena: namely, Burbank doesn't have to seek City Council approval. But the police chief says there is no temptation to purposefully overestimate the costs of an item in order to end up with loose cash that can be spent without the City Council looking over his shoulder.

"The notion that I could somehow get more money is not realistic," he says. "It would be very, very difficult."

Burbank says the purchases he makes with leftover money aren't always in the quarter-million-dollar range. Sometimes, he says, there's only money for a couple of new radios.

Burbank first began touting the benefits of on-body cameras in late 2012, when the CEO of Taser International, the company that makes the cameras, came to Salt Lake and gave a demonstration at a news conference.

A few months later, police officials across the Salt Lake Valley began experimenting with the cameras. The Valley Police Alliance, a loose contingency of police chiefs who meet to discuss pooling resources, distributed 120 cameras among eight local police departments.

The Salt Lake City Police Department has more enthusiastically bought into the program. In June 2013, five months after receiving the initial 15 cameras, SLCPD purchased 80 more, bringing its fleet to 95. Burbank says he aims to have a body camera on every officer in the near future, as funds allow.

"Basically, what my intention is, is to do a full deployment with all officers that come into [contact with] the public," Burbank says. "We are maybe a third of the way with where we want to be."

Officials from several different departments agree that having on-
officer cameras could provide a host of benefits. Chief among them is bolstering officer and citizen accountability. Burbank believes the cameras will shed light on deadly force situations, and says they have proven effective so far at reducing citizen complaints.

"In the long run, I think we'll see the benefits," he says.

In their request to avert the competitive bidding process, police officials noted that the AXON Flex camera is the only one of its kind to mount to eyeglasses, and Burbank says the cameras seem most effective when attached to glasses where they can capture the point of view of the officer.

But according to officials in West Jordan, Sandy and West Valley City, many officers clip the cameras to their collars or lapels, and the cameras then often fail to capture the scene, pointing off at the ground or in another direction.

Dan Roberts, a spokesman for the West Jordan Police Department, says the 15 cameras he's dealt with have not proven durable. So far, he's had to replace five, which were under warranty. "They're difficult to keep aimed directly straight ahead," he says. And when they do work, Roberts says, he's seen mixed results. "You bump them or move or something, and they end up pointing down at the ground, so the video's not that good, but the sound is all right."

West Valley City Police Chief Lee Russo, whose department received 15 of the cameras, says he isn't sold on the AXON Flex because it must be manually turned on before it will store more than 30 seconds of video. The cameras are always recording, but automatically delete everything that's older than 30 seconds unless the officer presses a button—a tall order when drawing a gun, Taser or protecting oneself.

"In the heat of the moment … [the camera] can lose the ability to record the video just simply because the officer didn't turn it on," Russo says.

The cameras have caused other concerns. Russo says he worries about the cameras capturing casual conversations between officers, and he isn't yet convinced that data stored on outside servers could be easily secured or accessed.

A large part of Salt Lake City's purchase, $118,421, paid for data storage on Taser International's servers.

Kinks aside, Russo says, he would like his officers equipped with cameras, but only when they function more smoothly and carry a smaller price tag.

"We want a system that's going to work at a reasonable cost point," he says. "I think the investment is worthwhile. It is a finance consideration because these units don't come cheap, nor [does] the infrastructure."

By being at the forefront of the on-officer camera revolution, Burbank says, he hopes to play a part in establishing case law and best practices for the cameras. He notes that controversy and sticky legal questions can accompany new technologies, especially when they wind up in courtrooms.

"I personally believe that on-body cameras will become required equipment in the not-too-distant future," he says.
Twitter: @ColbyFrazierLP