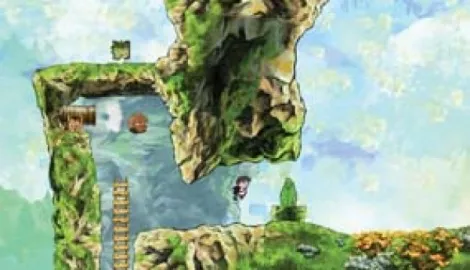 By January 2007, Slamdance wasn't only a place for indie filmmakers to show off their wares, get a little recognition and, hopefully, catch the eye of a distributor looking to take a chance on an unknown. It was also host to an independent video-game competition known as "Guerrilla Games." Like its cinematic counterpart, this was a huge opportunity for independent game makers to get their titles out to the public. n
Now, just two years later, it's long gone. And it's no secret why.
n
I first wrote about the Guerrilla Games competition in 2006, after I played a game called Rumble Box. It was a fighting game where the combatants—made completely of geometric shapes—kept beating and annihilating one another until one could climb out of the arena over the top of the dismembered body parts of the vanquished. It was a truly fantastic, ingenious game. If the simulated warriors were made to look like humans or animals, the game would be far too graphic. It was brilliant. I was hooked.
n
Little did I know that my first year writing about the festival would be its best. In 2007, the developer of a controversial game called Super Columbine Massacre RPG was asked by festival organizers to enter his game into the competition. He had no intention of doing so, he told me at the time, but thought if the festival was asking, they must see something in the spirit of his game worth recognizing. In fact, SCMRPG was named a finalist.
n
The game, as you can infer from the title, was a very basic simulation of the Columbine school killings, with crudely designed characters and settings. The game was controversial, but at its core, it was perfect for Slamdance. Here, it would be judged for what it was, not just what it depicted.
n
That was the plan, anyway. In the weeks leading up to the competition, the game was pulled. Some say it was because of public pressure; others say it was sponsor pressure.
n
The move brought immediate backlash. The judges who made it a finalist were offended, as were other game developers, many of whom pulled their games from the competition. In a strange stroke of irony, many sponsors—who were there because of what the competition supposedly represented—pulled their support because of the censorship.
n
"Slamdance has never sold out, and we will continue to support independent artists," said Slamdance director Peter Baxter at the time. "I hope a choice like this will never have to be made again."
n
Well, as it turns out, Pete, your wish came true. The 2008 competition was severed from the film festival, and tentatively scheduled to be held later that year in California. It never happened. Nor does it appear that a 2009 version is in the works.
n
A statement on the Slamdance Website reads, in part: "Over the past several years, Slamdance has devoted a great deal of time, personnel and resources to producing the Slamdance Games Festival—the first public venue devoted to highlighting and promoting independent work in the field of video games and interactive media. Thus it is with heavy hearts that we announce the cancellation of the Slamdance Games Festival for the foreseeable future."
n
Unfortunately, this was all foreseeable. Everyone who interviewed Baxter at the time asked about how it would affect the show's credibility. He treated it as a storm that had to be—and would be—weathered. But some storms are just too destructive to recover from. I knew the decision to kill that game two years ago was going to have a horribly damaging affect on the competition; I can't say I knew it would end in its ruination.
n
You can't use words like "guerrilla" and "independent" simply as marketing tools. And until 2007, nobody necessarily thought they were. The game developers and fans of this show were proud of the contest's edge. When the majority of designers pulled out almost immediately, that was the first sign that this thing was never going to be right again.
n
Most of the games in this competition had been top-notch. The complex puzzle game Braid, one of the first to pull out in 2007, had a tremendous year. Its release on the Xbox 360 in 2008 propelled it onto the top 50 lists of many gaming publications. The game looks so simple in its design but is so beautifully complex in its content.
n
I think it would have won at Slamdance pretty easily in 2007. But developer Jonathan Blow pulled it. He and the others who pulled their games made the hard decision for their art, for their independence, for their integrity.
n
In 2007, Slamdance took the easy path when it pulled Super Columbine. Unfortunately for them—and a generation of indie game makers who won't get to utilize this showcase—that road was a dead end. tttt