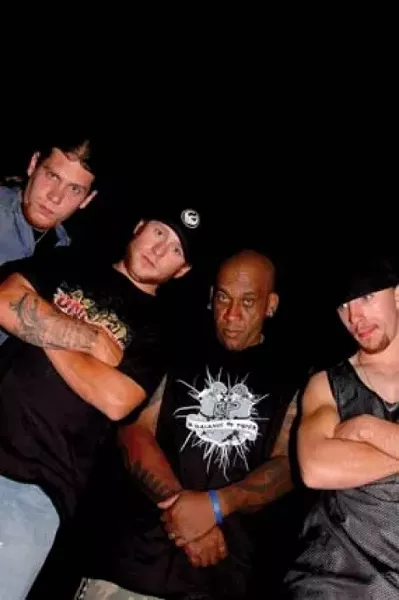 n
Sixty-five cities have hosted the Project Independent metal tour this year and each has entered one band into a contest worth thousands of dollars in gear, a record deal and a national tour. Salt Lake City metal heads A Balance of Power have advanced to the finals representing our region, primed for their close-up. The group's tight musicianship and metal-as-hell live show hit me upside the noggin: It's easy to see how they won the last round of voting.
n
The band has existed in some wicked incarnation for the last four years, culminating in the beast they are now—drummer Marvin Dixon, and recent addition Shane Garner on rhythm guitar (a "Tricky Ricky" greatly skilled at molding to his new environs). Add to the lineup of Chuck Stone, Colton Bales and founder Chris Margetts.
n
A Balance of Power's favorite bands include Machine Head, Mudvayne, The Haunted, Testament, and Iron Maiden, and the resulting sound is that of Satan gargling babies and shreddin' for your soul. Fans of real, hard metal flock to the showcases featuring some of the best bass playing I've seen courtesy of super-fast Bales. It's strenuous stuff to finger pluck so rapidly and watching his chops up-close is humbling. Dixon's steady hands on the sticks round out the rhythm section, giving the band the underbelly it needs to vibrate your spine. And he's serious about his gear: "It's made for hardcore pounding," Dixon beamed after one gig, showing off his new cymbal—the heaviest sucker I've ever seen.
n
The band just finished recording their debut album with Bruce Kirby at Boho Digitalia, and Los Angeles producer Roy Z (Judas Priest, Alice Cooper) will complete the final mix-down in California. A Balance of Power's investment, time- and sweat-wise, should be rewarded this year and would get a huge boost if they receive the needed support from City Weekly  reader's votes. Final nationwide voting starts Dec.1 at ProjectIndependent.net. Support your local scene with one mouse click. Wouldn't it be nice to see a big local metal band make it big for once?
n
Check out Comcast On Demand Music under Bandwagon Live to see the band shred live, or try this from DigiTruck:
n