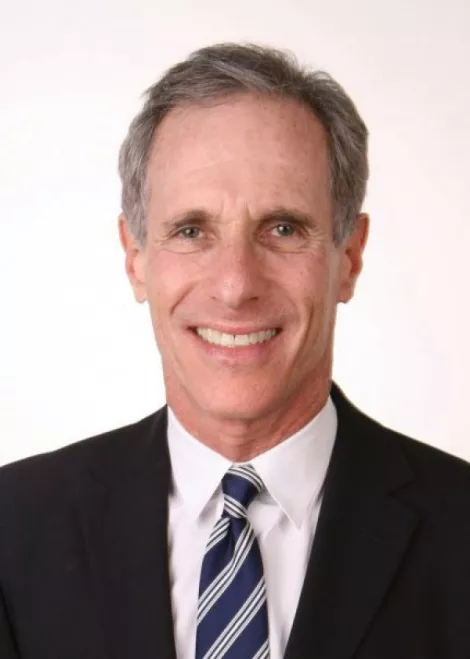 Fred Karger, a 61-year-old gay California Republican, is one of a crowd of hopefuls vying to be the 2012 GOP presidential nominee. Among the contenders, he's a long shot—even among the long-shot candidates. But after 30-plus years working in conservative politics, Karger knows he won't be the first gay Republican president. He also knows the role he can play, and play well if he gets his opening: wild card.

Karger is vying for the nomination along with Mitt Romney and former Utah governor Jon Huntsman, both of whom have helped bring their membership in The Church of Jesus Christ of Latter-day Saints front and center to the national stage, even if they've downplayed their faith in their campaign messages. Karger also has a message: As a key organizer in fighting California's 2008 Proposition 8, which repealed same-sex marriage in the state, and as a man who lived the majority of his life in the closet, Karger feels he has been called to serve—or called to question, at least—Mormon candidates' allegiance to voters versus allegiance to their prophet.

"I've become a great student in the LDS religion," Karger says. "I know obedience with the Mormon faith is obedience to the church—above family and above country—it's overriding, and that does concern me."

Karger has spent a lifetime involved in conservative politics. He's also lived more than 50 years of his life in the closet. It was, he says, a "classic dual life"—rubbing elbows for decades with political heavy-hitters in the Republican party, while also living a secret gay lifestyle. Politically, Karger has either worked in senior positions, or supported every Republican president since Richard Nixon. That includes national opposition research and media work for both of Ronald Reagan's presidential campaigns.

"I was really a student of Reagan," Karger says. "He was an inspiration and a mentor to me."

Karger's work offering political consulting to major corporations like cigarette-maker Philip Morris enabled him to retire at 53 and spend two years traveling the world as well as finance his campaign. According to his federal financial disclosures, Karger has raised over $260,000 through June 30 for his campaign—$230,109 of which came from his own pocket.

But while Karger is proud of a lifetime of political activism, he is not proud of the life he hid from others for so long. He recalls an 11-year relationship with a man that was completely secret from his friends, family and co-workers.

"It was a terrible existence," Karger says of hiding the relationship. "We never spent one Christmas together in 11 years."

Now throwing his hat into the ring for the GOP presidential nomination, Karger campaigns as a pledge to encourage other gay individuals to not only come out, but also seek public office. But while Karger is a candidate, his political background is more as an organizer and opposition researcher or dirt-digger than as a politician. These were the same kind of skills he dusted off in researching the financial contributions that were pouring into California's Proposition 8 debate.

It was Karger who connected the dots between the major influx of cash to the Proposition 8 campaign and the LDS Church. Karger gave his research to The Washington Post, which first broke the story of the church's involvement in the contentious ballot proposition. As co-director of Californians Against Hate, Karger also organized boycotts and helped file campaign-finance complaints against the LDS Church in Maine and California.

"They're not too fond of me," Karger says with satisfaction.

Karger has taken this fight straight to Romney. He even said in a recent Los Angeles Times profile that Romney would need only make "one call" to church leaders to get them to back off campaigning against same-sex marriage in other states.

Karger admits that the "one call" comment is simplistic, but strategically speaking, he believes the church would back off such campaigns if adverse publicity "got too hot for them."
"It's happened twice before," Karger says, speaking of the church's changing stances on polygamy and allowing black members to obtain the priesthood in the wake of public disapproval. "Suddenly … revelation happens," Karger says.

While Karger is critical of Romney, he has nothing but praise for fellow Mormon candidate Huntsman. "He's shown willingness to part ways with the church on issues," Karger says of Huntsman's 2009 stand in supporting civil unions for gays and lesbians.

But if Karger thinks he can jab Romney on taking orders from the church, he's first got to be invited to the big kids' table. Karger came close to facing Romney in an Aug. 11 Fox News debate by gaining 2 percent in a poll, which would have met the qualifications to be in the televised debate, but he was barred by organizers because his polling was done online.

For University of Utah political scientist Matthew Burbank, Karger is the kind of wild card that could distress Romney's campaign.

"He really has no hopes of getting elected," Burbank says of Karger, a candidate he admits with a laugh that he's never heard of. "But trying to make another candidate's life difficult? That changes the dynamic. It's unlikely [to succeed], but it's the kind of unpredictable event that campaign organizers hate."

Burbank says even addressing speculation about the church's influence is bad for a candidate like Romney "not necessarily because those rumors are true, but because they are difficult for a campaign. Especially for a candidate like Romney, he doesn't want to focus on that question."
A jobs candidate like Romney, Burbank says, will avoid criticisms from the likes of Karger for as long as he can.

Karger, meanwhile, expects to press this attack and is still waiting for his opening. While Karger's campaign pushes hard against the influence of the LDS Church, he also maintains that he's not anti-Mormon.

He's aware of the church's support for discrimination protections for LGBT individuals, but still considers its marriage campaigning to be "gay-bashing."

"[The church] is saying that if gay members are struggling with same-sex attractions, 'We will struggle with you,' " Karger says, recalling a woman telling him about her husband undergoing reparative therapy to "cure" his homosexuality. A result, Karger says, that too often drives families apart and contributes to suicides in so many alienated gay members.

"Since the church joined his struggle," Karger says, "he won't be able live his real life and be happy."