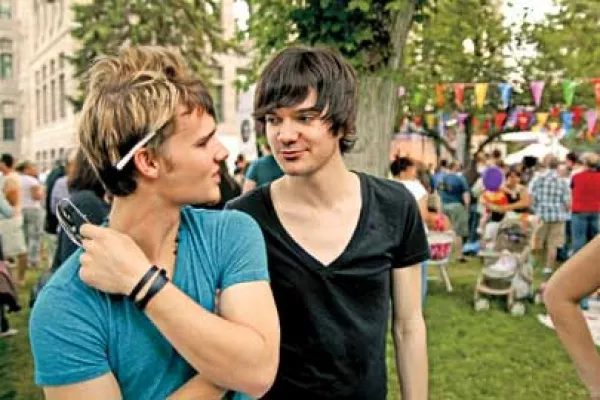 If you are an LGBT person moving to Utah or have just arrived, do not panic. Breathe—deeper. Sit down, have a latte and read.
Utah is both one of the best and worst places to be an LGBT person in America. People have told me that Salt Lake City has more gays per capita than any other city in the country. It is indeed a red state, but if you live in the capital city proper, you are in a lovely blue dot of liberals, "gayborhoods," Democrats and Jews. The mayors of Salt Lake City in the past several decades have been Democrats.
Most people say Salt Lake City proper extends from the airport up to the University of Utah and south to about 2100 South. Anywhere else is actually the county or other towns within this 800-square-mile mountain-surrounded ancient lakebed known to some as the Great Western Jell-O Bowl.
I wasn't born here, but was sent here to "reform." I went to a boarding school in central Utah, far away from home. I stayed in Utah to go to college and came out of the closet in my freshman year. I was actually shoved out in the 1970s and was raised by drag queens in gay bars, where I eventually ended up being a DJ.
KINGS, QUEENS & GAY BARS
The Royal Court of the Golden Spike Empire was established in 1976 (back when RuPaul was working through puberty at Gompers Junior High School in San Diego). I was the first grand duke of the organization and was publishing Utah's first gay newspaper, The Salt Lick.
The drag-queen tradition lives on to this day. If you care to compete for crowns or just love a tucked and freshly plucked Judy Garland impersonator, the Coronation of the Emperor & Empress is held every Memorial Day weekend by the Royal Court of the Golden Spike Empire (RCGSE.org).
There are Cyber Slut drag bingo parties, too, held the second Friday of every month, from 7 to 9 p.m., at the Fraternal Order of Eagles (1104 W. 2100 South, Salt Lake City, 801-972-1595, UtahCyberSluts.org).
Utah claimed what is said to be the oldest gay bar west of the Mississippi from 1948 to 2009: The Radio City Lounge. Known as the RC, the bar opened right after the end of World War II and was the place for soldiers and, later, Leathermen to go see a drag show and meet up with other guys. It wasn't a men-only bar, though. Rose was a bartender there for decades, and even I won a drag show there myself as the first "drag king" to perform there.
In the 1970s, we had a women's bar named Perky's, located under what is now the new North Temple overpass. It was torn down 30 years ago, after Perky retired to Idaho.
The Sun Tavern originally stood on the northwest corner of what is now EnergySolutions Arena. After the building was demolished, it moved to 200 South and 600 West before a freak tornado blew it down in 1999. Religious zealots said it was God's way of punishing the sinners who frequented that "homo-sexshul" establishment, although the windows in front of the Christus statue on Temple Square were also cracked.
Salt Lake City remains "blessed" with many gay bars. We still have a women's bar in Paper Moon (3737 S. State, Salt Lake City). Most big cities can only claim they have a "gay women's night" at a men's club.
BY NIKI CHAN
THE PAPER MOON
There's also The Trapp (102 S. 600 West, Salt Lake City, 801-531-8727, TheTrappSLC.com, where the old Sun Tavern blew to), Jam (751 N. 300 West, Salt Lake City, JamSLC.com), Try-Angles (251 W. 900 South, Salt Lake City, 801-364-3203, ClubTry-Angles.com) and many other liberal, nongay, blended-orientation clubs. I've never been in a Utah gay bar and felt like it was "men-only" or "women-only." We were such a closeted minority here for so many years that we all stuck together and supported one another. That's what makes Utah different to me—no exclusivity among my peoples.
I don't know of any exclusively gay bars anywhere else in the state, but I know that Ogden, Moab and Springdale have very gay friendly bars/gastropubs. (Provo, um, maybe not so much.)
TAKE PART IN PRIDE
If you're not a bar person, get to know the LGBT community by hanging out at Café Marmalade, in the same building as the Pride Center (361 N. 300 West, Salt Lake City, 801-539-8800, UtahPrideCenter.com), which has groups, classes and events. It also now has a fully funded Services & Advocacy for GLBT Elders program for senior gays. Best of all, the Pride Center puts on the main Gay Pride festivities for the state and organizes one hell of a big parade every year, held on the first Sunday in June in downtown Salt Lake City. What started out as a beer bash by a bunch of us in 1977 now has a Dyke/Trans March, a 5K charity run and more than 50,000 people standing on the streets watching "the gays" march and sashay in the heart of downtown's parade route that ends at the Salt Lake City-County Building. The rainbow flag flies above the whole town that week—put up by order of the mayor.
Pride grand marshals have included Roseanne Barr (she grew up Jewish in Utah) and Utah's first openly gay state legislator, Jackie Biskupski. Past themes I remember are: "Equal Rights. No More. No Less," "Pride, Not Prejudice" and "Our History, Our Future."
Tens of thousands straight and LGBT folks enjoy the festivities together each year. And 2012 saw, for the first time, a group of about 300 straight Mormon men and women march in the Pride Parade, calling themselves Mormons Building Bridges and waving signs with messages like "Mormons love you." That brave group brought a tear to many a Mormon and non-Mormon eye.
There are gay pride days in Moab, too, and Las Vegas is only a six-hour drive south if you really need to get your big gay party on.
Besides the bars and the Pride Center, there are plenty of churches across the state, like the Unitarians, that will welcome LGBT folks without judgment.
GET ORGANIZED
For kids in high school or those attending college, there's likely an LGBT club already established in your school. If not—start one!
The Pink Dot phenomenon is growing. More and more Utah city governments are passing antidiscrimination housing and employment ordinances that protect the rights of LGBT people.
In my day, it was OK to fire someone or throw them out of their apartment for being gay. Now, times have changed, and we'll all have our eyes focused on the U.S. Supreme Court this coming spring to see what they will do with the Defense of Marriage Act, Prop 8 and the other LGBT cases before them.
Like politics? Get into a WTF/LOL text war with your friends back home about The Advocate, which named Salt Lake City as the Gayest City in America in 2012.
The LDS Church just put up the website MormonsAndGays.org in December 2012.They are trying, bless their little hearts. Really, they are attempting to be "Christ-like" in their own special way. If you are gay and a Mormon, there are support groups and meetings for you.
Sadly, gays can't adopt children as couples or legally get married in Utah. Most kid-hungry homos who can't birth babies get around the laws and establish a residency in another state to adopt, then move back to Zion with a small human(s) in hand. We've got great LGBT attorneys and estate planners to help you get your kid on and plan your family right.
I'm a real-estate broker and have used the word "gayborhood" for 30 years. So, where do gays live? Anywhere and everywhere. My opinion is that there are more LGBT people in the Marmalade/Capitol Hill area, downtown, the Avenues, the university neighborhoods, 9th & 9th and Sugar House than in the 'burbs. Yet, the town of Torrey, outside of Capitol Reef National Park, appears to be well on its way to becoming a haven for gay retirees and is the place for the lesbian-oriented Women's Red Rock Music Festival each August.
There's also a national Gay Ski Week, Feb. 21-24, in Park City, the month after the Sundance Film Festival. I was in charge of transportation and housing for Sundance for years, and I can say it is 10 days of the best "celesbian" watching you can find—mucho man fur, too.
There you go. You can breathe now—you've got places to visit, dates to remember and a lot of folks wanting you to join the good fight for our rights in Zion!