"I was fallaciously trying to live in two worlds at once. Especially after Proposition 8, I wanted to prove everyone wrong," Kovalenko says of the tensions between the gay community and the LDS Church caused by the church's lobbying efforts to repeal gay marriage in California in 2008. In his precarious position of being gay and Mormon, Kovalenko intended to change the attitude of his fellow members by staying the same person he always was: committed churchgoer, exemplary student and ambassador for BYU's music program. As a violinist, Kovalenko helped set up institutional relationships with the prestigious Chautauqua Institution in New York state. He also taught violin to undergrads in the school.
He also fell in love with another man at BYU. That's how Kovalenko changed—even if BYU didn't.
"I felt like I was allowed to honor myself and allow myself to experience love when it came into my life," he says. "I listened to my heart and that's something I learned, in part, from my religion."
In 2007, BYU changed its honor code, the policy that regulates student conduct, so that simply being gay would not be prohibited. Acting on those impulses with inappropriate sexual contact, however, would still be prohibited, as would advocating "homosexual behavior." Kovalenko knew by the time he was called into the Honor Code Office in the summer of 2009 that his commitment to another man would be discussed.
Presented with allegations—but no evidence—of living an unchaste life, Kovalenko, only one credit away from graduation, was offered the opportunity to complete his degree after a year of suspension, which would include frequent visits with an Honor Code Office counselor, essay assignments based on church talks, and agreeing not to associate with any gay individual.
It wasn't the terms of this honor code arrangement that caused him to walk away from the university, but the rationale they used to find him guilty.
"I decided not to lie in the interview," Kovalenko says. "But I didn't verify whether or not my relationship was sexual—I refused to give that information because I didn't feel that was any of [their] business and I [had] talked to my bishop about it."
That's what finally pushed him from BYU. Since he had admitted to being in love with his boyfriend, Kovalenko was told that any contact with him—even a handshake or a hug—would be inappropriate. Any sign of affection would be just as inappropriate as sexual relations and be seen by the honor code as "advocating" for "homosexual behavior." (Representatives of BYU who handle honor code discipline deny they would make such claims but also refused to comment on Kovalenko's case, citing the Family Educational Rights & Privacy Act.)
For an institution that purports to encourage "honor," some students worry that the bureaucracy tasked with enforcing an honor code seems inconsistent and unfair in its approach. They also see an office that is not seeking to foster honor among college students but rather to mass-produce the next generation of conservative, young Mormon professionals.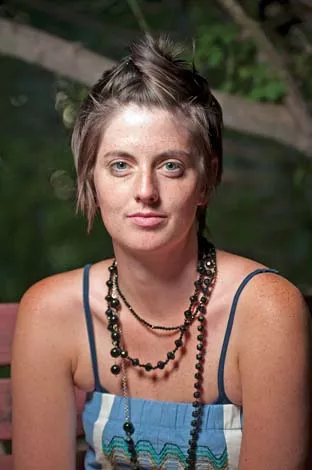 "It's so nebulous," says Ashley Sanders (pictured at left), a former BYU student, about the honor code. "They can use it to enforce whatever they want and to control any behavior." As a student activist, Sanders and some fellow students were once denied permits to protest the invasion of Iraq in 2003 because "it was against the honor code for us to question our country."
People can change, but can institutions change without the persistence of the people in them? For a church-owned institution dedicated to preserving family values while struggling to define the role for the members who don't fit in—especially gay members—BYU seems to have changed little in the way it uses the honor code. Since the turbulent '60s, when school President Ernest Wilkinson used the honor code to squash rabble-rousers, long hairs and beatniks, BYU has budged little on its policies regarding students who just don't fit the mold.
The Honor Court
BYU is perhaps Utah's most well known university. Nestled against the Wasatch Mountains in Provo, the college, named after the Mormon faith's second prophet, is home to more than 33,000 students. Most students are LDS and flock to the institution known for its prestigious programs, such as its business and law schools. It's also a school that attracts students seeking to uphold a standard of clean and righteous living, to stand in sober contrast to the typical American college student. According to Steve Baker, director of the Honor Code Office, the code creates a unique culture of academic and spiritual flourishing.
"We also believe students, who honor their commitment to live by the standards they agreed to, do in fact create a very unique environment where service and learning flourish," Baker writes via e-mail.
The campus is still a typical college setting, with students playing Frisbee on the open grounds or cramming for finals in the library. Except that, inside the library, simple placards next to each check-out booth and info desk read: "Please respect the Honor Code so that we may serve you better."
But the code is not just a recommendation. While commonly meant for upholding dress and grooming standards, it's also a way to regulate behavior. Baker says the office interacts with written warnings, meetings and discipline hearings with about 1 to 3 percent of the student body annually. Prior to 2007, those interactions included punishment for gay students who simply admitted to being gay, a policy revisited only after student protests.
Considered a victory for gay students and activists when it was changed, many now see the application of that rule and the honor code process as still too punitive. The exercise of the new policy is one many say actually contradicts the decisions of the church leaders and even the school's own policies.
Being a student in good standing at BYU has required, since the 1980s, an "ecclesiastical endorsement" from the student's religious leader. For LDS students, this is a form approved by their bishop to verify the student is worthy to attend BYU.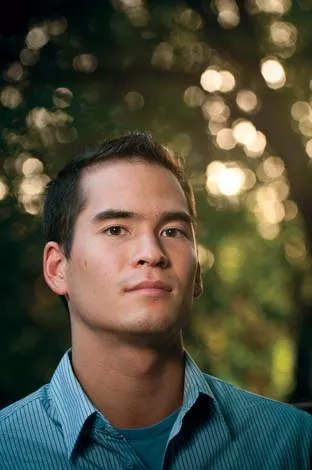 Two days after Brian Clement (pictured at left) finished the law school admissions test in October of 2008, he was called into the Honor Code Office. Clement knew immediately that the administrators had learned of a brief relationship he had had with another male student the previous summer, one he now regrets. (The brief relationship, he admits, was consensual, but he also says that the other man was the one who pushed him into an intimate relationship.)
Apparently, word of the relationship reached BYU, which swiftly took action. Being one semester away from graduation, Clement was now following two different discipline tracks—one through BYU and one through his local ward.
Through his own ward, Clement faced probation, a loss of privileges or even excommunication. At BYU, he faced probation, suspension or even expulsion from the university. Clement was relieved to find that his own bishop chose leniency. "They didn't pull my endorsement, so according to the church, I was worthy enough to stay at BYU."
BYU disagreed and suspended him.
"It was really odd that I didn't get kicked out through church," Clement says. "Which is, technically, supposed to be the higher authority."
Clement appealed the decision and thought he had a fighting chance, since his own bishop felt finishing his education would be better for him as a student and as a member of the church. That was until Clement discovered that the same person who handled his first hearing—Vern Heperi, dean of student life—would also be the sole decision maker in his appeal. Baker says that the Honor Code Office's policy is that the person who hears the appeal is not anyone involved in the initial decision. While this was not Clement's experience, Baker would not discuss specific incidents with students because of federal education privacy guidelines.
Clement made his appeal, backed up by a teacher and a character witness. Again, the suspension was upheld.
Clement, evicted from his student housing, lived life in limbo. While the issue of gay marriage consumed the nation during the Proposition 8 debate in California, Clement was meeting with the Honor Code Office every two months to complete essay assignments and learn whether or not he would be readmitted. For eight months he remained suspended. After finishing an assignment on how the honor code made him a better person, Clement was re-admitted in the fall of 2009.
Looking back at the process, Clement bristles at an investigation he felt was concluded before he could ever present his side. He says Heperi never seemed to believe his account that he was not the one pushing the relationship. He also was told he could not have any legal representation during his appeal or initial hearing. Baker, who responded for this story on behalf of Heperi and BYU, said in his statement that "attorneys are not invited to participate, unless one is a parent of the student involved." "I didn't know what I was allowed," Clement says. "But it's not like they read me my Miranda rights or anything."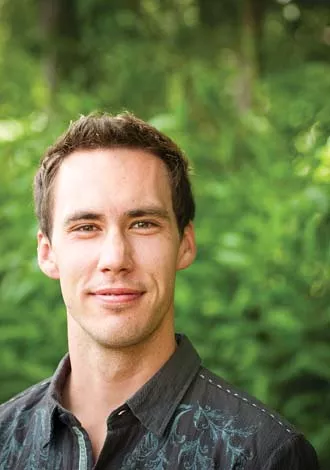 Not all gay students, however, have shared Clement and Kovalenko's (pictured at left) experience. Brent Kerby, a current student, came out as gay to the Honor Code Office. While he was not in violation of the code, Kerby simply wanted to inform the office about his orientation and ask for clarification about the honor code expectations. "The counselor expressed sympathy for my situation and said, 'Well, maybe the day will come when the church will say, 'Get married: whether to a guy or a girl, it doesn't matter.' Sounds weird, but who knows?'" Kerby writes via e-mail.
"I was impressed by the kindness and sensitivity that was shown by this honor code counselor," Kerby writes. "I asked many questions about the honor code and was given some helpful answers; while these answers didn't entirely make clear what was expected of me as a gay BYU student, they did at least alleviate fears of being kicked out over some small perceived violation."
For Clement, however, his experience with BYU was all he needed to walk away from the church entirely. Clement admits he was losing faith in the church before he was sanctioned but feels BYU sealed the deal; especially now that he has to explain the notice of suspension BYU gave him to every law school he applies to.
"[It] really pissed me off," Clement says. "Considering my bishop just wanted me to finish school and get on with my life and not make me angry at the church. I really hate BYU. They really made me feel like crap."
Court Procedure
Certainly, an office regulating student life isn't a court, but what is troubling for some students is inconsistency from the office. One student, who asked that his name not be used, was brought before the Honor Code Office but was never told he could bring character witnesses to the hearing. But in his situation, the office may have felt they had all the evidence they needed—a photo taken of him dancing at a gay nightclub in Salt Lake City.
He doesn't deny the photo was of him but defending against the allegation of living an unchaste life or even "advocacy" through dancing, was difficult, since the identity of whoever took the photo was never disclosed.
"They never tell you who it was," he says, although he suspects it was another gay student who felt jilted by him and got payback by turning him in.
BYU's Baker notes that it's exactly because the office isn't a court that they can rely on anonymous tips. "Because the process is meant to be an educational experience and not an adversarial occurrence, students do not face their accusers in most cases." Baker also denies that students are encouraged to follow or stake out other students to see if they violate the code, on or off campus.
"I try not to associate the church with BYU," the student says. "It's just frustrating because BYU and the honor code are actually stricter than the church." He also feels that the code is not creating honorable students but a system that encourages ratting on one another and one that encourages students lying to avoid punishment.
"It fosters an environment that is just out of touch with reality. They don't call it the 'Provo bubble' for nothing."
Exterminators
People can change, but institutions seem to change only because of those who run them—not by those subject to them. In the '60s, BYU's honor code was finally coming into formation as an office regulating behavior, thanks to University President Ernest Wilkinson. With outrage over the Vietnam War leading to campus protests across the country Wilkinson was determined to make BYU an "island of calm" during a turbulent time.
Wilkinson explained just how he would do this in a 1965 address to the student body, where he proclaimed, "We do not want on our campus any beetles, beatniks or buzzards. We have, on this campus, scientists who are specialists in the control of insects. Usually, we use chemical or biological means to experiment on them. But often we just step on them. [For] students, we usually send them to the dean of students for the same kind of treatment."



Can BYU be Sued?
While a number of students disciplined by Brigham Young University feel that the school's application of the honor code is inconsistent and unethical, most students realize making a legal claim against a private religious institution is a long shot.

Joseph Lambson, a St. Louis attorney contacted by Kovalenko's boyfriend to consider the case, says that it is possible to sue a private religious institution, but not easy.

Thanks to the 2003 Supreme Court case Lawrence v. Texas, homosexual acts are protected by the First and 14th amendments of the Constitution. Lambson also points out that those institutions that accept federal money are subject to action for violating constitutional rights. One possible avenue for suit against BYU, among several, Lambson says, is under the Higher Education Act—contained in 20 U.S.C. 1011(a)—as BYU's policy arguably violated Kovalenko's protected right to freedom of association, which is forbidden under the Act. However, the obstacle in suing under this section is that the only entity with standing to bring suit under the provisions of the Act is the Secretary of Education.

"One other possible avenue would be not simply to get the Secretary of Education to file a suit, but to get the IRS to look at unexempting [BYU's] 501(c)(3), to revoke their tax-exempt status."

In 1983, the IRS successfully revoked the tax-exempt status of Bob Jones University, a religious school that denied admission to students in an interracial marriage. The IRS determined the institution's mission was contrary to good public policy that guided the creation of 501(c)(3) nonprofits.

Still, Lambson says the momentum behind the gay-rights movement is picking up in comparison to the rights already afforded individuals based on race. With time and further pressure from individuals, though, the tide can turn, he says.

"The day might not be far off," Lambson says. "Today is not the day where sexual orientation is seen as being on par legally with race, but there's a very strong and growing movement, [and] I think it will get there. You're going to see some drastic changes soon, even with private religious schools."
According to The Lord's University—a book on the history of academic freedom at BYU, written by Bryan Waterman and Brian Kagle, a former editor of BYU's Student Review magazine and a former editor of student newspaper the Daily Universe, respectively—Wilkinson, at the time, had just returned to his position after failing his bid for the Senate bid. Wilkinson had also received a special blessing from then-prophet of the LDS Church David O. McKay to protect the faithful against the evils of communism. Wilkinson returned to his beloved school with renewed fervor to root out undesirable students. His claim to fame was specifically targeting radicals and activists, but also instigating a war for the sake of modesty against the miniskirt.
While Wilkinson was openly hostile to the idea of gay students on campus, it wasn't until after his term ended in the '70s that school presidents made rooting out homosexuals a priority, at times even tasking campus police with noting license plate numbers at gay bars and then cross referencing those numbers with student and teacher records.
Those who have gone to BYU in the years before and after the church's involvement in the repeal of California's gay marriage laws feel BYU has exercised a similar political agenda with its students.
Ashley Sanders, a Salt Lake City native, went to BYU as an activist, where she organized protests against the honor code and its treatment of gay students, the invasion of Iraq and even the university's decision to host then-Vice President Dick Cheney as the 2007 commencement speaker. She says the honor code was used as a threat to censor protests against conservative issues.
"College is a time when people start going places that push the boundaries of whatever they've been told," she says. "Its cliché, but it's true. So, they really have to regulate [students'] lifestyles so they don't encourage the kind of thinking that would threaten the church's power structures and the school's power structures."
The strongest tool Sanders says BYU has for protecting itself and controlling students is the surveillance culture that the honor code creates. Since students can be in violation of the code if they don't "encourage" other students to keep the code, Sanders says students never know who might be watching.
"You never know when they're surveilling you, so what happens is, people surveilled themselves more ferociously and effectively than they ever would even if [BYU] had armed guards [enforcing the code]."
In 2007, as the editor of a student magazine, The Collegiate Post, Sanders decided to write a lengthy editorial lambasting the honor code for being a tool of enforcing political ideology. Shortly after the article ran, the magazine's funding was cut and shut down. Not long after, Sanders left BYU with her diploma, and she soon also left the church. Having never been sanctioned by the office herself, she still felt suffocated under the honor code.
"I genuinely felt like I went insane at BYU," she says. Despite feeling like a good person in search of the truth, she felt BYU stood in the way of that search. "It's really not about [finding] the truth," she says of the code. "It's about hitting a boundary and bouncing back to the inside." This code-enforced formula for honor, Sanders says, was ultimately "too demoralizing and frustrating and hypocritical for me."
"It's not about not cheating on your tests—it's about controlling the production of the next generation of Mormons."
Reinterpretation
People can change, even if some parts of them don't. Kovalenko, looking back, doesn't regret going to BYU or the fact that, despite friends, teachers and even local religious leaders advising him to lie to BYU, he told the truth—especially since he had talked about his boyfriend with his bishop and had even taken him to church with him.
Kovalenko now is a student of music at the University of Utah and near graduation. But, he still believes his time at BYU was a part of his personal destiny. If his spiritual foundation cracked when he left BYU and then the church, it's only now become stronger. As a musician, Kovalenko's surest measure of his own fortitude is contained in his music.
Kovalenko's own music has been enriched by his experience. New opportunities have arisen for him: He currently is using, on loan, a $400,000 Pressenda violin, an old Italian instrument made in 1834, the year after Brahms was born.
Brahms' Violin Concerto in D major, Op. 77, the only concerto Brahms composed for violin, is dear to Kovalenko. "It's just the most bad-ass, epic, passionate piece—it has tremendous range." It's a piece Kovalenko's worked on his whole life, and one that he even performed for the BYU Philharmonic.
"You have a piece, and you perform it, it becomes a part of you. It's like you tell your own story with the music," he says. The story he tells now, with the same notes and composition as it was written in 1878, has deepened tremendously for Kovalenko. "It's almost like I came back around full circle with this piece of music," he says. "I'm twice the musician I was two years ago."
While Kovalenko is no longer a member of the LDS Church, he still has strong roots in the culture. He marvels at the Book of Mormon, and would rank Joseph Smith as one of the top two figures he would love to meet, maybe even more so than Leonardo da Vinci. Despite these ties to the culture of his former faith, he will continue to speak out against BYU's Honor Code, for the process that he will never forget—but can forgive.
"I don't think we as human beings, Americans, Utahns or whatever—I don't think in any micro- or macrocosm can we afford to be divided when we can be unified."
Photos By Chad Kirkland