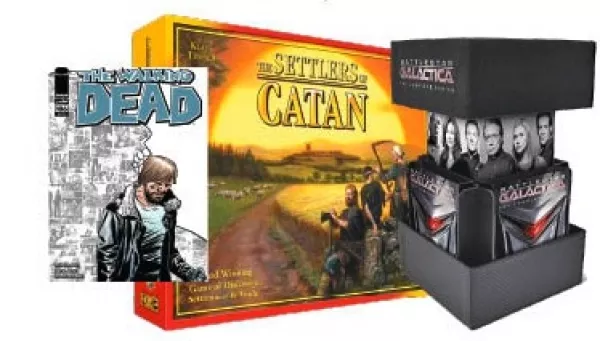 How many times have you made New Year's resolutions that you let fizzle a month or two into the new year?
We'd all like to cut down on our calories, get more exercise, stop smoking or do whatever else to better ourselves, and I'm not saying that committing to these things is wrong—it's just a little hard. We're humans, and we want to travel along the path of least resistance. I'm here to give you a few New Year's resolutions that will not only be easy to keep, but will also make you and those around you happy over a long period of time.
The first geeky resolution you should make is to get to your closest comic-book store and start a hold. It's a free service that all of the best comic-book retailers offer, and it's as easy as can be. Pick three of your favorite characters or types of stories, and the store will set those titles aside for you every month. Are you a big fan of The Walking Dead, Batman and The Avengers? Add them to your hold and start reading. And don't worry about not being caught up on a title; by next month, you'll be right in the thick of things and feel like an old pro. People put too much emphasis on "jumping-on points"—really, all you need to do is start reading.
The second-most-important resolution you can make is one that is good for you and your entire web of family and friends: Establish a monthly gaming night. Forget video games; they're too impersonal. We're talking about board games, card games and good old-fashioned pen & paper role-playing games. It's not that much of a commitment, and it's an incredibly fun way to get together and socialize. There's still plenty of drinking and gossiping that can be done over a game of Rook or Dungeons & Dragons or The Settlers of Catan. It will bring joy to your life and the lives of your loved ones—and, with any luck, your game night will become a regular event. You've never known joy until you've had a drunken night of Risk with your best friends.
The last thing I'd advise for the new year is to pick something from your geeky list of shows and movies you're ashamed of never having seen and watch at least one of them. Never checked out Syfy's Battlestar Galactica? Still looking for time to check out Deep Space Nine? Haven't jumped into Doctor Who yet? Haven't yet realized that The Clone Wars is the best show on television? Now is the time to start watching. Just commit to doing it.
The same goes for books. If you've never read, say, The Hitchhiker's Guide to the Galaxy, The Hobbit or Timothy Zahn's Heir to the Empire trilogy, 2013 is the year to do it.
Whatever goal on this list you decide to achieve, I assure you that you'll find that it makes your life better. Reading comic books is cathartic. Playing games with your friends and family is probably one of the best things you can do with your time. And reading and watching geek-oriented entertainment improves your mind and spirit.
Maybe these things don't have benefits that are as outwardly apparent as losing weight and getting more exercise, but they are no less important for your mental and emotional well-being. So, kick off the new year right—and embrace your inner geek.
Bryan Young is editor-in-chief of BigShinyRobot.com.