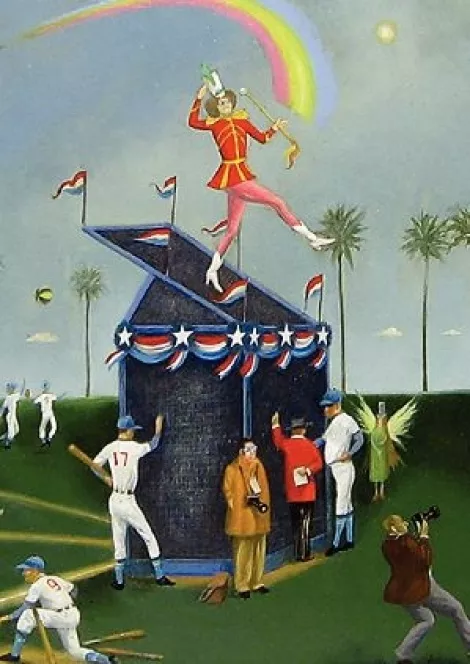 Phillips Gallery couples two established artists, Gerald Purdy and Heather Barron, for an exhibit through March 12—and it's a well-chosen match. The two complement each other through their investigation of fantastical and metaphysical states of mind and body. While the subject matter is far from concrete, these are not abstractions, but lucid, representational paintings.
Barron's work explores the limitlessness of feminine sensibility and womanhood. She consistently uses a primary female subject, placed in historical genres such as a haloed icon, a Madonna and child, an angel, a candid full-length portrait or a more formal shoulder-length portrait. But there is little formality in these highly individualized, feminine creatures, whose eyes express ineffable nuances of femininity but whose heart-shaped lips are sealed in secret. The viewer is invited to explore these feminine subtleties.
Purdy's work, on the other hand, might be likened to Norman Rockwell on acid. A wild-haired man does acrobatics in a woman's cheerleading costume on a bandstand at an unusual baseball game ("Bloomer Boys," detail pictured above); an eyeball hangs from a tree, gazing at us eerily. This is not amateurish visual playfulness but the work of a well-seasoned artist who opens the windows to the world of the absurd, where nothing is predictable and surprise is the only constant. Purdy delicately paints town scenes, ice-scapes, landscapes and games with whimsical figures and objects that mesmerize and delight in an endless play of visual comedy. The bizarre and absurd is the norm—and we, with logic and reason, are what is out of place.

Gerald Purdy & Heather Barron @ Phillips Gallery, 444 E. 200 South, 801-364-8284, through March 12. Phillips-Gallery.com