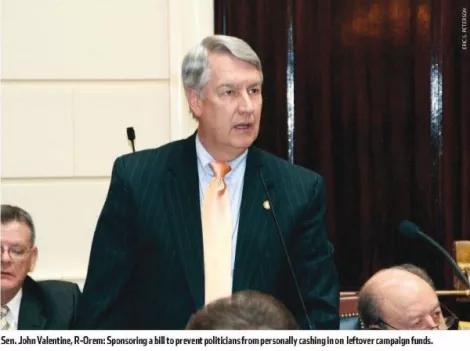 "Ethics, shmethics" used to be the attitude on Utah's Capitol Hill about regulating lawmaker's behavior. But with recent bumbling around bribery investigations and a slew of other legislative scandals still fresh on voters' minds, ethics reform has become all the rage in 2009. This year, legislators are slinging reform bills left and right.

Sen. John Valentine, R-Orem, for one, is fronting a bill meant to poke a few holes in the golden parachutes of Utah's outgoing elected officials. Valentine's Senate Bill 162, prohibits retiring or defeated politicians from using leftover campaign cash for personal expenses.

The Utah tradition has been vague enough that a candidate may keep any leftover campaign money as a kind of parting gift. The party may be over if Valentine's bill passes. Some observers worry the law still may leave loopholes for politicians looking to cash in on their hard-campaigned-for dollars.

Valentine, who is pushing several ethics bills this session, realized his "Campaign Funds Amendments" bill was long overdue.

"I saw a lot of things happening I thought were questionable in the activities of people after they were no longer in office," Valentine says. "As I started researching it, I found there really were no rules guiding candidates or former office holders on how to use their funds after they left office." The bill would affect all statewide office holders from legislators to executive branch members like the governor to members of the state school board.

For those who have studied Utah's campaign finance laws, this vagary in the law has been a big problem, and for a long time. "In general, campaign-finance laws in Utah are kind of like the wild, wild West in terms of being pretty much anything goes," says Quin Monsen, associate director of BYU's Center for the Study of Elections and Democracy.

"If you compare what we have against federal standards and then combine that with taking campaign funds and letting people do whatever they want with them … it could become a golden parachute [scenario]. I don't think that's very common, though. Most candidates show some restraint."

Legislators generally burn through most of their war chest during the course of a campaign, but in some situations, long-time incumbents can easily walk away from the political life with a windfall to spend however they choose. Former House Speaker Marty Stephens, R-Farr West, left office in 2002 with $24,380. Former House Minority Leader, Mike Dmitrich, a Utah legislator for nearly four decades, left his seat in 2008 and walked away with $15,413. He's now a lobbyist on the Hill. The grand prize, however, goes to recently defeated House Speaker Greg Curtis. The Sandy Republican (who also became a full-time lobbyist this session) can console his election loss with $264,582 in leftover campaign donations.

As the law now stands, it is money Curtis can use as he pleases. Valentine's bill would prohibit former office holders from transferring money in a way that would make the donations taxable under federal law. A tax attorney himself, Valentine realized this would be the simplest way to prevent the money being used for personal use. "You are prohibited from using it as a personal expense," he says. But the bill "would allow people to hold [campaign funds] for future races, give it to charity, allow them to use it for other candidates or give it to a political party, a PAC or a PIC." Valentine cleared the bill through the Senate Government Operations and Political Subdivisions Committee on Feb. 20 by a 4-to-1 vote, but the worry of possible loopholes loomed during discussion. Sen. Scott Jenkins, R-Plain City, noted that a transfer of funds could still go to a campaign account on the municipal level. "What if I want to take my money and run for mayor?" Jenkins asked.
"That would not be, under our code, a prohibited transfer," Valentine said in committee. From a municipal campaign account, the potential for cashing out the funds for personal use would remain.

Sen. Scott McCoy, D-Salt Lake City, also wondered if money redirected federally could just be diverted back to personal expenses.

Valentine conceded the possibility but noted the money would still be taxed at the state and federal rate. But federal election expert Paul Ryan says such a loophole would be nonexistent.

Ryan, legal counsel for the Campaign Legal Center, a Washington, D.C., think tank, points out that the Federal Election Commission closely monitors campaign expenditures.

"Under federal law, they're going to probe into all transactions to make sure you're not paying yourself," Ryan says. He notes that Valentine's bill is similar to the federal standard, which since 1980, has prohibited former elected officials from making personal expenditures.

By law, they must donate their remaining campaign funds to political parties, PACs and nonprofit organizations after they leave office. Yet on the federal level there is also active policing to make sure a candidate doesn't use a fake nonprofit to funnel money to him- or herself.

"You can't simply create a nonprofit and then pay yourself," Ryan says. "That's personal use." Valentine notes that, at the state level, a former office holder who creates a nonprofit organization would be under the scrutiny of the IRS to make sure funds weren´t misappropriated.

One complicating factor for Valentine's bill is that, as with all campaign finance transactions in Utah, there are no state government agencies equivalent to the FEC to monitor the transfer of campaign funds. Not even the lieutenant governor's office, which collects campaign finance reports, is set up to act as a watchdog.

"We're a warehouse of information," says Joe Demma, chief of staff for Lt. Gov. Gary Herbert, "not an investigative agency."