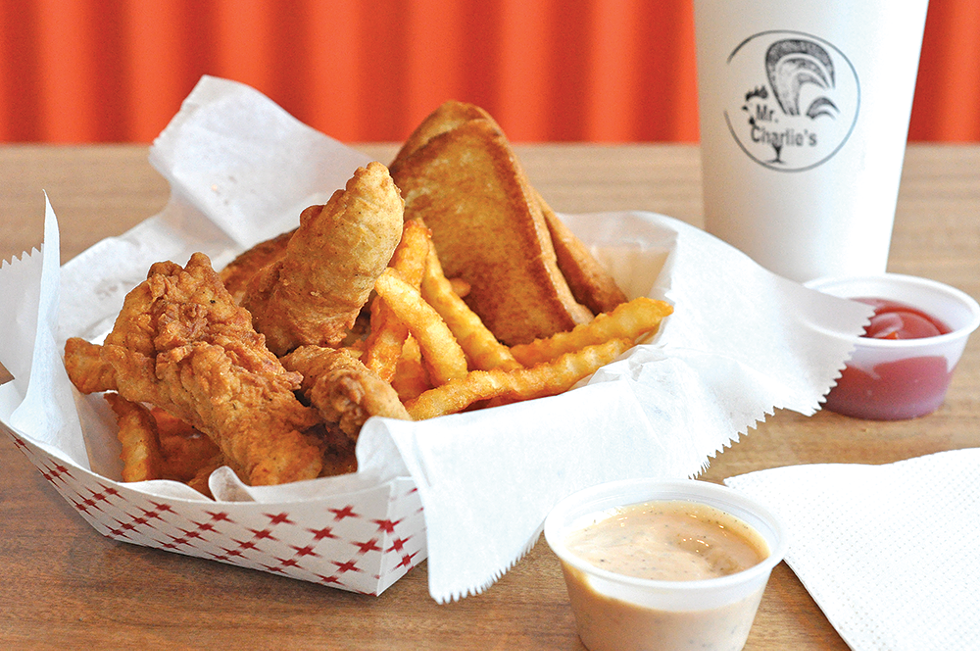 As soon as I saw Mr. Charlie's Chicken Fingers (554 W. 4500 South, 801-803-9486), trending on my Instagram feed, I figured we'd become friends. The name alone is a bit of marketing genius—it's simple, evocative, and the alliterative "ch ch" rolls off the tongue as if it were conceived by a Tarantino-esque screenwriter. Saying it out loud scares up a chuckle, and all that golden, fried chicken-finger goodness on their meticulously curated Instagram account has a way of luring curious diners to their door. I've visited a few times since it opened, and I've only seen long lines and happy customers—my family and I happened to be there on the same night that rapper and occasional Utah resident Post Malone visited the place.
It's owned and operated by Bartley Melton and Cody Hilliard, two Alabama natives who moved to Utah and soon after began missing the Southern take on fried chicken. Business has been booming ever since.
Now, if you're the type of person who feels one chicken finger is very much like another, I have some advice for you: First, get over yourself. Second, pay this place a visit. Their adherence to serving Red Bird chicken means they only work with cage-free, vegetarian-fed poultry free of antibiotics and steroids, so you're getting some of the best chicken around. On top of that, every order is fried up on the spot—there's nary a heat lamp on the premises.
These are only a few of the little differences that go a long way when you're in the mood for some flavorful fried chicken. Mr. Charlie's also sports a chalkboard wall and tons of local sports memorabilia. And the service is always bright and shiny, with a little "hon" at the end. The latter is where I was sure this place would stumble—while I'm a fan of made-to-order food, it typically takes longer to hit the table. But while a bit of a wait is in store, it's really only as long as it takes to fry up your order, which is pretty reasonable when all is said and done. The chicken finger plate ($9.50), for example, is piping hot and served with a batch of expertly cooked crinkle-cut fries and a thick slice of buttered toast.
For those looking to keep their hands free of tasty chicken grease, Mr. Charlie's also whips up sandwiches ($7 with fries; $5.50 sans) which put three of their famous fingers on a buttered bun topped with shredded lettuce. It's also topped with what I believe to be Mr. Charlie's secret weapon—the mysterious, vaguely-named "sauce" that comes with each plate. As a born-and-bred Utahn, I know how important fry sauce is to our local culinary culture, but this stuff just might have our condiment of choice in its crosshairs. Its reddish-orange hue denotes a similar ketchup-and-mayo mixture, but there's something smoky and sweet going on here. It goes perfectly with the chicken and fries and has me seriously reconsidering my relationship with fry sauce.
But back to the chicken. It took me a while to figure out what makes Charlie's so damn good, and here it is: The recipe is designed to let diners taste the chicken itself—not the breading. Don't get me wrong, they fry these hotties in some primo batter, but it's light enough to step aside and let the flavor of all that free-range chicken take center stage. Forget all that bullshit about how everything tastes like chicken. Like most things in this world that get a bad rap, chicken just needs a little tender lovin' care for folks to see how special it really is. That, my friends, is exactly what you get at Mr. Charlie's. Even the grilled chicken, which typically pales in comparison to its fried counterparts, is worth getting—it's juicy and well-seasoned, but restrained enough for its natural sweetness to shine.
While I think the fingers on their own slightly edge out the sandwiches, anyone who has even a passing fondness for chicken fingers needs to check this place out. They're the only thing on the menu, so the guys at Mr. Charlie's have had plenty of practice honing their craft—and perfecting that delectable sauce.

AT A GLANCE
Open:
Monday-Saturday, 11 a.m.-9 p.m.
Best bet:
The chicken finger plate
Can't miss:
That sauce—get as much as you can