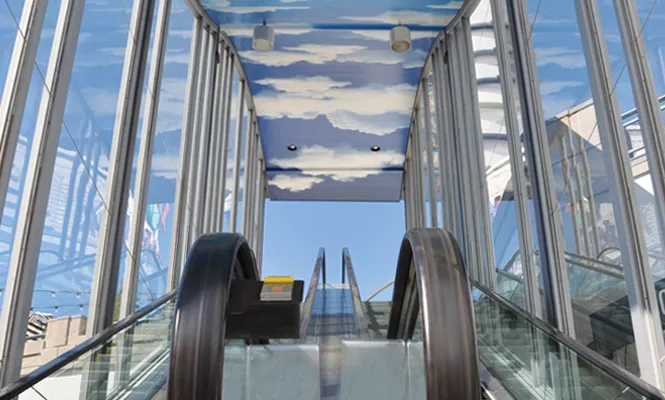 The Gateway Mall Doesn't Exist.
The beige buildings are still standing. The sleepy road down its spine remains open. Storefronts continue to beckon customers—albeit fewer today than a decade ago. On a recent weekday morning, a shopper skirts the upper floor balcony gripping an Abercrombie & Fitch bag while a young couple sits awkwardly close to one another on the steps leading down to the ground level, and another woman, pushing a toddler in a stroller, B lines to a food vendor.
Mall staples like Zumiez, Hot Topic and Fanzz are steadfast Gateway tenants. In fact, the entire scene ticks most of the clichéd shopping-mall check boxes, but that doesn't waver the new owner's branding, or its attempt to disassociate The Gateway from a traditional mall.
"I cringe a little bit when people still say 'The Gateway Mall,' because it's just The Gateway," says Edie Trott, marketing director for Vestar, an Arizona-based property company that acquired The Gateway in early 2016.
Since then, Vestar has crafted a path to defibrillate the space back from the brink with a $100 million, three- to five-year revitalization plan. The facelift is more than a glossy coat of paint; Vestar is hoping to rewrite The Gateway's DNA and transform it into a new, reimagined space.
To Trott, the word "mall" grates like fingernails on corrugated siding because it doesn't fit with the revamped vision. The Gateway, she says, is transitioning into a place that is more attuned to community and experience than merely a spot to buy stuff—though retail will remain a component.
"What we're doing is creating an entertainment, arts, culture and lifestyle destination," she says.
The mission is to build off the cornerstone entertainment venues that already have made Gateway home. The list of established businesses, such as Wiseguys Comedy Club, The Depot, Megaplex Theatres, Clark Planetarium and Discovery Gateway have been joined by newcomers that offer virtual-reality games, escape rooms and acoustic stages.
The Gateway also leases to a spa and other health-centric businesses, such as Accuscan Health Imaging, whose expertise is elective CT scans, fetal ultrasounds and heart calcium scores.
Manager Eileen Matheson says she sadly watched over the years as retailers uprooted. But she likes the location, and she's hopeful the property will turn around. "For a little while, it was a little sketchy," she says. "It's starting to change."
The Gateway's shift is also aiming to cash in on spending habits of a burgeoning generation. In part, Vestar is abreast of purchasing trends, which shows younger people prefer experiences over goods. "Our target audience, if you will, is millennials," Trott says of a demographic that is more likely to be attracted to activity-driven businesses.
Last spring, The Gateway ran an ad campaign with the tagline "We're not your mall; we're your neighborhood." The slogan encompasses the branding Gateway wants to exude—to be a place that feels more like a community.
Broadly, The Gateway also has its pulse on a national trend of "de-malling," Trott says.
A report by Credit Suisse, an international financial company, predicted up to a fourth of all shopping malls across the U.S. are doomed to die within five years. Attributing the extinction to online retailers that are siphoning business away from brick-and-mortar, a recent Los Angeles Times article citing the study notes that many shopping centers across the nation are shifting their focus to food and entertainment as a means of survival.
Search for commentary about the future of American shopping malls and you'll notice one recurring name: Rick Caruso, a California developer who owns The Grove, a renowned L.A. shopping complex. In a plethora of news outlets, Caruso prognosticates the indoor mall's demise.
Delivering the keynote address at a conference for the National Retail Federation in 2014, Caruso described a dire end for the American mall. "I've come to a conclusion that within 10 to 15 years, the typical U.S. mall, unless completely reinvented, will become a historical anachronism," he said. "A 60-year-or-so aberration that no longer meets the public's needs, the retailer's needs or the community's needs."
For thousands of years, Caruso notes, dynamic outdoor fish markets or bazaars have served as central gathering spaces across the globe. Modern shopping districts, he adds, must model their businesses on these traditional spaces that have a time-tested history of success.
Salt Lake City Downtown Alliance Executive Director Jason Mathis agrees that an open-air, community-driven market is much more likely to succeed in today's environment. The Downtown Alliance-sponsored farmers market illustrates this idea. Filling Pioneer Park on summer Saturdays, the booths packed with fresh food and odd wares draw people, Mathis says, as much for the atmosphere as they do anything else.
"It's not because you can't buy tomatoes from the Harmons down the street from your house. You go there because it's a really cool experience to talk to the farmer who grew your tomatoes, and see your friends and neighbors, and have interesting food experiences that you can't have anywhere else," he adds. "The Gateway understands that, and that's the direction they're headed."
The Downtown Alliance plays a supportive role in the city's redevelopment—"We're really good cheerleaders," Mathis points out—but it also helps facilitate conversations between power players who have overlapping interests.
East of The Gateway, Vivint Smart Home Arena is also in the middle of a major renovation. The Downtown Alliance recognized that the two entities might be able to complement each other and scheduled a sit-down. "We brought them together and said, 'You guys should try to find some type of synergy,'" he says.
It's Part of a Grander Master Plan
The Downtown Alliance envisions a day when the old depot district is a sports and entertainment hub, with a refurbished Gateway being one piece in the overarching tapestry.
"The idea is that there is a neighborhood where there are entertainment options. There are cool restaurants and bars. There's usually some specific branding and signage and retail components that go on to support that," Mathis says.
"Investment breeds investment," Mathis likes to say. Developers see what's happening at Vivint and what Vestar is doing with The Gateway, and it creates a domino chain. "People now want to invest in that neighborhood. It seems to be the place to put your money."
For example, a nearby development project called Block 67, he says, will add new apartment units and a hotel to Salt Lake City's skyline near 200 South and 200 West. Downtown Alliance helped open lines of dialogue between these entities, too. "We were saying, 'The sum of the parts can be a lot better than each of the parts themselves,'" he says.
Money being pumped into that part of town over the next five years could top $1 billion.
"Sometimes development happens, and it displaces something that's really charming. In this case, the development is beautiful, high-quality development replacing stuff that I don't think anyone has any affection for," Mathis says. "We're excited for it, and it totally complements what The Gateway is doing."
Vestar's attempt to jolt The Gateway alive is ambitious but far from foolproof.
"The biggest obstacle is the perception that people have of the property, especially people who have lived here for a long time because they remember The Gateway in the heyday," Trott says, adding, "We're not going back to what The Gateway was; we're moving forward with a new concept."
The Gateway mall opened in 2001 in the Rio Grande District at a time when the city was buzzing with anticipation for the 2002 Winter Olympics. Salt Lake City was starting to feel more cosmopolitan than it had ever before. The mall saw an initial boom that seemed to be sustainable.
Around 2008, when Mathis began working for the Downtown Alliance, The Gateway was thriving.
As he sees it, Gateway's success was due to a confluence of factors: Salt Lake City's other malls were floundering. On their last leg, ZCMI and Crossroads were themselves ghost malls. Trolley Square was undergoing major renovations. And the malls in the surrounding valley were also struggling. Fashion Place Mall was a construction zone, and "Cottonwood was a hole in the ground," Mathis says. "For the whole region, Gateway was kind of the only shopping option if you wanted an upscale shopping experience."
And of course, a few major shopping centers hadn't yet come into existence. "The southern part of Davis County, they used to all come to Gateway because there weren't a lot of options," Mathis says. "Now in Farmington, you have Station Park which is really vibrant. They've done a really good job."
In 2012, City Creek Center opened. The shopping mall built by the business arm of The Church of Jesus Christ of Latter-day Saints was a game changer. A 110-store mega-mall that straddles Main Street on prime real estate next to Temple Square, the shiny new space with a retractable roof lured shops, like the Apple Store, into its halls.
"Fashion Place saw City Creek Center coming and stepped up with an H&M, and Crate & Barrel, and a Cheesecake Factory, and brought a lot of things to Utah that weren't here before," he says. But The Gateway experienced an exodus, and the fate of the property was up in the air.
"When we found out that Vestar bought it, we were elated," Mathis says. "Vestar has a long history of turning around troubled retail projects. They know what they're doing. They have a ton of capital, so they're willing to invest, and they also understand the current retail market."
Vestar has properties throughout the West, including one other in Utah—West Valley City's Valley Fair Mall. Converting outdated property into hip areas is the company's MO. They aim to create destinations.
"You go there because you want to see other people. You go there because it feels like a cool environment. You go there because you want to have a social experience," Mathis says. "And the shopping is secondary. You might buy something while you're there, but really you're attracted to that location because of the experience.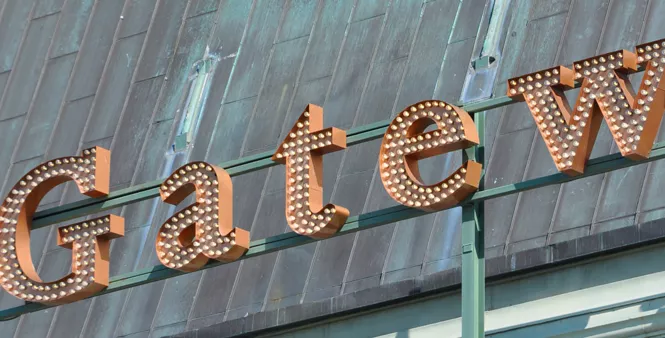 "The folks at The Gateway understand that better than anyone else," he says. "They understand how to create this experiential economy where you're going to be going there because it's cool and you're going to see fun things and you're going to meet other people."
But it's evident that the center has a ways to go. Compared to City Creek, The Gateway on a random weekday is anything but crowded. You'd be lucky to run into folks who are interested in socializing. More likely, you'll find employees taking a quick break, or item shoppers briskly picking up a cell phone or book.
The Gateway declined to disclose its occupancy rate. But the empty spaces on either side of PacSun is a reminder of what was being etched onto The Gateway Mall's epitaph.
Walk through The Gateway, and you're likely to see as many vacant doors as you are businesses. Only two retailers remain on the second-floor circle that looks down onto the fountain: Barnes & Noble and a T-Mobile. Stretches of the mall give off a ghost town vibe.
"We still have a big job ahead of us—of filling the spaces," Trott admits.
Starting with a letter of intent, potential occupants entering a lease might experience a six- to eight-month process before it's finalized. At the beginning of the summer, Gateway had nine merchants that were somewhere in that timeline.
Even as the revitalization process unfolds, tenants have fled The Gateway. Dick's Sporting Goods, for example, decided to pack up its gear and leave less than a year after Vestar purchased the property.
People like Mathis expect that to change.
In June, The Gateway announced that it's bringing in a new high-profile tenant. Dave & Buster's, a national chain restaurant/arcade/bar, committed to opening its first Utah location in a retail space where The Gateway's food court used to reside. The property is on its way to "re-establishing itself as the heart of downtown," Trott wrote in an email.
For The Gateway, this is "a win" that counters the news narrative Salt Lake City had come to expect.
One thing Vestar brings to the table is a portfolio of properties where big-name brands already reside. Dave & Buster's, in this case, has a history with The Gateway owner.
"What we're able to do because we have all those properties is we already have established relationships. We can go to these people and say, 'You'd be a great fit at The Gateway,' go to them and propose it," Trott says.
John Mulleady, senior vice president of development at Dave & Buster's, said in a statement that Salt Lake City appealed to the company for several reasons, but foremost because of the families it hopes to welcome through its doors.
"The Gateway provided us with the perfect opportunity to introduce Utah families to our brand of entertainment and dining. With something to offer everyone—at any age—we think this brings something special to the community," he said.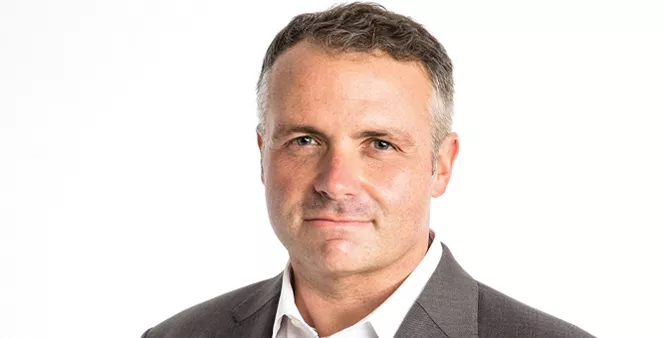 Seth Mannion
Jason Mathis
Mall Security
The collective perception of The Gateway is also based on a part of town that has earned a blighted reputation. Just south of The Gateway, homeless folks line up for services provided by The Road Home Shelter and Catholic Community Services.
Over the past decade, Rio Grande Street and 500 West devolved into an open-air drug market, where peddlers hid among the homeless population, slinging heroin, cocaine, meth and spice. The problem was enormous enough that the state, city and county joined forces to try to eradicate the criminal element in a sweeping mission known as Operation Rio Grande.
While elected leaders continue to tackle the scourge of narcotics, Vestar increased surveillance.
"One of the first things we did when we bought the property was we brought in a new security company that we're familiar working with," Trott says. "Our reported incidences from security have gone way down. We're talking, like, 80 percent."
Trident Security guards the premises 24 hours a day. Officers wander on foot or bike, and the upgrades called for better lighting, as well. "What we've also done with security is making sure that when addressing anybody, it's done with dignity and respect. That's been really important for us," she says.
Security on the property is evident.
Around lunchtime on a recent weekday, three food trucks have set up shop below the landmark clock tower, which was at one time the spire to a Starbucks that now sits empty. A trickle of customers keeps the kitchens in motion. Music is pumped through a sound system, and the rush of water pushed up through the spigots of the splash pad slaps back down on wet cement.
A security guard wearing black pants, a matching jacket and dark shades perched atop his head speaks into an earpiece while he wanders around, adrift like a guy who's gone stag to a school dance.
Moments later, he's shuffled in front of an art project called "Before I Die." On a chalkboard, guests are encouraged to finish the sentence that begins, "Before I die I want to _____." All the slots are filled in and include the wanderlustful "go to Rome," the peculiar "start an ostrich farm," the benevolent "spread joy," the heartbreaking "feel love again" and the ambitious "cure Ehlers-Danlos syndrome."
The security member says he has to erase lascivious submissions, like when people write in things like "get laid."
It's not a bad gig, he says before he walks away just as slowly as he came by.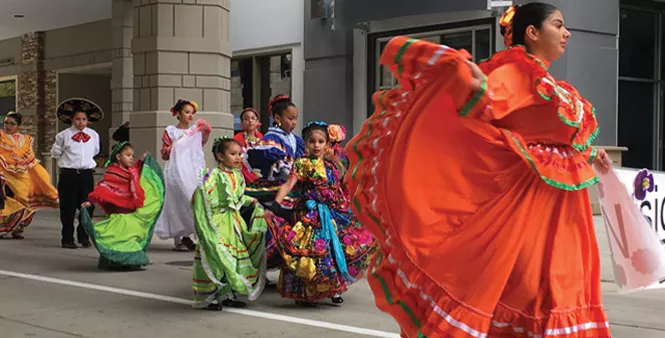 DW Harris
Dancers at the Hispanic Heritage Parade and Street Festival
Banking on Events
Vestar replaced the lawn with AstroTurf, so the brilliant emerald grounds look impeccably groomed at all times. On an early afternoon, a maintenance worker donning a Gateway pullover arrives on a golf cart in front of new bulbous, pastel lawn furniture. Fishing his hand into the pond, he pulls out the mesh filter, wipes gunk off it then pours a powdery solution into the water. A cascade of condominium balconies hangs overhead.
A part of the master plan focuses on beautifying the space. The Gateway commissioned artists to paint murals on blank walls. They've hung other installations that's sole purpose is aesthetic, such as glowing signs that Trott refers to as "Instagram moments."
Vestar hopes the scene is welcoming, one that will attract festivals and events, like a free summer concert series, the Brazilian Festival or a gospel brunch.
Trott says The Gateway isn't trying to compete with City Creek Center. In any event, it's keenly aware of City Creek's closed-on-Sunday policy. "There's a part of Salt Lake City that is looking for things to do on Sundays. So how do we capture that audience? And what is that segment of the community looking for?" Trott asks.
Gospel brunch—which Mathis claims was a Downtown Alliance-inspired idea—was organized with the sabbath shopper in mind. Billed as a twice-per-month gathering this past spring, events centered around a gospel choir performing while patrons ate a Sunday morning meal. The best part, according to Trott was "a 20-foot bloody mary bar. That has everything from pretzel rods, to bacon, to shrimp, to eight different hot sauces. We have different salts you can rim your cups with. It's really a production."
Last weekend, colorful booths and food vendors lined The Gateway's interior road and walkways for the Hispanic Heritage Parade and Street Festival. A DJ spun Latin records, and a parade featuring traditional dress and dances promenaded down Rio Grande Street. A modest crowd mingled on the lawn and dry splash pad.
Randal Serr, director at Take Care Utah, which organized the festival, says The Gateway grounds look much better than they did last year for the inaugural event.
"It's getting better all the time," he adds. "We knew that it was on the rise, so we wanted to be a part of it."
Attendee Irma Solis says where she's originally from in Idaho, they don't have things like the heritage festival and she appreciates The Gateway for hosting.
"I feel like The Gateway was going down, but it's an awesome place," she says while waiting to see her daughter march in the parade with the Salt Lake City police Explorers program. "If they can do more events like this at Gateway, I think it's going to bring it back up."
Attendee Stephanie Burdick, who studied urban planning, says to her eye, The Gateway still resembles a traditional mall. "A lot of it is store, store, store, store," she says. "And I don't know if the stores are representative of the changing demographic of Utah."
Local Grace Mathews says Urban Outfitters was the sole reason she went to Gateway. When the retailer hightailed it to another mall last spring, she figured she no longer had a reason to visit The Gateway. But yet on Saturday, there she was with a friend, Maddie Carpenter, from Park City to attend the celebration.
"I only came down here occasionally," Carpenter says. "Once everything was gone, I didn't come down."
In that sense, the festival succeeded in attracting people who might otherwise have brushed off The Gateway.
The question remains, though, whether festival crowds lead to retail sales.
Down the line, Alvaro Aguirre stands outside Slate Creek, a shop that sells "SL,UT" shirts, locally produced salt and other souvenirs, as well as convenience-store items. He watches as the parade passes then heads back into the shop where he works.
Slate Creek depends on tourists more than local festival-goers, he says. Asked whether he expected an uptick in customers on Saturday, Aguirre was doubtful.
"For us, not much," he said.