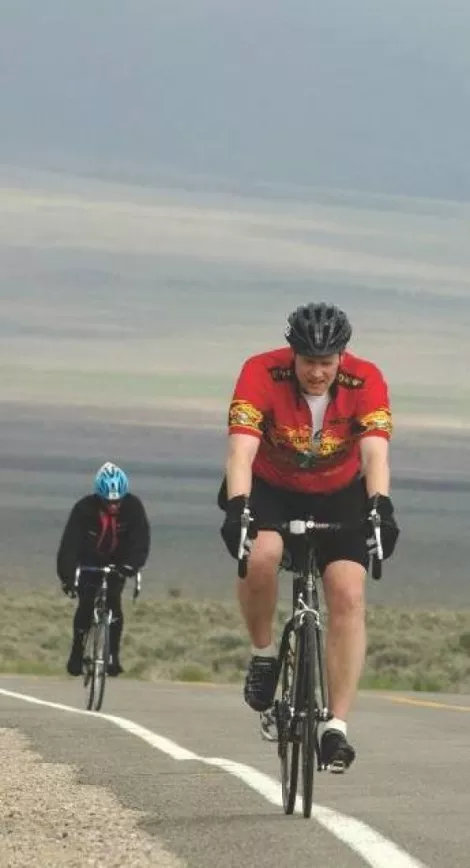 Bob Kinney gets the look a few times every year. Some Salt Lake City know-it-alls think they've seen everything our purportedly tiny metropolis has to offer—and then the bicyclists get wide-eyed.
"There really is a lot of history out there, close to Salt Lake [City], that not many people know about," says Kinney, who organizes the annual Ghost Town rides on May 2. The three circuitous routes—100 miles, 62 or 50—start in Tooele, and Kinney calls any of them "the perfect ride to start a season."

No need to summon Lance Armstrong's pain tolerance or lung capacity, says Kinney; the cement trails offer only some rolling hills and little car traffic. "This is recreational riding, compared to competitive riding," he said.
The only people who might get upset about this information leaking are the regulars, the ones who appreciate the peaceful stroll through Utah's yesteryear. Race-day sign up is perfectly fine, and Kinney thinks that if weather is good that some folks will strap on the Spandex and fork over the $58 ($38 for kids 15 and under; $164 for a family) to see what this fair state used to be like.
Inevitably, people will check out the weather that Saturday morning around 6:30 a.m. (that's when registration starts, while the ride begins an hour later) and decide whether to hit the snooze button. "We're doing this at the time of year when we can get some pretty horrendous weather," Kinney laments. "That sort of hurts it a little bit." So, why now? Well, it's the beginning of what should be good enough weather for cycling enthusiasts to pump up the tires. And it's also a prelude to Utah's "Bike Week," which includes various events to promote bike awareness, safety and activity.

Everyone will be on the same path for about 20 miles before the groups begin to break off. Riders will have a chance to purchase a post-ride barbecue lunch that begs for hearty appetites, napkins and toothpicks. The one uncompromising rule: riders must wear helmets.

City officials have been pleased to brag that Utah has grown more progressive in bike advocacy. It is now among about 15 states with a "3-foot law" that requires automobiles and two-wheelists to share the road. Salt Lake County Mayor Peter Corroon pointed out in a recent press release that the back-andforth between motorists and bikes is nothing new. The first automobile crash in the United States occurred in New York City in 1896, when a car collided with a bicyclist. The city's mantra is that it's best when bike riders act— and are treated—like automobiles.

Kinney, who operates a nonprofit organization called Bike-2-Bike, notes that he travels a lot for work and Utah has a really good reputation. He has lived here since 1971. "You might hear different from some frustrated locals," Kinney said, "but, really, Utah is looked upon very favorably by outsiders. They love the wider roads and mostly say they feel safe here. Obviously, there are different parts of the city where safety is greater achieved. It depends on who you talk to. ... I talk to cyclists from all over the country. They usually regard Utah as pretty nice, [and the] drivers courteous overall."

And it's rides like the "Ghost Town" that offer a unique way—for long-timers and tourists alike—to get out of the congestion.

"So many people will say, 'I had no idea this was out here,'" says Kinney, beaming pride that he can be the tour guide. The paths whiz along the Old Mormon Wagon Trail, among nine other "ghost towns" in the hills. This is the fifth year of the ride, and past riders will usually say their favorite part is Camp Floyd. Fairfield, about 50 miles south of Salt Lake City on the west side of Utah Lake, was once the third-largest city in Utah and home of the largest military installation in the United States. That was before Utah was even part of the union—or the Osmonds were its most popular export.
GHOST TOWN CENTURY
Deseret Peak complex 2930 W. Hwy 112, Tooele saturday, May 2 7:30 a.m.