Page 10 of 11
Put down the popcorn tin and head out.
By Dylan Woolf Harris
1. National Parks Pass ($80)
The state has five jaw-dropping national parks inside its borders: Zion, Bryce Canyon, Arches, Canyonlands and Capitol Reef. And the National Parks' America the Beautiful pass is the perfect way to introduce Utah's newcomers to the beauty displayed in the Southwestern deserts. Annual passes are $80, but they will get an entire vehicle of guests into each park. And, of course, the pass will allow entry into any of the national parks outside Utah's borders, which can be reason enough to pack up for a road trip and head toward Grand Teton, Death Valley or Mesa Verde, to name just a few.
nps.gov/planyourvisit/passes.htm
2. Cricket Energy Bars ($13)
Don't be tricked into thinking Chapul's cricket-based protein bars are simply a chirpy novelty. These locally made snacks pack a punch of vitamin B-12 and iron, they are a sustainable option for protein and they help illuminate the world's diverse and spectacular culinary traditions. The flavors each pay homage to a region of the world that eats or once ate insects. Chapul's flagship bar is a peanut butter and chocolate concoction named after the indigenous Chaco people that used to eat crickets. A $13 four-bar sampler pack—one in each flavor—is a fitting gift for one whose sense of adventure extends to his or her palate.
chapul.com
3. Colorful Daypack ($49.95)
For the adventurer who is seeking gear that is as unique as it is functional, try gifting them Cotopaxi's Luzon del Día. This backpack is a replica of the store's popular Luzon daypack, but because the del Día is stitched together from pieces of extra fabric, no two bags are identical. The versatile bag is an 18-liter backpack, complete with a spot for a water bladder. These items go for $49.95 at Cotopaxi's downtown headquarters or ordered online. Coto gear can also be found in select retailers such as REI and Nordstrom. Consider it the gift that keeps on giving as Cotopaxi, whose motto is "Gear for Good," sets aside 2 percent of its revenue to offer grants to an array of organizations in developing countries.
74 S. Main, Salt Lake City. 844-268-6729, cotopaxi.com
4. Scuba Lessons ($350+)
Hidden in Utah's mountains and deserts are enough caverns to keep a spelunker's sense of adventure satiated. But a scuba certification will help them explore the underwater depths, such as the Homestead Crater in Midway. Numerous places offer scuba classes along the Wasatch Front—Neptune Divers, Dive Utah and Scuba Utah are a few. Depending on equipment rentals and the number of participants, beginner classes can vary anywhere between $350-$500.
neptunedivers.net, diveutah.com,
scubautah.com
[image-71 5. Custom-Built Bike ($65+)
Whether pedaling a trail in the canyons or cruising around the city's bike lanes, Salt Lake has emerged as a bicycle city. If you know a person in need of a new set of wheels, Crank SLC has a cool solution: custom-built bikes. This type of gift will work best as a voucher, however, because in order to construct the perfect bike, Crank will need to talk to the owner regarding the intended purpose, design, size and price range. Crank specializes in road and adventure bikes, which are designed for on-and-off trail use. The shop lists its basic build at $65, but the cost will vary greatly depending on the bike.
749 S. State, Salt Lake City. 385-528-1158, crankslc.com
6. Handcrafted Beanie ($20)
It's that time of the year when the mercury dips to frigid lows, so wrap up a present that will keep your outdoor-loving pals bundled. A classic beanie is ideal for keeping one's ears toasty, and Velo City Bags sells crocheted headwear that is locally crafted. Not only is the material 100 percent acrylic but it's also animal-friendly. Beanies only come in black, though, and can be purchased from Velo City Bags' online store.
385-202-4181, velocitybags.com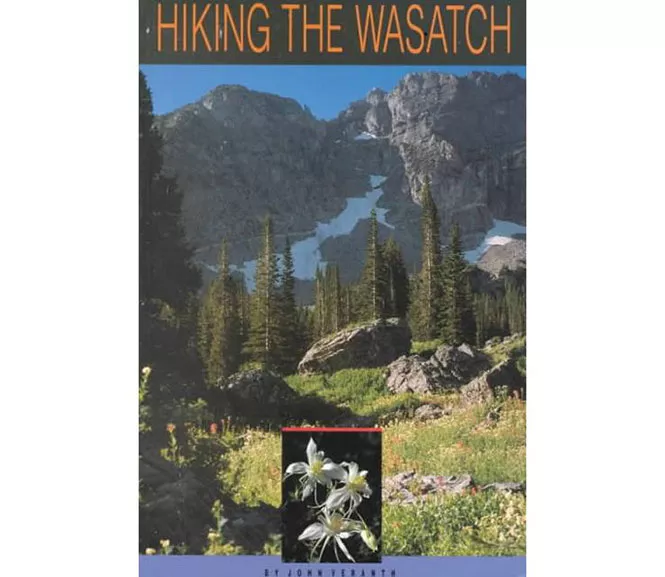 7. Hiking Guide ($17)
Few cities are lucky enough to have a stunning mountain range as its backdrop. But it's not until you explore the many trailed ridges and crevices that you understand how special this place is.
Hiking the Wasatch
, written by John Veranth, remains the hiker's Bible. Veranth, past president of the Wasatch Mountain Club, has an extensive knowledge about the mountains and conveys it in easy-to-understand prose.
kingsenglish.com, kensandersbooks.com, wellerbookworks.com
8. Snow Tube ($20)
Sledding down a snowy slope is as classic a winter image as candy canes or stuffed stockings. Plenty of stores stock their shelves with sleds, tubes and toboggans. Dick's Sporting Goods, for example, has a healthy selection that includes the triangular DBX Sub Zero Snow Tube for $20. This gift is for taking out on one of the valley's many snowy hills (snow-gods permitting).
Multiple locations, dickssportinggoods.com