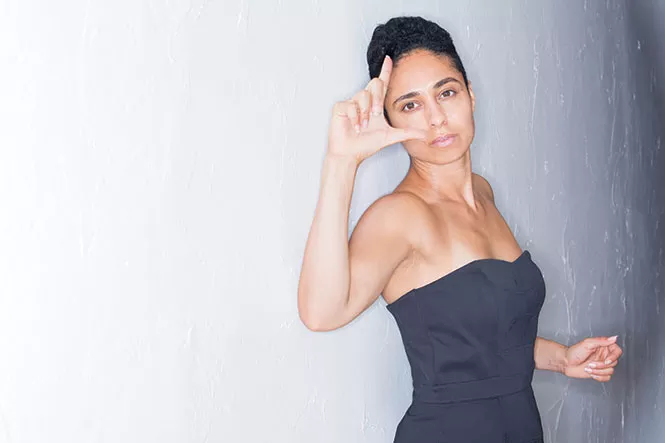 Over the course of a single week this September, a new dance was born. Eight Repertory Dance Theatre company members and one Israeli choreographer, Danielle Agami, came together for many hours—crammed into a few long days—to create, cut, edit and design costumes, set and lighting, all for one original piece. Titled "Theatre," this roughly 20-minute piece is now ready for its world premiere this week, as one of three works in Élan, RDT's 2016-17 season opening performance.
It takes a daring act of confidence to create from nothing a complete work in such a short time-frame, and then place it before an audience where it will be interpreted and judged. But if anyone can stand up to that kind of creative gauntlet, it is dancer and choreographer Agami, who, at the age of 4, pointed to a dancer on television and told her parents, "I want to do that."
Her first dip into the dance world began, as it does for so many, in ballet class. In high school, she enrolled in the Jerusalem Academy of Music and Dance, but never expected it to become a career. "I was supposed to be doctor," says Agami, who at the end of high school had fulfilled all the requirements to enter a medical program.
"High school was done, my last school performance was over, and that felt painful," she says. "I was addicted [to dance], and I still am." So she attended an audition in Tel Aviv and, in 2002, at age 17, was invited to join the Batsheva Ensemble and later the Batsheva Dance Co. She also served as the company's rehearsal director.
In 2010, she left Batsheva and Israel and moved to Los Angeles, where she started her own company, Ate9. In terms of movement style, however, Agami never outgrew her Batsheva roots. Even six years later, her time under the tutelage of Batsheva artistic director Ohad Naharin is still distinctly present in her style, developed from years immersed in the daily practice of Gaga—a movement language innovated by Naharin and used almost exclusively as the movement training for Batsheva dancers. It is a language deeply seated into Agami's bones.
Gaga classes are a period of constant motion, during which the teacher guides students with verbal commands intended to reacquaint a mover with their body. Directions are open to interpretation: Imagine walking through honey; swim with your bones inside your skin. Given the chance to experiment physically with such sensual images, Gaga practitioners move with ecstatic energy, or as if in a trance, as though they were about to speak in tongues.
In addition to its physical technique, it has a mystical philosophy. Gaga, Naharin describes in an interview with British organization Dance Consortium, is "about listening to something which is beyond the athletic side, about the soul, connecting to your demons, fantasy, passion: Learning to do more with less. Being able to grow old and still create magnificent moments. ... It is a lot to do with small gestures and delicacy but still being able to punch. It's about thinking of movement as something which can heal."
Molded from this creative philosophy, it's no surprise that Agami's choreography earned a review earlier this year from an L.A. critic calling her work "not readily accessible." But that's not always a bad thing. Inaccessible can also be interesting. "One needs to crawl inside," the reviewer continued, "think about, digest and revisit her work. It is intelligent and intense."
At the end of the first day of rehearsal for "Theatre," the intensity of Agami's choreography is already both visible and tangible. As she—in black Adidas athletic pants and a green pullover hoodie cut off at the waist—watches from the front of the room, dancers twitch and arch their way across the floor, looking alternately like animals, machines and people gone mad. Some sections bring the dancers so close together, in such a frenzy of movement, that bodily harm seems possible. Yet Agami continues to push them. "You're too slow, guys," she says as they wipe sweat from their eyes.
It's tricky, she admits when we sit down together after the rehearsal, to be with a company for such a short amount of time and to try and make something compelling. "[The dancers] are working on tasting a new way of moving," she says, "and they're also creating a composition."
It is a nearly impossible task, but together they are doing it. Having a deadline helps, according to Agami. "Nothing ever feels like it's done, but my art is done when the curtain closes," she says. "We will have that moment and it will be gone. Hopefully it will be a pleasure and a joyful achievement."