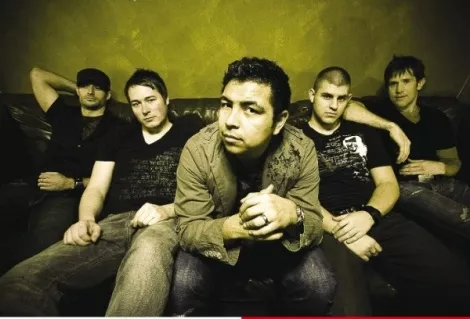 Chuck Norris has Going Second's back. It's not just a cheesy Internet quote; Norris' wife called the lead singer of the local pop-punk five-piece and told him so. It's a long story involving hard work on the part of graphic designer and vocalist Josh Alfaro. "I ended up doing design for him. They gave us a techno track, and I replaced it with one of our songs ['Billy Loves Boys']," he says. "I thought, 'He's either going to kill us all with his mind, or he's going to like it.'" Ultimately, Norris did not kill them with mind bullets for changing the track on his book-tour intro video.
"They flew Chuck out, without seeing the video, and they played it for the crowd and the kids went nuts," Alfaro says with an infectious smile.

Going Second have been around for several years, but it seems the fates conspired against getting the group to full touring status. "We've been dragged down because we haven't been able to say 'We're ready to hit the road.' Now we have all the pieces of the puzzle together," says lead guitarist Mike Crowder. That means the gents are putting aside their engineering, banking, Web hosting and retail gigs and pushing full-throttle the Going Second agenda.

"This is what we were going for—it just took two years to get there," Crowder says. Eager and optimistic, the young musicians infuse a bit of good-natured energy into each show, successfully separating their live performances from those of other "little fish." Before every concert Going Second address the question, "What can we do a backflip off of? What can we do to get the audience excited?"
"Look at his forehead," Crowder says, referencing guitarist Wes Woolston's newly dented noggin. "He did that the other day swinging his guitar around." The group's spry members have more than bled for their music. They've moved from all over the country to converge on Salt Lake City and make a presence for their band. Their bassist Scott Brimhall is from Colorado, Crowder is from Atlanta, and Alfaro is a native Angeleno.

A touch of Southern Cali in Utah music is a welcome addition, though Alfaro admits it's no cakewalk for a Latino transplant. "Moving to the Utah suburbs was a little of a shell shock," he says, adding that he has since found a support unit to help ease the transition. "I have a lot of Hispanic friends that come out to the shows. They always say, 'I don't listen to that type of music,' but they always say they enjoyed the show a lot." Alfaro and the group plan on impacting the Hispanic community further with a forthcoming online-exclusive Spanish version of their song "Two Lovers" (or "Dos Amantes") off their debut album Wake Up. Look for that track as soon as they polish it up at Boho Digitalia (engineer Bruce Kirby).

Going Second are ready to start a bid for the finish line. "We want to be on the road by summertime. Right now we're talking to different management companies and some different labels. In five years we'll have a second album, or three," Crowder opines.

But sometimes the waiting game is as much fun as actualization of the dream. "We've had a great time and we've met some really cool bands. It's all about the journey."
GOING SECOND Liquid Joe's, 1249 E. 3300 South, Friday March 20, 8 p.m.