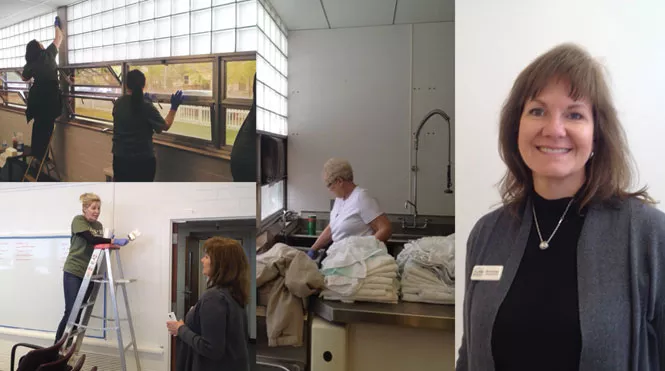 (Left) Volunteers help convert a vacant schoolhouse into a hospice-care facility for the homeless. (Right) Kim Correa, executive director of INN Between.
Utah prides itself on its impressive network of do-gooders, from social workers and shelter managers to church organizations and volunteers dedicated to improving the lives of the homeless.
But now, for the first time, an equally dedicated group is able to focus on giving Salt Lake City's homeless a peaceful place to die. Kim Correa, executive director of INN Between, says homeless people with terminal conditions shouldn't have to turn to street drugs to provide comfort in their final days. Nor should their deathbed be hard concrete. Her new nonprofit will offer comfort to some of the valley's most vulnerable in their final hours, as well as a chance for them to die with a measure of dignity, and not just as a nameless statistic.
A life finished alone and in pain on a sidewalk, under a freeway overpass or in an emergency-room bed may be bad enough—but even after death, the homeless often wind up overlooked by society. Typically, Correa points out, a homeless man found dead on the street will be reported to 911, then picked up by the coroner—likely with no means of identification—and taken directly to a morgue contracted by Salt Lake County to cremate the remains.
"There, his ashes will sit on a shelf for 50 years, and nobody will know who he is," Correa says. But, at INN Between, "if someone passes away, we'll hold a community service in our garden," she says. "We'll also post an obituary on our website, and we will have a memorial garden that will have little markers, and we'll etch their names on a plaque."
It's the kind of end that Correa and a hardy band of service providers have been working toward for the past five years, Correa says, struggling to garner funds and navigating regulations on how to create this kind of a service in the community. Now, they've found a home in the vacant Guadalupe School building at 344 S. Goshen Ave. with plans to begin services in May. With up to 20 beds available for terminally ill clients, it's been a remarkable win for the nonprofit, but they're still looking for funds and support to expand the facility with hopes of one day being able to offer services to as many as 70 individuals at a time.
Correa says the group's biggest struggle was finding a location and, for years, was working toward a "scattered-site" model whereby smaller housing units spread out across the city could provide hospice services. However, this approach ran up against city regulations. Recently, the group discovered the vacant Guadalupe building, a 14,000 square-foot schoolhouse on Salt Lake City's west side vacated several years ago by the Catholic Diocese of Salt Lake when the school moved to its new location.
Correa says the diocese was more than happy to have the old school become a hospice for the homeless, and Correa fell in love with the facility and the location. It's close enough to the 4th Street Clinic that guests could be easily transported to and from the clinic, while also being far enough away from The Road Home shelter to avoid crime and safety issues surrounding the shelter area.
The facility itself is full of classrooms being converted into dormitory-style rooms, thanks to donations from Salt Lake Regional Medical Center and other entities. A playground on the property will be converted into a community garden, and other rooms in the building will be converted into rooms for watching TV, reading and listening to music.
The lobby of the school has a reception area where resident manager Jeff Baldwin, an ex-combat-engineer veteran, will be able to monitor comings and goings through security cameras. Baldwin picked up a meth habit in the '90s that helped him cope with the pain of an injury from his service he got when he was struck by a military trailer after a support gave out. He says he has now been eight years clean and will use his "been there, done that" expertise to make sure the INN Between stays a sober house. During his time, he's known more than a few friends on the street who died from drugs or illnesses. Another veteran friend of his, he recalls, fell off the wagon and wound up living in a boat he owned in a storage shed, only to die a couple years ago in an accident that occurred while he was crossing a busy intersection.
"You do feel pretty hopeless sometimes," Baldwin says of that life.
A death with dignity is the driving aim of the group, but other benefits could be seen in providing an alternative to emergency-room visits for homeless people diagnosed with cancer or other serious illnesses. For that matter, the hospice could also offer a place for some homeless simply to recover from serious infections and provide access to basic medical care.
The hospice's start will be a relief to many, especially considering the relatively high incidence of mental illness and substance-use disorders among the homeless—conditions that oftencomplicate other health problems. According to the state's 2014 Comprehensive Report on Homelessness, 23 percent of the chronically homeless in Utah who are in permanent supportive housing have chronic health conditions. Of course, those figures do not include all the homeless—for instance, those who stay at the shelter, camp or live on the streets. In December 2014, service providers commemorated the deaths of 70 homeless individuals who passed away that year.
Correa says one of the board members of the nonprofit recalled talking to a man who said that when the time was right, his plan was simply to take his belongings into the woods, pitch a tent and wait there to die.
Such thinking, Correa says, is evidence of the need for hospice to give people the chance to not be alone in their final hours. She says the hospice will help clients contact estranged family members who may not know their loved one is terminally ill—or even homeless, for that matter.
Barring that, she says the hospice's volunteer staff along with the medical support of Canyon Homecare and Hospice will at least be there for them.
"It's the same thing as if a person were dying at home: There, hospice care would come in every couple days and provide medical care, and the family would provide support," Correa says. "Here, our volunteers and our staff—who are all volunteers right now—will be the surrogate family."
For more information about the INN Between, visit TheInnBetweenSLC.org.