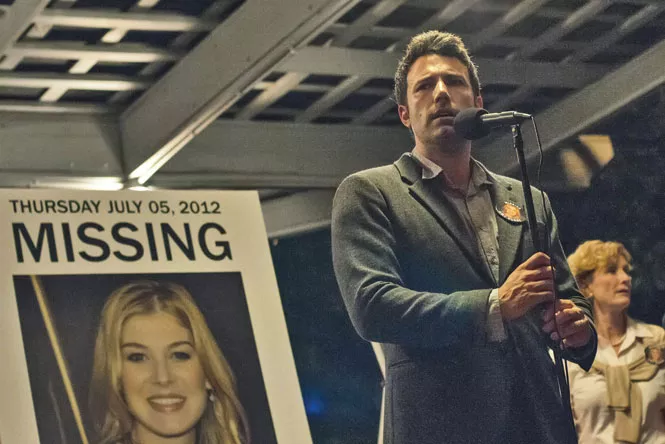 Certain parts of movies—like, say, the opening credits—are so commonplace that we almost stop paying attention to them. But there's something jagged and unsettling about the way director David Fincher delivers the opening credits in his adaptation of Gillian Flynn's Gone Girl—and it's just another typically brilliant piece of tone-setting from a master of opening credits. Where we're used to seeing five or six second establishing shots that might accompany each name, Fincher bites his shots off in what feels like less than two seconds. We're scarcely a minute into Gone Girl when he's made it clear exactly what he's going to deliver: the cinematic equivalent of a compulsive page-turner.
Fincher has often made movies based on lurid-verging-on-exploitative source material—Fight Club, Zodiac, The Girl With the Dragon Tattoo—and as such perhaps hasn't gotten the credit he deserves as a pop craftsman. He may be digging around in some dark elements of social satire, but there's no need to fish for thematic significance to make Gone Girl worth attention. The man simply knows how to make movies with the pulse of a well-thumbed paperback.
The set-up from Flynn's book—for which she wrote the screenplay—is tabloid perfection. Nick Dunne (Ben Affleck) returns home from work on his fifth wedding anniversary to find his wife, Amy (Rosamund Pike), missing, with evidence of a struggle in the house. As Detective Rhonda Boney (Kim Dickens) begins investigating, however, the pieces don't seem to add up. And as flashbacks show us scenes from the Dunnes' marriage captured in Amy's diary, the picture gets even murkier. What was going on inside that suburban house? Is Nick a worried husband, or a calculating murderer?
The pirouettes and reversals in Flynn's narrative do a terrific job of keeping our sense of these characters unsteady, but that's not entirely true of the performances. Pike is terrific as Amy, who grew up in the shadow of her parents' best-selling children's books about "Amazing Amy," and the performance becomes more complex with every minute of screen time. But while Affleck is in some ways a perfect cast as Nick—with exactly the casual, obliviously bro-ish manner that makes him a natural target for suspicion when he doesn't emote on cue—he's also lacking some key qualities that are needed during a point in the story where the real nature of Nick's personality is still in doubt.
But Fincher and company ultimately nail the most fascinating subtext of Gone Girl: the media and public insta-reaction that boils around a high-profile true-crime case. The background hums perpetually with the sound of a Nancy Grace-esque cable TV host (Missi Pyle) and pundits who have plenty to say about whether Nick looks guilty when he poses next to Amy's picture with a stupid grin on his face, or whether there's something sordid about Nick's close relationship with his twin sister (Carrie Coon); when a savvy defense attorney (Tyler Perry) takes Nick's case, the focus becomes almost entirely how to spin Nick for the public eye. While law enforcement tries to piece together what actually happened, a frenzy builds based almost entirely on the opinions of people who have no idea what they're talking about—and yet could affect whether Nick faces a capital murder charge.
As grimly cynical as Gone Girl may be about the media, it may cast an even harsher eye on the disintegration of a marriage from mutual idealization to mutual resentment—and in that case, it's somewhat less effective. Where Flynn's book had time to build its fairly brutal look at two people who may truly deserve each other, Fincher's movie has to keep moving through the dense plot. Yet he does so with a trademark way of making dark material irresistible, offering brutally comic juxtapositions like cutting directly from a flashback romantic kiss between Nick and Amy to Nick getting his mouth swabbed by the police for a DNA sample. This may be a 2 1/2 hour movie, but it moves with impressive economy and a sense for delivering terrific pop entertainment. Once you start flipping through those opening credits pages, it's going to be awfully hard to stop.
GONE GIRL