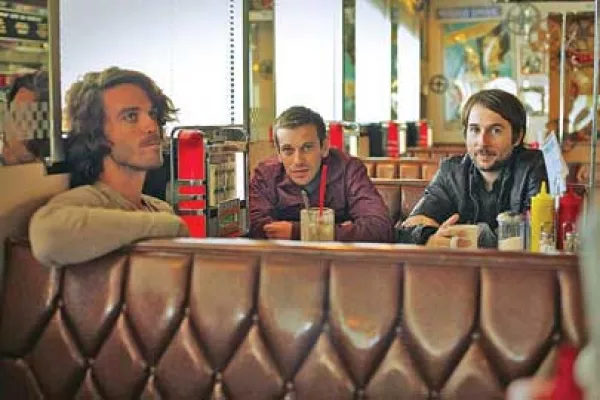 Indie-rock trio Good Old War had to cancel their stop in Salt Lake City this past April, but we forgive them. They were, after all, performing for the first time on national television—on TBS late-night show Conan on April 5—where they played "Better Weather," from their newest album, Come Back as Rain.
"It was really cool," says vocalist/ guitarist Keith Goodwin. "I had my family there. It was an accomplishment for us. There were a lot of friends there backstage. It was really fun because it was a bunch of people that we've been involved with in making music. Our record label was there and we had our team there, and it was a positive experience."
Drummer/vocalist Tim Arnold, who is a member of Matador Ambassadors—an international collective of visionaries who produce original stories about worldwide culture—provided an honest, revealing perspective on MatadorNetwork.com about what it was like to perform on the television show hosted by "the towering ginger man who cracks jokes" while sick with bronchitis. "This is our first TV appearance, and I'll be damned if I fuck it up," he writes. "We do what we came to do and what we do every night and it's going well. We finish the song and the giant comic comes over and shakes our hands …"
But even though one of the band members had "death sickness," you'd never be able to tell by the solid performance all three musicians gave, playing off one another's energy perfectly. And now that a Salt Lake City tour date is re-set for Oct. 26, Good Old War is "pumped to be back," Goodwin says.
The name Good Old War is derived from the last names of the three band members: Goodwin, Arnold and Dan Schwartz (vocals, guitar). The Philadelphia-based band formed in 2008, after the members of Goodwin and Arnold's previous project, Days Away, parted ways. After perking up ears in 2011 as a breakout band at their first Coachella performance, and touring with several prominent artists—including Anthony Green, Alison Krauss & Union Station, Guster, Gomez and more—Good Old War earned a dedicated following through their communal, joyful live shows.
Come Back as Rain—the band's third full-length studio album, released in March—showcases the band's pop-infused, infectiously upbeat sound that's filled with smooth three-way harmonies, breezy acoustic guitar, mellow percussion and melodies that Schwartz describes as "sing-alongable." It was recorded in Omaha at Another Recording Company with producer Jason Cupp (Maps & Atlases) and released on Sargent House.
Goodwin explains the album is inspired by the fact that "there are things that you can kind of miss out on at home when you are away"—as in, traveling for extended periods of time—as well as experiences in his own personal relationships.
"Not Quite Happiness," about the doldrums of a long-term romantic partnership, captures particularly well Good Old War's knack for writing poignant lyrics. "I had a tough time singing that in the studio without choking up because it was just reminding me of times I felt that way," Goodwin says. "I can get choked up just thinking about it [because] it hits close to home."
Even with the national buzz Good Old War have received, they remain humble and grateful they're able to make a living by doing what they love. "It's been a nice steady climb, and I feel like as long as we keep making music that matters to us, it's just gonna keep getting better and better, and it's exciting," Goodwin says.

GOOD OLD WAR
w/ Needtobreathe, Matthew Mayfield
The Depot
400 W. South Temple
Friday, Oct. 26, 7:30 p.m.
$20 in advance, $25 day of show

Twitter: @VonStonehocker