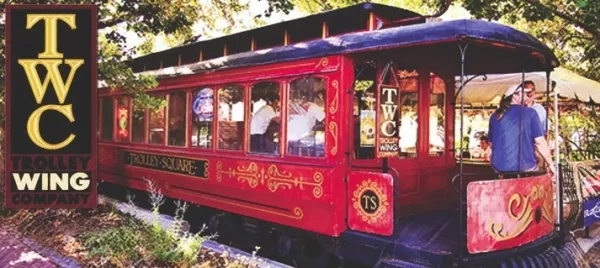 TWC RIP
It is with much sadness that I note the passing of a Salt Lake City institution. Aug. 31 is the final day of business for the Trolley Wing Company (602 E. 500 South, 801-538-0745). The owners' Trolley Square lease expires at the end of August and won't be renewed. In 1999, the Trolley Wing Company started dishing up hot wings and cold beer in a 1930s trolley car; Trolley Square was originally built out of the barns that housed the trolleys. TWC moved inside the mall in 2010 when Whole Foods began construction. A new location for the Trolley Wing Company is being sought—stay tuned. Visit TrolleyWingCo.com for more information.
Stoneground 2.0
Have you been to Stoneground restaurant (249 E. 400 South, 801-364-1368) lately? If not, you might be happily surprised by a recent renovation. Communal dining tables are in, and the billiard tables are out. There's also a new 45-seat deck offering nice city views. Stoneground serves great gourmet thin-crust pizza and "rustic Italian" eats such as penne con Cognac, spaghetti carbonara, the Leonardo (seared Snake River Farms Wagyu beef), daily risotto specials and more. Visit StonegroundSLC.com for more information.
Cheesy Scholarship
Congrats to Jess Perrie, wholesale director at Beehive Cheese Company, who is the first-ever recipient of the Daphne Zepos Teaching Award, which was presented at July's 2013 American Cheese Society Conference in Madison, Wis. She'll receive a $5,000 scholarship to travel to Spain to study Basque cheesemaking in April 2014. The award is named for the late Daphne Zepos, one of America's most inspiring cheese educators, and is given to help further the winner's learning about cheese with the goal of teaching others. The DZTA was awarded to Jess Perrie from among a national pool of professional cheesemongers and cheesemakers, and she'll present her findings about Basque cheeses at the 2014 American Cheese Society Conference in Sacramento, Calif. She earned her master's in food science from Utah State University. Visit BeehiveCheese.com for more information.
Quote of the week: I have made a lot of mistakes falling in love, and regretted most of them, but never the potatoes that went with them. —Nora Ephron