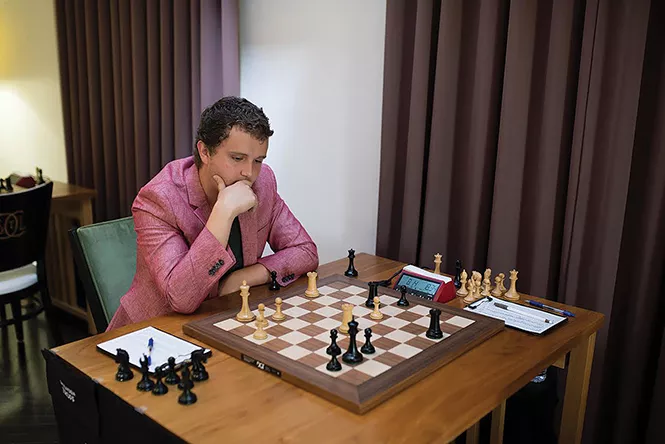 Nineteen-year-old Kayden Troff of West Jordan learned to play chess as a toddler. He's now among 20 of the country's top-ranked players competing through July 18 at the U.S. Junior Championship in St. Louis. Troff—who earned the astral title of Grandmaster at age 14—is playing for $31,000 in prizes and a berth in the U.S. Championships. Each round is streamed live at uschesschamps.com.
You started playing at an early age, correct?

Yes, I started playing chess at age 3 after watching my father and brothers play. I was so young, I don't remember a time in my life without chess.
Do you currently hold a title? How do you rank against other players in the world?
I am a Grandmaster, which is the highest official chess title. I rank in the top 50 players in the United States and among the top 1,000 players in the world for active players—and that is non-age restrictive.
What's a Grandmaster? Is there an equivalent title in other sports—like a black belt in karate?
Other than becoming a world champion, Grandmaster is the highest title a chess player can achieve and it is a title held for life. A black belt would be a good comparison; however, chess is very different and it's tough to make a direct comparison to any professional title or sport.
Do you have a coach? And how do you keep in touch?
I am currently working with a coach via Skype. Chess is really nice and unique in that going online can be an option—whether it be practicing, playing or working with someone.
How much do you practice?
I try to spend about six hours a day on chess—except on Saturdays and Sundays. Although during tournaments, the time I spend practicing chess can range between 8-12 hours.
Is it accurate to call chess a "sport"?
In my opinion, chess hits all the critical criteria of what actually makes a sport. However, I don't think it fits the mold of what most people consider to be a sport. I generally refer to chess as a game. But if you analyze chess step-by-step, I think many people would be surprised how easily it can be classified as a sport.
Do you have plans to enter a profession—or is chess it?
I would really enjoy doing something in communications. I do imagine chess will be a part of that, whether through teaching chess or sharing some of the things I have learned because of chess.
How many players earn the Grandmaster title each year?
I don't have an exact number, but I would guess, worldwide, around 30 or 40 Grandmaster titles are awarded a year.
Do you ever play against computers? Or online with other players?
I don't play against computers too often. The best computers have definitely surpassed humans, so they are used more to learn or be humbled. I often play online with other players, though. Online chess is a great way to connect with people from all over the world.
What do you do for relaxation?
I listen to music, watch shows, play games on my phone—normal things for someone my age. Relaxing, especially during stressful tournaments, can be vital. Sometimes you just need something to take your mind off of the tournament or the stressful situation.