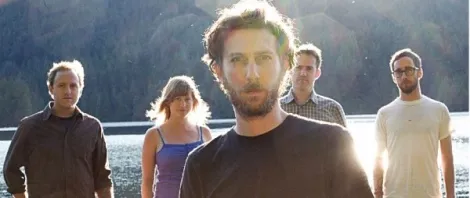 It's hard to keep track of a Canadian band's success in the states.
Bands accustomed to being radio staples and selling out Saddledomes up North don't often know what will happen once they cross the border. It's a crapshoot, but a necessary one for those who want to move past the pride of the Prime Minister and on to, oh, international acclaim and world domination.
And so it goes with Tony Dekker, the brain and voice behind Great Lake Swimmers.
Not that world domination has entered his mind. He's far too humble for such aspirations—or at least to admit to them. Instead, he and his crew have opted for—and succeeded at—the tried-and-true, slow-and-steady approach. His group has enjoyed a gradual increase in audience turnout, mostly by hitting the road to play smaller, more intimate venues for the better part of five years.
"It's seemed like a pretty natural build," Dekker says, from his home in Toronto. "It's just taken a few years to build our audience in an organic way."
That's not the only thing that's blossomed since Great Lake Swimmers first formed. From the time Dekker initially recorded his intimate 2003 debut in an abandoned grain silo in Ontario (and the sounds of crickets and subway were definitely not added later, by the way) to traveling in a pack of five, he's gone from sounding like a lonely, storytelling kind of singer to a, well, less lonely storytelling kind of singer.
"I wasn't certain anyone outside of my own community would ever hear the songs I first recorded, but that's how it started," he explains. "The band followed that. It was a vehicle for my songwriting. It was a way to get my songs into the world."
And, having laid the groundwork of choosing to record in silos and old churches, over studios—places that helped capture lend a natural reverb to their songs—Great Lake Swimmers now make a point of seeking places with some history in them. It's become part of who they are.
Case in point: The title of their recent release, Lost Channels, refers to a passage of the St. Lawrence, where a reconnaissance boat from a British warship went missing in 1760.
A good chunk of their latest LP was captured inside the walls of a castle on an island in that very river, on the United States side in New York but only yards from the Canadian border. Named Singer Castle, it was built by the very same family who made sewing machines with their last name on them. There's even a 48-seconds-long track on the album reserved for the bells housed there.
"It's become more than an acoustic experiment," Dekker admits. "It's become more about drawing a certain performance out of a person in a special place. There ends up being more of a reverence to it and an opportunity to draw out some of your magic into the performance. That process of being in these spaces has become pretty crucial."
Having also recorded in an old wooden house (House of Miracles) that had its walls removed to help improve the sound, he continues: "It's just an awe-inspiring process—and that's not something that happens in a typical studio. I find them to be incredibly stifling. I'd rather perform in a place that has an electricity to it."
Hopefully, Great Lake Swimmers find some of that yearned-for electricity at The State Room, which just got outfitted with a new sound system. The Canadian musicians have been here before—and a good-sized handful will remember a certain, sold-out, sweaty, Kilby Court performance—but it's likely their second time around will blow that last gig out of the water.
What to expect: Besides the mingling of fancy accoutrements including flute, cello, violin, vibraphone and pedal steel, this is Dekker's show. It's his voice that holds this one together. It's the reason you buy the album and the ticket. It's why you've read this far into this article.
Listening to Dekker sing a song like "I Will Never See the Sun" or "Various Stages" is to feel like your heart live outside your body. You want the feeling to last a good long spell.
Find the Legion Sessions version of the band's "Stealing Tomorrow" on YouTube and witness the kind of greatness that isn't forced. It just is.
There's a good reason why Dekker has been revered alongside other Canadian greats like Leonard Cohen and Gordon Lightfoot. He'll make it seem like he doesn't belong in the same league, but don't believe him. Not for a second.

GREAT LAKE SWIMMERS
with Wooden Birds
The State Room
638 S. State
Tuesday, Oct. 20
8 p.m.
TheStateRoomSLC.com