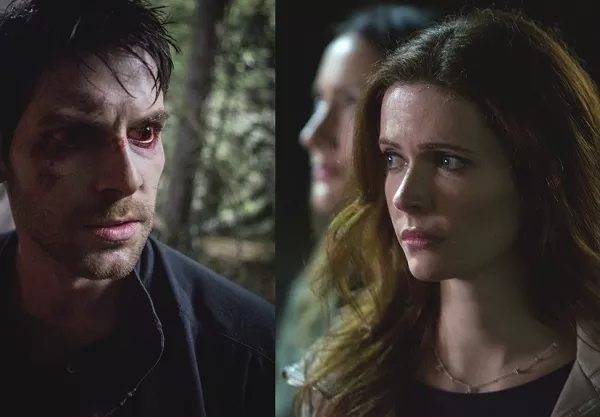 NBC
Grimm

Grimm
Friday, Oct. 25 (NBC)
Season Premiere: When last we left Law & Order: Special Wesen Unit, supernatural profiler Nick had been zombie-fied, stuffed into a coffin and about to be FedExed to Europe, leaving his friends to fight off a rising horde of Portland's walking dead—any wonder why NBC waited until Halloween weekend to bring back Grimm? Spoiler alert: Nick doesn't stay faux-undead for long, and zombies aren't the only trouble brewing in Portland: Deposed Hexenbiest Adalind is still bent on regaining her powers and isn't above leveraging her unborn mystery baby to do it, and there are hints of another Grimm (besides Nick) arriving soon. You should really be watching this harder.

Dracula
Friday, Oct. 25 (NBC)
Series Debut: Fortunately, this isn't a present-day telling with CEO Jason Dracula running a tech company between bites, and Jonathan Rhys Meyers (The Tudors) is perfect as the 19th-century vampire bent on revenge against those who killed his wife and made him fang-y. The hipster mustache can be distracting, as can Meyers' role-juggling (He's Dracula! He's Vlad Tepes! He's the Victorian Tony Stark!), but the gorgeous Dracula looks like the most expensive new series NBC has ever dumped on Friday night—wonder how much money they committed before every other fall Peacock show besides The Blacklist bombed?


Strike Back: Origins
Friday, Oct. 25 (Cinemax)
Miniseries/Prequel: Before he was a Southern lawman with a drawl and a zombie problem, The Walking Dead's Rick was a counter-terrorism operative—with a British accent! And no stubble! The original 2010 U.K. incarnation of Strike Back (starring TWD's Andrew Lincoln and The Hobbit's Richard Armitage) isn't too far removed from its U.S. Cinemax run; it has the action and explosions, just not yet jacked up to the Team America hyper-levels of Season 2 through the just-completed Season 4—USA! USA! USA! Still, it's fun to see Lincoln playing someone less loony than Rick, and Origins is a mere six episodes not split up over the winter—and 100 percent zombie-free.
Zombie Night
Saturday, Oct. 26 (Syfy)
Movie: Seriously, when is this zombie thing going to be over, already? The Only TV Column That Matters™ almost misses the Twilight days. Almost. Syfy's Zombie Night is just another variation on the same ol' small-town-overrun-with-the-undead story, but with the distinction of starring Daryl Hannah, Anthony Michael Hall and Shirley Jones, and being directed by usually reliable horror-slinger John Gulager (the Feast franchise and, oh yeah, Piranha 3DD). At least there's—not making this up—Beast of the Bering Sea (vampire sharks!) and Stonados (tornado boulders!) to look forward to in November.
Metalocalypse
Sunday, Oct. 27 (Adult Swim)
One-Hour Special: My love for Dethklok is well-documented; creator/guitar god Brendon Small puts on one of the best live metal shows I've ever seen (and I've seen waaay too many), and Metalocalypse ranks with The Venture Bros. in maintaining a deep backstory and consistent comedy—either one a rarity on Adult Swim. But every good metalhead knows that the nadir of a band is the dreaded Symphonic Collaboration, if not the meaning of "nadir." From Deep Purple to Metallica (let's not even get started on the Trans-Siberian Orchestra), no good has ever come from overindulgent rockers mingling with "real musicians" and, even though Dethklok is the greatest cartoon band in the known universe (just ask 'em), The Doomstar Requiem: A Klok Opera—album version out Oct. 29, coincidentally—is no exception. But at least we get some closure on the fate of Dethklok guitarist Toki Wartooth, who'd been abducted at the end of Season 4, some 16 months(!) ago. Where's Season 5, Brendon?

Twitter: @Bill_Frost