Page 2 of 3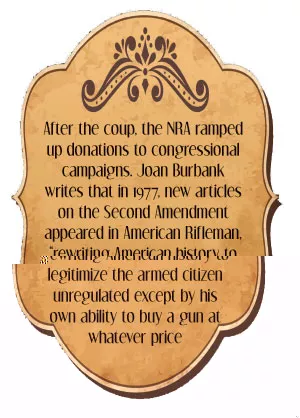 A split started to widen inside the NRA. Gun dealers thought they were being harassed. Rural states felt they were being unduly punished for urban America's problems. In 1975, the NRA created a new lobbying arm, the Institute for Legislative Action (ILA), under Harlon B. Carter, a tough- minded former chief of the U.S. Border Patrol who shared the libertarian goal of expanding gun owners' rights. Burdick writes that "by 1976, the political rhetoric had gained momentum and the bicentennial year brought out a new NRA campaign 'designed to enroll defenders of the right to keep and bear arms' in numbers equal to 'the ranks of the patriots who fought in the American Revolution.' "
Looking back, the seeds of a hostile internal takeover were everywhere.
Self-Defense
Harlon Carter wasn't just another hard-headed Texan who grew up in a small town that was once home to frontiersman Davy Crockett. He was an earlier era's version of George Zimmerman, the Florida man who claims to have shot Trayvon Martin in self-defense in February 2012. According to Carol Vinzant's 2005 book, Lawyers, Guns, and Money: One Man's Battle With The Gun Industry, a 17-year-old Carter found and confronted a Mexican teenager who he believed helped steal his family's car. When the 15-year-old pulled a knife, Carter shot and killed him. His conviction was overturned when an appeals court said the jury should have considered a self-defense argument.
In November 1976, the NRA's old-guard Board of Directors fired Carter and 80 other employees associated with the more expansive view of the Second Amendment and implicit distrust of any government firearm regulation. For months, the Carter cadre secretly plotted their revenge and hijacked the NRA's annual meeting in Cincinatti in May 1977. The meeting had been moved from Washington to protest its new gun-control law. Winkler writes in Gunfight that Carter's top deputy, Neal Knox, was even more extreme than he—wanting to roll back all existing gun laws, including bans on machine guns, and saying the federal government had killed Martin Luther King and Bobby Kennedy as "part of a plot to advance gun control."
Using the NRA's parliamentary rules, the rebels interrupted the agenda from the floor and revised how the Board of Directors was chosen, recommitted the NRA to fighting gun control and restored the lobbying ILA. Harlon Carter became the NRA's new executive director. He canceled a planned move of its national headquarters from Washington to Colorado Springs, Colo. And he changed the organization's motto on its D.C. headquarters, selectively editing the Second Amendment to reflect a noncompromising militancy, "The Right of the People to Keep and Bear Arms Shall Not Be Infringed."
After Carter was re-elected to lead the NRA in 1981, The New York Times reported on Carter's teenage vigilante killing—and how he changed his first name's spelling from Harlan to Harlon to hide it. At first, Carter claimed the shooting was by someone else—and then recanted but refused to discuss it. Winkler writes, "the hard-liners in the NRA loved it. Who better to lead them than a man who really understood the value of a gun for self-protection?"
After the coup, the NRA ramped up donations to congressional campaigns. Burbank writes that in 1977, new articles on the Second Amendment appeared in American Rifleman, "rewriting American history to legitimize the armed citizen unregulated except by his own ability to buy a gun at whatever price he could afford." That revisionist perspective was endorsed by a Senate Judiciary Subcommittee chaired by Utah Republican Orrin Hatch in 1982, when staffers wrote a report concluding it had discovered "long lost proof" of an individual's constitutional right to bear arms. (See "Orrin Hatch Remembers," p. 17)
The NRA's fabricated but escalating view of the Second Amendment was ridiculed by former U.S. Supreme Court Chief Justice Warren Burger—a conservative appointed by President Richard Nixon—in a PBS Newshour interview in 1991, where he called it "one of the greatest pieces of fraud—I repeat the word 'fraud'—on the American public by special-interest groups that I have ever seen in my lifetime."
Burger would not have imagined that the U.S. Supreme Court in 2008—13 years after he died—led by libertarian activist Justice Antonin Scalia—would enshrine that "fraud" into the highest echelon of American law by decreeing that the Second Amendment included the right to own a gun for self-protection in one's home.

Editor's note: This article appeared on AlterNet.com on Jan. 13, 2013. It is the first in a series of reports on the emerging gun-control debate that can be read at AlterNet.com. Additional sources for this story include reporting by the New Yorker's Jill LePore and Jeffrey Toobin, The New York Review of Books' Garry Wills, and U.S. Supreme Court decisions, including Justice Stephen Breyer's dissent in District of Columbia v. Heller (2008), and Retired Supreme Court Chief Justice Warren Burger in Parade magazine.


Senator Hatch Remembers

By Jerre Wroble
jerre@cityweekly.net
Toward the end of 2011, NRA Executive Vice President Wayne LaPierre and other NRA officers met with Sen. Orrin Hatch, R-Utah, in his office on Capitol Hill. The NRA published a Dec. 15, 2011, recap of the meeting, touting the senator's pro-gun leadership since his election in 1976. The article described Hatch's 1982 committee report "The Right to Keep and Bear Arms"—which he prepared as chairman of the Senate Judiciary Subcommittee on the Constitution—a "seminal work" earning him the moniker of "Mr. Constitution" in the Senate.
Hatch's report strongly influenced the gun debate of the time, concluding that "it is thus inescapable that the history, concept and wording of the Second Amendment ... indicates that what is protected is an individual right of a private citizen to own and carry firearms in a peaceful manner."
In the online article, published in its entirety at NRAILA.org, the NRA's LaPierre asked Hatch what his goals had been when he set out to write his 1982 report.
Hatch's response:
"There were really two goals, I suppose. First, we wanted a definitive account of the history of the Second Amendment and the right to bear arms. For decades—maybe even longer—people had tried to pretend that the Second Amendment was somehow ambiguous, that the intent of the Framers, when it comes to this one amendment, was simply unknowable. Of course, it should be noted that most of the people making this argument tended to believe that the meaning of the entire Constitution changes over time. But with the Second Amendment, they'd been more than willing to simply read it out of the Constitution entirely.
"Our second goal with the report was to change the dialogue on gun rights. Instead of arguing how far the government could go to keep people from buying guns, we wanted to get people thinking about doing more to facilitate lawful, reasonable gun ownership. I think we were successful on that count as well, though it took a number of years for the debate to be where it is now." (Source: NRAILA.org)