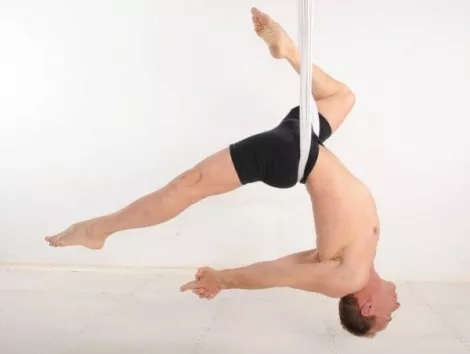 Gymnast, performer and fitness guru Christopher Harrison, 48, is originally from Utah. His years of pounding and tumbling on Broadway stages forced him to seek relief in a hammock, where he created yoga techniques to help decompress his spine while conditioning his body. He was in town recently to launch his first AntiGravity Yoga franchise at the Imagination Place (1155 E. 3300 South, in Brickyard Plaza, ImaginationCenter.com) where classes will kick off May 18.
Can this flying yoga really be called yoga? Isn't it cheating to use props?
It's not traditional yoga, in that you distribute your weight between the floor and the AntiGravity hammock. You're still doing yoga moves, but they're going to be different because you might be supported from above. This is a kinder, gentler way to do it.
How did this venture come about?
For me, fitness as a career has only come about in the last year. I was a gymnast at Box Elder High School who became a cheerleader at the University of Utah. I moved from there to New York to become a dancer on Broadway for seven years. I realized no one on Broadway understood the movement vocabulary that I understood from gymnastics and cheerleading. I knew how to do all these really cool lifts and flips, but choreographers didn't know how to put it into their choreography.

So I got all my fellow gymnast friends who wanted to perform together, and we formed AntiGravity as a performance group first and foremost. We perform on this silk, this hammock, 30 feet in the air. We hang upside down and realize, ahh, that this feels so good on your spine.

I decided to take that movement form and see if it could be turned into an exercise technique for the everyday athlete, the everyday exerciser.

We launched it through Crunch Fitness, and that's how it exploded overnight across the country. The club had an exclusive for the first year, but that just ended. We just recently franchised it, and the first franchise I wanted to do is one where my family can do it, so I'm bringing it home.
You were with Sherri Shepherd on The View when she tried out AntiGravity. What was her response?
Well, both she and Whoopi have set up private sessions for it, as did some of the producers.
You're a local boy who made good.
I was raised with this work ethic in Utah where you put your shoulder to the wheel and push. You work hard. I brought that to New York, the land of opportunity. You put hard work and opportunity together, and I've had some great success.