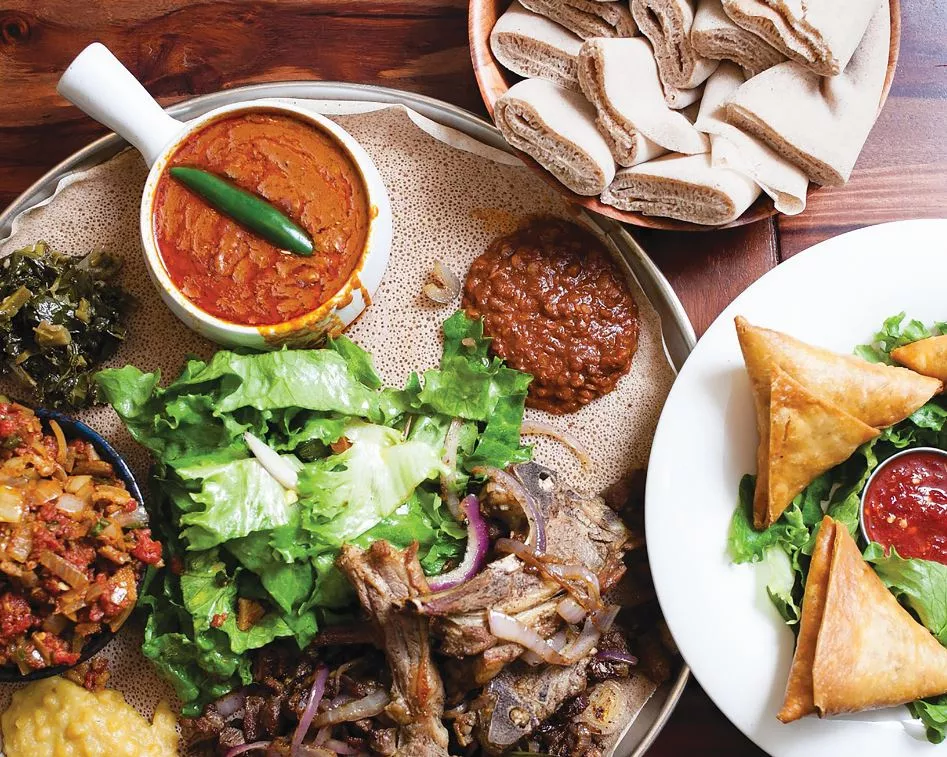 If I had the ability to do so, I'd make sure that every meal I ever ate came with a tall stack of flat carbs like naan, lavash or tortillas. Nothing brings me quite so much culinary joy as getting a generous pile of different flavors, colors and textures and stacking them up on a floppy piece of warm, floury goodness for a nicely composed bite. After learning that Ethiopian food eschews the use of utensils in favor of large portions of injera, a porous, pancake-like sourdough flatbread, I knew I was among kindred spirits. There's nary a fork to be found at Mahider Ethiopian Restaurant (1465 S. State, Ste. 7, 801-975-1111) and that's a really, really good thing.
Digging into the cultural aspects of why the African country's cuisine is decidedly anti-cutlery is perhaps the best place to start when planning a visit. In Ethiopia, food and communal eating is a foundational aspect of society, and getting your fingers sticky with berbere, a red pepper paste that is the canvas for many Ethiopian dishes, is the best way to demonstrate your love for those around you. Since the food is designed to be combined, pinched and dipped by hand, most offerings consist of several varieties of meat, veggies and legumes stewed or puréed with a distinct blend of spices.
As diving in to each separate dish is part of Mahider's charm, their combination meals are a great way to try a little bit of everything before deciding which wot strikes your fancy. My wife and I opted to get the beef-and-chicken combination ($11.99) and the vegetarian combination ($9.99) with a starter of sambusa ($2.99). The sambusa comes in pairs, and they're only a hop, skip and a jump away from the samosa, though their starchy innards seem to favor lentils over potatoes. The lightly-fried pockets of dough are liberally stuffed with filling—beef, chicken or lentil—and they come with a sharp kick to the ass in the form of housemade jalapeño sauce.
When our order arrived, I was a bit dumbfounded at the size of the dishes in front of us. The plates were completely enveloped by a pizza-sized slab of injera, upon which the different wots and gomens were aesthetically arranged like oil paints on an artist's palette. The beef-and-chicken combination comes with samplings of doro wot (a marinated chicken leg cooked in a spicy stew), siga wot (a beef stew simmered in pungent berbere sauce) and siga alicha (another beef stew variant cooked in turmeric). It's all garnished with some refreshing tomato salad and a housemade cottage cheese called ayib. The experience of tearing off a piece of injera and scooping up bits of everything adds a tactile level of enjoyment to the entire event. Sure, the bread can get a bit soggy, and any structural weakness in whatever shape you've created tends to result in mass spillage, but there's something liberating about not giving a shit if you get food all over your fingers in a restaurant. While I thoroughly enjoyed everything on my plate, it's safe to say that I'm more a wot fan than I am an alicha fan. Both the chicken and beef wot were smoky, spicy and unexpectedly comforting.
The vegetarian combo was also a home run, offering up smatterings of every vegetarian dish that Mahider has on the menu. Although many of the vegetarian offerings are made of lentils, split peas and cabbage, each dollop has its own party going on. I'm a fan of the gomen, which are spicy collard greens sautéed with onion, and the tikil gomen, tender tossed cabbage. Both of these offered up some textural diversity on a plate that largely consists of puréed legumes.
Speaking of which, I would be remiss if I didn't recommend Mahider for kids of all ages. My 11-month-old daughter was with us, and she was a fan of ater kik, split pea purée cooked with turmeric. I could see kids a bit older than her getting a kick out of a place where you're expected to eat with your hands. Mahider even has a kids' menu for parents who'd like to expand their progeny's culinary repertoire.
For those looking to fully embrace the Ethiopian take on communal eating, consider gathering up a few pals who don't mind getting their hands messy and ordering up the Taste of Mahider ($14.99-$39.99). It's a bounteous platter of just about everything the restaurant serves up, plated on top of three gigantic slices of injera. It's a reasonably affordable meal that allows for a quick international sojourn—at least as far as your taste buds are concerned. Keep in mind that feeding others at your table is an Ethiopian tradition that signifies love and endearment, so don't be afraid to show some affection by stuffing some food in a loved one's mouth.
It's easy to forget that, in addition to food's more boring purpose of providing energy for our bodies, it's also strongly tied to the way our minds process pleasure. There's something unabashedly pleasure-forward about Ethiopian food—the flavors and the interactivity create an experience that allows diners to have fun while experiencing another culture through its cuisine.


AT A GLANCE
Open:
Tuesday-Saturday 11 a.m.-3 p.m.,
5 p.m., 10 p.m.
Best bet:
The meat or veggie combo meals
Can't miss:
The sumptuous Taste of Mahider