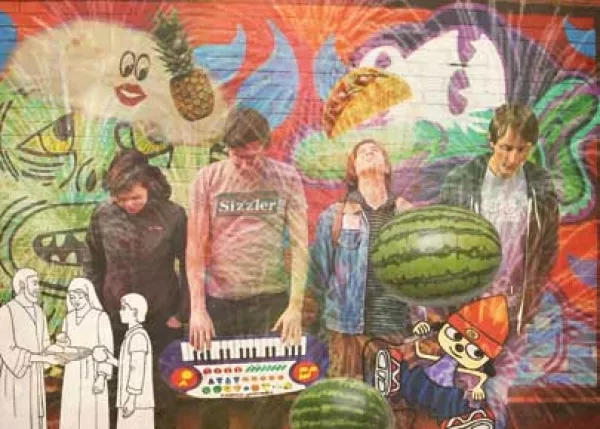 Sparkles, astronauts and pineapples adorn the cover of Hang Time's self-titled debut album and make it clear that this new local band is all about whimsy, fun and the kind of music that you'd want to listen to while dancing around the living room with your friends. To add to the good-times ambiance of the music, Hang Time uses costumes, lasers and a fog machine—"Yoko Ono," which the band has dubbed their "Chief Decision Maker"—at their shows.
The band was started because Will Sartain (guitar, keys, vox) wanted to have more fun in life; he felt his past music had been more introspective and raw. The indie-pop quartet is all about letting the good times roll, and band members have been known to wear such attire as Santa Claus suits and matching Mickey Mouse pajamas.
When it comes to performing, "I think of it more like making a movie," Sartain says. "I think we are actors, in a way. It's more about achieving an experience for the audience that is unique and interesting."
Although kind of a shy guy, Sartain seems to have no reservations while onstage. "Being shy allows me to use performing as a means to exhibit true inner feelings," he says. "It's not nerve-racking because I've played shows for 12 years, since I was a teen."
The surreal, cartoonish artwork on the album cover was designed by Andrew Sato (guitar, keys, vox), who has also done many of the murals and artwork at The Urban Lounge. Sartain says that Sato is a hypercreative genius—"He sees things in ways I've never seen others see things"—and he adds a crucial element to the songwriting.
Hang Time is rounded out by TJ Fitzgerald on bass and Cathy Foy on drums. Many of the members have been performing together for years, and Foy, Sartain, and Fitzgerald were all members of well-known local band Future of the Ghost.
Where Future of the Ghost had a strong beat and was a little more '90s-rock influenced, the synth-pop feel and high-energy vocals of Hang Time make this new enterprise highly danceable. Song titles such as "Awesome/Rad" and "Happy Place" describe the feeling you'll have while listening.
HANG TIME
CD Release Show
w/ Night Sweats CD Release Show
The Urban Lounge
241 S. 500 East
Friday, Jan. 25
9 p.m.
$5, or $10 to receive both albums