Page 2 of 3
LET ME DIE
Debra Williamson met Gary after she took over a nationwide fast-food chain's print work for the western United States in the late 1990s. The divorced mother of four children was earning a six-figure salary to oversee and execute multi-state printing projects; Gary ran a small print shop in Salt Lake City, which the chain used for local work. Matthews recalls that when Gary and Debra started dating in 1998, "there was a light in her. She was so excited, so happy, she would giggle."
After they got married in 2000, they spent their honeymoon on a sailboat they bought in San Diego, then bought a home in Cottonwood Heights. "Gary was so strong, he took care of everybody," Matthews says.
In April 2008, a large cancerous tumor was found in Gary's throat. He had radiation and chemotherapy every day for eight weeks. Williamson signed a waiver and went in with him.
A month into his cancer treatment, Debra says, the fast-food chain asked them both to step down from their employment contracts. As angry as she was, "honestly, I just wanted Gary to live." But Gary was traumatized. "That was his life, he was the printer; it totally crushed him."
Gary's cancer devastated Debra. "She started falling apart," Matthews says. "She was so afraid of losing him." And her mental state deteriorated as Gary got worse. "She couldn't talk without crying," Matthews says. "She was so afraid of him leaving her."
Debra's son, who was living in California and growing marijuana for medical use, told her to give Gary cannabis, but she refused out of fear of the legal consequences if they were caught.
At the start of the second round of chemo, Gary's liver shut down. ER doctors put a stent into his liver and he recuperated enough to go home. But as tumors under his armpits and in his bowels inflicted excruciating pain, all his doctor could do was increase the morphine and Lortab.
"I know the meds were killing him," says Debra, who became drawn to alternative medicine—she says she doesn't even use aspirin—after having a series of mini strokes between 1984 and 2004, and learning that "writing, reading, gardening, anything to get me to a calm place" was the best medicine.
Despite the morphine, Gary's pain became intolerable. "He cried," Debra says. "To watch him buckle down and cry because he couldn't get out of bed …"
She had to flush his liver four times a day, syringing liquid through a tube that went in one side of his stomach. Yellowish, bloody and sometimes black fluid came out a tube the other side. "It was horrible," she says. "On bad days, he'd beg me to just let him die."
DEATH HURTS
In the face of Gary's desperation before the debilitating pain, the couple decided to follow her son's entreaties and try cannabis. When Debra told Gary's doctor, she says, the doctor told her, "It's illegal in this state, I'm not saying anything more."
Gary insisted on going with her to California to get cannabis from her son. If they were pulled over by law enforcement on the return journey, "Gary thought he could tell the officer he had cancer, that he had a port in his heart," she says. In California, she got a prescription for marijuana for Gary from a doctor and "bought as much as they'd let you buy" from a cannabis club.
That night, after smoking marijuana, Gary slept through the night, untroubled by pain, for the first time in eight months. "You couldn't convince me it wasn't the right thing to do, just to watch him sleep," Debra says.
After four nights of smoking, he took his morphine patch off. In less than a week, Debra says, his liver started working again. She was convinced the cannabis would cure her husband. "He had his liver functioning. I thought for a while he would stay strong enough to get rid of the cancer. I honestly believed it to the last day."
Although Debra had bought him a vaporizer to help him inhale the cannabis, the fumes nevertheless hurt his throat. Her son told her to contact a man in Canada who could teach her how to extract the oil from cannabis and turn it into candies.
The process to make the oil is complex and delicate, requiring lengthy cooking times and exact measurements, which in turn require scales. The candy requires 2 grams of oil—too much, and it will heat up of its own accord and melt the candy; too little, and it won't work. She prepared margarita-flavored candies with a sugar & salt coating, and eventually developed a variety of flavors: wild cherry, watermelon, root beer and grape.
She gave her husband a small batch in a jar. They worked in seconds, he told her.
His last night, July 30, 2010, Debra sat behind him on his bed, holding him in her arms. He slipped into a coma and died an hour later, at 8:29 p.m.
Debra says she hates how death is portrayed in the media. "They always show it so glamorous. It hurts, it's ugly, you feel the last breath they take. It's almost like you feel them leaving, this two-second pain window when you can tell that it hurts, then you're relieved because you know it doesn't hurt anymore."
THE DEALER
In the months after Gary's death, Debra clung to his memory. Everything he had in his pockets at the time of his death went into her purse, including his money clip, his lucky 50 cent piece and his wallet with the rolling papers he'd used to smoke cannabis when he first started experimenting with it.
She fulfilled her promise to him to write and self-publish a children's book, which won an award from the Moonbeam Children's Book society. But after the bank foreclosed on their Cottonwood Heights home, she moved to the boat in California and succumbed to depression. "I stopped writing, I stopped giving a shit," she says. "I lost myself. I gave up. I wanted to crawl in a hole and die."
Debra was also buried in debt. Their health insurance had reached its limit a month before Gary died, leaving her $87,000 in debt for his third round of chemotherapy. She tried to hold down a job at a market on weekends selling tomatoes. "The more she stayed on the boat, the more depressed she got," girlfriend Matthews says.
And then, on Oct. 23, 2012, Debra received a desperate call from Mike's son, pleading with her to get candy to him in Utah as fast as possible.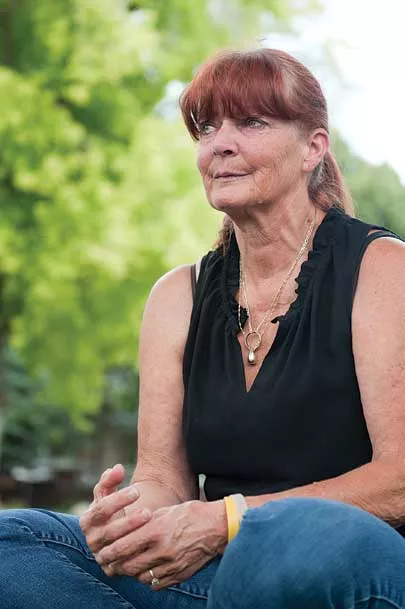 After she was arrested and Beaver sheriff's deputies were going through her car, she stood on the side of the interstate, her flip-flops sliding in the snow, the oldest of her four schnauzers tugging on her leash and crying. In her trunk, Deputy Maycock found cannabis, the candies and digital scales, as well as boxes of small plastic baggies. Debra says there was also laundry, boxes of toothpaste, tinfoil and macadamia nuts—she'd been to Costco several weeks before and had left some of the bulk items in her car. She also had over $1,700 in cash, $600 of which belonged to her son. Looking back, she acknowledges that "it looked bad; could you look anymore criminal?"
The prosecutor and the court both viewed the trunk's contents as incriminating evidence. Christiansen cites the baggies and the digital scales that Debra says she used to measure out the ingredients for the candies "as items commonly associated with dealing."