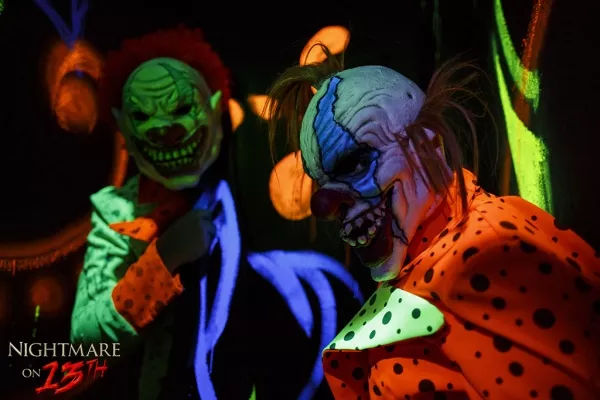 Halloween in Utah has become a celebration of scariness that stretches beyond the month of October, and plenty of local haunted attractions pop up to add to the atmosphere. City Weekly contributors visited just a few of them to provide a firsthand account of what to expect.
Nightmare on 13th
Nightmare on 13th is the haunt for visual connoisseurs—its big-budget, high-tech digital and animatronic effects capture the imaginations of even the youngest, most digitally jaded customers—but many of the spookhouse's best features draw on expert use of traditional, old-fashioned smoke-and-mirror lighting effects. The spinning tunnel—with its exit seemingly floating in midair—is simply mind-blowing, and the yawning chasm was so realistic it could serve as effective terror therapy for acrophobics.
The haunt is divided into three acts: NetherBeast, Cirque du Fear and Zombie Apocalypse. While each has its merits, it's Zombie Apocalypse that features the best-developed narrative. In a world where a zombie virus has infected most of the population, you find yourself dodging not just the undead, but also uninfected military personnel and other terrified still-humans. Matt Bray is fantastic as a rifle-toting redneck protecting his turf, urging you to "move along," and Kevin Mackey is brilliant as the chainsaw-wielding zombie.
Inescapable labyrinths are a haunted-house staple—some more memorable than others—but in Cirque du Fear, Caitlin Jones as the Polka-Dot Girl has a demented laugh that is unforgettable. —Brandon Burt
NIGHTMARE ON 13TH
300 West 1300 South
801-467-8100
$20
NightmareOn13th.com
---
Castle of Chaos
Other haunts may offer high-tech, gee-whiz visuals, but Castle of Chaos is unique—and controversial—in offering the "hands-on horror" experience to its patrons. At the get-go, audience members are asked to choose from a menu including "no-touch," "hands-on" and "X-Scream hands-on" levels of Hands on Horror. The X-Scream hands-on option means actors may not only grab you, but pick you up, manhandle you and actually separate you from your group.
It becomes a truly grim, disorienting and ultimately fantastic experience. Perhaps no other haunt offers such a risky prospect, but rest assured the actors are well-trained—they know how to scare you, but you'll never be in danger. All the human (and inhuman) contact makes for a truly personalized encounter—an emotional, chemical connection with the actors that's truly unforgettable. If you visit only one spookhouse this Halloween season, this should be it.
Ghoulish denizen Jeano Tye is marvelously creepy with his freakishly large knuckles and menacingly intimate half-growl/half-whisper, while Torture Mistress Abbey Hone cannot be disobeyed when she snaps her fingers, points toward the opening of a small tunnel and barks the order, "Crawl!" During the Coffin Slide finale, vampire Garth Ollerton offers a monologue about coffins and death that rivals any morbid Shakespearean soliloquy.—BB
CASTLE OF CHAOS
The Family Center at Taylorsville
5576 S. Redwood Road
801-904-2270
Additional locations in Riverdale (1134 W. Riverdale Road) and Orem (168 E. University Parkway)
$20-$30
CastleofChaos.com
---
Zombie Apocalypse at XSI Factory
While most haunted houses run the gamut of having every creepy/thrilling/terrifying scenario jammed together, XSI Factory at Thanksgiving Point takes a different route. By settling on a single theme of the zombie apocalypse, XSI Factory has turned its (surprisingly large) basketball courts into a pretty great attraction.
There are still riffs on popular horror movies and themes, but zombies are the prominent feature in each of the vignettes throughout. There's a dedicated staff, with people lurking around every possible corner and lots of trick picture frames and fake walls that make for perfect—and frighteningly loud—spots for them to jump out.
The only downside is that it doesn't feel like the location totally committed to the story. Getting to the beginning requires walking through the still-in-use portion of the basketball courts, and it's much brighter than any of the other haunts. Just above the makeshift walls, folded-up basketball hoops and scoreboards are still very visible. The sudden exit into the parking lot and lack of a proper finale is a little jarring, but when the zombies are in full outbreak mode, it's as fun as any. —Trevor Hale
ZOMBIE APOCALYPSE AT XSI FACTORY
4425 N. Thanksgiving Point Way, Lehi
801-768-4000
$20-$40
ZombieUtah.com
---
Fear Factory
One of the most promising new haunts in Utah got off to a rocky start in 2011, but this year, Fear Factory is in full swing. With a naturally creepy location—a retooled abandoned cement factory with its own true history of accidental death—Fear Factory takes up an entire city block, making it one of the longest and most well-planned attractions around. Every possible space is utilized, and the staging is an impressive feat.
With so much ground to cover, there was no way to center on an individual theme, so Fear Factory has a little bit of everything. Making sure that visitors never get too comfortable, the path moves from inside to outside and back again. It also takes advantage of a huge basement and high-rising sections throughout. The set pieces are all greatly detailed, and a lot of thought was put into each. The one drawback: Fear Factory seems a bit understaffed, with long sections of the maze where no one was around.
Fear Factory strives to be a place you can spend all night, including a beer garden, live music and the Last Ride zip line. Not to mention a good place to get scared out of your mind. —TH
FEAR FACTORY
666 W. 800 South
801-363-4061
$20-$35
FearFactorySLC.com
---
More Utah Haunted Houses

Anguish Asylum
1200 Towne Centre Blvd., Provo
801-367-7376
$15
AnguishAsylum.com
Deads End Studios
220 N. Gateway Drive, Providence
DeadsEndYardHaunt.com
Frightmares at Lagoon
375 N. Lagoon Drive, Farmington
801-451-8000
$28.95-$44.95
LagoonPark.com/attractions/frightmares
The Haunted Forest
1015 S. 500 East, American Fork
801-899-5688
$20
HauntedUtah.com/forest.html
Haunted Hollow
1550 S. 1900 West, Ogden
$20
HauntedUtah.com/Hollow.html
Insanity Point at Cornbelly's
3003 N. Thanksgiving Way, Lehi
801-768-2300
$15.95
InsanityPoint.com
Strangling Brothers Haunted Circus
98 E. 13800 South, Draper
$25
StranglingBros.com

This Is the Place Haunted Village
2601 E. Sunnyside Ave., Salt Lake City
801-582-1847
$15
ThisIsThePlace.org/what_to_do/haunted_village.shtml