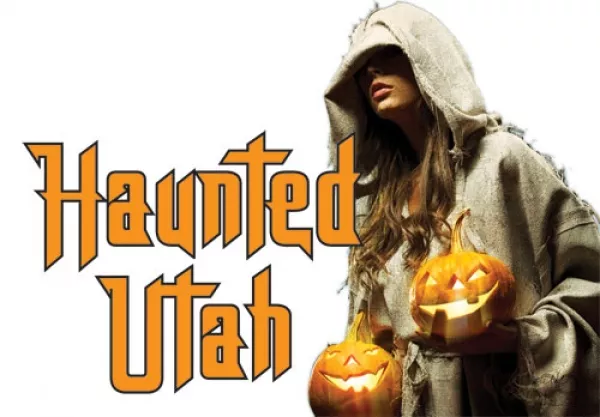 Haunted Houses
By Trevor Hale

October in Utah brings all the makings of a perfect fall—cooler weather, leaves changing color, the undead roaming parking lots with chainsaws. The state has many horror houses to choose from; here are some of your best options for a haunted night on the town.
Nightmare on 13th
For nearly a quarter of a century, Nightmare on 13th has been a staple in the Utah haunted-house scene. The haunt consistently operates like a well-oiled machine—it's smooth, efficient and pretty damned scary.
This season, Nightmare on 13th is showcasing the 13 Levels of Fear, Dark Harvest and Mutant. Each section is seamlessly integrated into the large space that Nightmare on 13th occupies.
With a fairly high budget and intimate knowledge of what works and what doesn't, Nightmare on 13th wastes no time getting right to the show. People lined up outside are constantly pestered by zombies, monsters and ghouls, setting the stage for the night ahead. The inside is reminiscent of a waiting area not unlike Disneyland. There are a few different pre-taped segments playing on a screen behind a large stage. Things drop from the ceiling and drops of water spray at just the right moment to make sure you're not bored as attendants stagger the groups through the main door.
Once you're inside, it's clear that every single dollar of the budget has put to expert use. Everything looks top-notch, from the makeup on the cast to the props to the effects.
The one downside is that it's the most popular, and therefore the busiest. Even with staggered entrances, you're bound to catch up to the group in front of you before too long.
Highlight: The overall atmosphere is the most consistent all the way through. Every area has just enough light to see the extra creepy details, but still dark enough for surprises. It's a tough balance to achieve, but it's done very well.
300 W. 1300 South, Salt Lake City, 801-467-8100, open Monday-Saturday through Nov. 2, see website for times, $20-$35. NightmareOn13th.com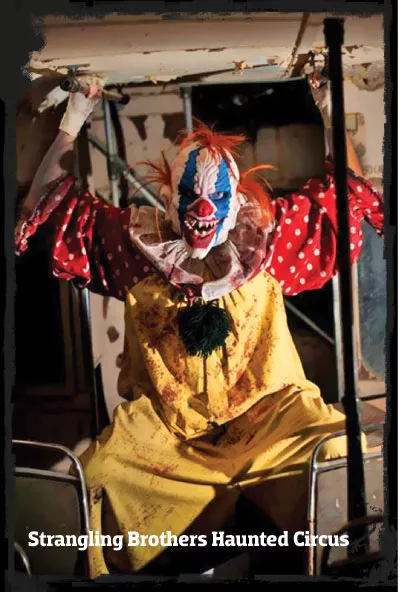 Strangling Brothers Haunted Circus
Strangling Brothers is relatively new, but has already established itself as one of the best haunts in town. The circus-tent waiting area is a nice touch, complete with a large stage near the front of the line. Pre-recorded videos play on a screen in the background, but the main focus for those waiting is a mix of live performances. A demented clown magician and a zombie dance company performing Michael Jackson's "Thriller" make the long wait much more bearable.
The wait is the one downside—but only until you actually get started. They stagger the groups a lot longer than at other haunted houses, but that adds a lot to the experience. The Haunted Circus, housed in more than 20 converted semi-truck trailers, is the perfect mix of indoor and outdoor sets. The claustrophobic nature of confined semi-trailers is immediately offset once you walk into the open areas that are painstakingly made up to take full advantage of the night sky. A steady pace will keep you isolated from the groups in front and behind—and you'll feel even more alone, vulnerable and prone to whatever lurks around the next corner.
Highlight: The animatronics are used to a great advantage, but the creepy, bearded, over-6-feet-tall and (hopefully) chained-to-a-wall giant named Gorliath provided one of the best scares of the night.
98 E. 13900 South, Draper, 801-850-8060, open Monday-Saturday through Nov. 2, see website for times, $25 online, $35 at ticket booth. StranglingBros.com
Castle of Chaos
When Castle of Chaos faced the problem of the closing of the wonderfully run-down and perfect-for-what-they-needed building on 3300 South, the owner simply figured out a new place to go, moved there and kept scaring everyone, without skipping a beat. With three locations, Castle of Chaos shows no signs of slowing down.
The Riverdale location (1134 W. Riverdale Road, Riverdale) features Carnival of Chaos in 3-D, 7 Deadly Sins and the Screamatarium. The Orem location (168 E. University Parkway, Orem) features Carn-Evil in 3-D, Blackwood Estates, Bedlam Hospital for the Criminally Insane and the Phobias Research Center.
The outside atmosphere of the Taylorsville location (5576 S. Redwood Road, Taylorsville) isn't quite the same as other haunts around town, mostly because it's in the middle of a large shopping center. Once inside, though, things take a fantastic turn. There are no pre-recorded videos or performances, but there are plenty of creatures lurking through the lines, priming guests and preparing them for what's to come.
Castle of Chaos in Taylorsville is broken into five separate levels, each with its own theme and execution. Brave visitors can also choose to participate in "hands-on horror," in which you sign a waiver and wear a glowing ring around your neck, giving the cast permission to single you out and grab, pick up or even move you in the name of a scare. There's a very good possibility that you'll be separated from your group entirely and left to wander the haunt alone. The only downside to this haunt is how many areas were maze-like and pitch-black, causing traffic jams of people on more than one occasion.
Highlight: The cast takes particular interest in finding the weakest in each group and singling them out for a prolonged period of time. Very fun to see—unless you're the one they're targeting.
Multiple locations, 801-904-2270, hours vary by location, $20-$30 at ticket booth, $19-$29 online, free VIP upgrade when purchased online. CastleOfChaos.com
Fear Factory
In just its third year, Fear Factory has already staked a claim as one of the best haunts around. Converted from an abandoned cement factory and covering an entire city block, Fear Factory makes use of every asset available to induce a scream; they want you to make a full night out of visiting the haunt.
There's a free "zombie bus" that takes visitors to and from The Gateway parking lot, and the show starts immediately once you're inside the huge iron gate. Lurkers and hidden torture chambers make even the long walk from the front fun. The industrial/steampunk-themed waiting maze is impressively designed. With live music and ghouls lurking about, there's no shortage of entertainment.
Fear Factory's greatest asset also leads to one of its main faults. It's huge, expansive, well laid-out and made up incredibly well, but there were a few stretches inside where no one was around. It seems like no expense was spared in the creation of the sets, but the experience could have used a few more actors.
Highlight: Incredible sets. The production designer does a fantastic job of knowing when to exploit something, how to create an entire environment and when to let the natural creepiness of an abandoned building do its job.

666 W. 800 South, open Monday-Saturday except Oct. 14-16 through Nov. 2, $15-$35, free VIP upgrade when purchased online. FearFactorySLC.com

Frightmares at Lagoon offers several Halloween attractions with different levels of terror, from "not scary at all" to "absolutely too scary for kids." 375 N. Lagoon Drive, Farmington, 801-451-8000, through Oct. 30, times vary by attraction, $29.95-$45.95. LagoonPark.com


Haunted Hollow
has more than 13 acres of outdoor terror with underground dungeons and swamps. 1550 S. 1900 West, Ogden, open Wednesday-Saturday through Oct. 26, also Oct. 28-31, see website for times, $20.
HauntedUtah.com
Haunted Forest
leads you through five acres of haunted woods and the Psycho Manor. Interstate 15, Exit 276, American Fork, open Monday-Saturday through Oct. 31, see website for times, $20.
HauntedUtah.com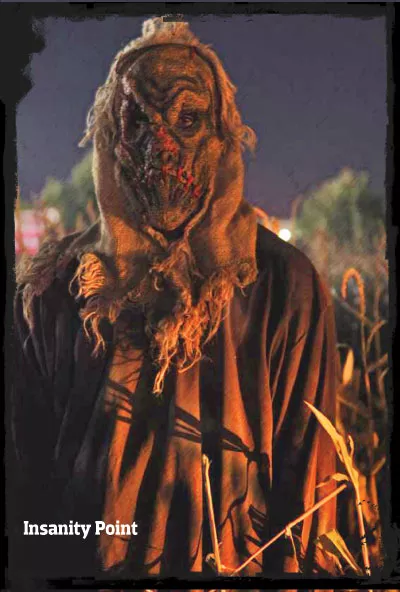 Insanity Point
at Cornbelly's at Thanksgiving Point offers eight scary attractions on various "scream" scales, including Hayloft Horror and the haunted Cornophobia corn maze; some are open only at night while others have less-scary daylight options. 3003 N. Thanksgiving Way, Lehi, 801-768-2300, $15.95.
InsanityPoint.com
Anguish Asylum
offers every terrifying scenario you could dream up, including a jungle featuring "real" snakes and spiders, a funeral parlor, a chainsaw maze, a gas chamber and even the unspoken trauma of, yes, birth. 1200 Towne Center Blvd., Provo, 801-367-7376, $18-$20.
AnguishAsylum.com
Little Witches
By Aimee Cook O'Brien
Whether you and your kids are into witches, zombies, the Grim Reaper or fairy princesses, here are a few options that are less focused on major scares.
Halloween fun began in mid-September at Gardner Village (1100 W. 7800 South, West Jordan, 801-566-8903, GardnerVillage.com). There's a scavenger hunt for kids, and witch-themed vignettes are placed throughout the grounds until the end of October. These larger-than-life witches are typically animated and make for great photo ops. Adults can return for nightly witch-themed dinner theater (prices vary) or for Witches Night Out (Friday & Saturday, Oct. 11, 12, 25 & 26), a free event for women 18 and older (wear your witchiest attire) that features drawings, dancing, food, activities at the Gardner Village shops and a nightly parade.
That fancy witch costume can see more use at the Witches Tea Party at Ogden's Union Station (2501 Wall Ave., Ogden, 801-393-9890, Saturday, Oct. 26, 3-5 p.m., $25 for adults, $15 for children ages 6-12, TheUnionStation.org). Warlocks and witches will gather for a "treat" buffet, witches brew, tea and fun entertainment.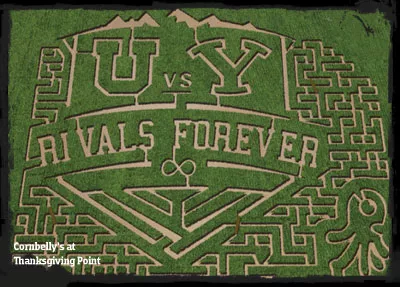 If costumes aren't your family's cup of cider, you might consider spending a day at
Cornbelly's
at Thanksgiving Point (3003 N. Thanksgiving Way, Lehi, 801-768-2300, $8.95-$10.95 for non-scary attractions, ages 3 and up,
Cornbellys.com
). The giant 12-acre corn maze—this year cut in a Utah/BYU theme—is sure to be a hit for the older kids, while the younger kids will enjoy cheering on the pig racing, exploring the pumpkin patches, watching the Singing Chickens & Animal Band, crawling through the wooden "rat" maze, or taking a hayride or tractor ride. The whole family can unite for a pumpkin-sack slide and a rest by the campfire, making s'mores and listening to spooky stories.
Through Oct. 31, Wheeler Farm (6351 S. 900 East, 385-468-1755, $5-$9, WheelerFarm.com) provides a classic fall experience, with a pumpkin patch (one pumpkin is included in admission), a hay maze and wagon rides.
Crazy Corn Maze in West Jordan (8800 S. 4000 West, 801-569-2356, UtahMaze.com) ups the corn-maze ante with true/false trivia. The four-acre pumpkin patch stays open till dusk, at which point you can stay and explore the Haunted Trail, which is three times bigger this year and features live actors providing thrills and laughs.
Elsewhere, the 280-acre Black Island Farms (3178 S. 3000 West, Syracuse, 801-825-6236, $6-$20, BlackIslandFarms.com) will be continuing its 55-year tradition by creating Utah's largest corn maze; this year's has a monster-truck theme. Braver kids and adults can conquer Nightmare Acres, an outdoor haunted experience open only on weekends, while the pumpkin patch, giant straw slide and hayrides delight visitors of all ages all week long.
And if all the scares and fun have made your mind curious about why fear exists, head to The Leonardo (209 E. 500 South, Salt Lake City, 801-531-9800, TheLeonardo.org) for Spooky Science, a month-long exhibit for the whole family that features a "mad science" lab and breathtaking electricity demonstrations and explores the science behind fear through scary stories around a campfire.
Halloween Arts
Experience thrills on the stage and screen
By Scott Renshaw
Plenty of Utahns look to interactive scary experiences in October, but others might prefer to get into the spirit as spectators. Here's a taste of Halloween-themed fare with a more artistic bent.
Through Nov. 2
Off Broadway Theatre: Dracula vs. The Wolfman
Spoofy/spooky fun abounds when newlyweds are lost in a Transylvanian forest, and things get hairy for the groom trying to protect his new bride from Dr. Acula.
272 S. Main, Salt Lake City, 801-355-4628, $10-$16. TheOBT.org
Oct. 11-19
The Hive Theatre Company: Steadman & Walker (Zombie LLC)
Jared Greathouse's world-premiere zombie comedy follows new recruits at a life-insurance company with a nasty secret. Performances run weekends only Oct. 11-19 at Sugar Space Studio for the Arts.
616 E. Wilmington Ave. (2190 South), 801-573-4080, $12. TheHiveTheatre.blogspot.com
Oct. 11-31
Tower Theatre: Tower of Terror
The venerable Salt Lake Film Society venue continues its tradition of late-night weekend (and noon Sunday) fright-fests, this year including Halloween (Oct. 11-13), Dawn of the Dead (Oct. 19-20) and The Rocky Horror Picture Show (Oct. 25-27 & 31). Plus, there's the special X96 Double Dead Feature of Dawn of the Dead and Return of the Living Dead on Oct. 18.
876 E. 900 South, Salt Lake City, 801-321-0310, $5-$15. SaltLakeFilmSociety.org
Oct. 11-Nov. 2
Odyssey Dance: Thriller
Now in its 17th year as a seasonal mainstay, the production tours the state throughout September and October, requiring two complete casts to satisfy audience demand. The show settles into Kingsbury Hall on Oct. 11, featuring high-energy vignettes like "River-of-Blood-Dance," "Jason Jam" and, of course, the titular Michael Jackson classic.
1395 E. Presidents Circle, University of Utah, Salt Lake City, 801-495-3262, $25-$45. OdysseyDance.com
Oct. 23, 8 p.m.
City Weekly Free Movie Night: The Cabin in the Woods
Our own monthly free movie night (21 and over) features the hilariously scary 2012 horror celebration The Cabin in the Woods.
677 S. 200 West, 801-322-3891, free. Brewvies.com
Oct. 23-25
Organ Loft: Phantom of the Opera
Enjoy the classic Lon Chaney silent version with full Wurlitzer pipe-organ accompaniment.
3331 S. Edison St. (145 East), 801-485-9265, children $5, adults $6. OrganLoftSLC.com
Oct. 25-27
SB Dance: Of Meat & Marrow Halloween Show
Stephen Brown and company go darker with a seasonal, for-mature-audiences production, featuring live music by Totem & Taboo. Call ahead to join the cast onstage after the Friday- and Saturday-night performances for an AfterLife AfterParty (extra charge).
Rose Wagner Center, 138 W. 300 South, Salt Lake City, 801-355-2787, $12.50-$27.50. SBDance.com
Oct. 26-Nov. 1
Salty Horror Film Festival
The local showcase for creepy, gory, delightfully monstrous short films and features celebrates its fourth year, running at multiple venues including the Fort Douglas Post Theatre and Brewvies.
SaltyHorrorInternationalFilmFestival.com
Oct. 29, 7 p.m.
Utah Symphony: A Superhero Halloween
Dress up in costume—and perhaps win a prize—for a special performance of thematic music from movies like 1978's Superman, 1989's Batman and 1991's The Rocketeer, plus spooky works like Wagner's "The Ride of the Valkyries.
Abravanel Hall, 123 W. South Temple, 801-533-6683, $6-$14. UtahSymphony.org
Costume Countdown
Combing the local closets for the right disguise and more
By Gavin Sheehan & Rachel Piper
It doesn't matter if your goal is comfort or attention; deciding how to dress up on Halloween is always a challenge. Cori Hoekstra—a former makeup artist at Castle of Chaos, as well as founder of Creature Create—shared her tips on the basics, as well as what both penny-pinchers and big spenders can achieve during the season.
"Don't rely too heavily on carried props to make people 'get' your costume. Otherwise, you'll get tired of holding it [and] showing it to people," Hoekstra says. Not to mention you'll be "shit outta luck if you lose it. If you can't go to the bathroom without assistance, or having to get completely naked, it's way too much."
The easiest creative ideas to achieve are animals, zombies or vampires (gray makeup and anything aged). And you might want to avoid anything that will be recycled from Comic Con, like Poison Ivy or Deadpool.
If you're looking to stand out at a party, the best ways are always the most daring, like the reversed gender of any popular character—a female Han Solo, or male Catwoman. There's also going as someone from a major event or tragedy; Zombie James Gandolfini or a Death Panel Doctor are sure to attract attention and/or piss people off. But if you're looking for something fun that avoids death and politics, try a creative spin on an inanimate object; Hoekstra points to a woman who dressed as Sharknado at Comic Con this year as an example.
If you're not sure what to make but know your budget, here are Hoekstra's suggestions for cheap and pro versions of common makeup effects. We'll see you out there, decked in purple as a male Marie Schrader from Breaking Bad.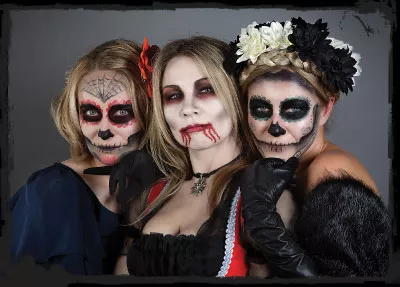 Blood
Cheap: Corn syrup and food coloring
Pro: Ben Nye blood

Scars/Open Wounds
Cheap: Lipstick/black eyeliner/white eyeliner
Pro: Pre-made prosthetics

Scabs
Cheap: Toilet paper and liquid latex
Pro: "Coagulated" blood from Ben Nye

Pale Skin
Cheap: Grocery-store liquid foundation in a lighter skin tone
Pro: Water-based "cake" makeup, usually purchased at a costume shop; and if you need to go green or purple, cake makeup is pretty much the only way to go.

Rotten Teeth
Cheap: Coffee or tea and not brushing
Pro: Tooth paint that looks and brushes on dry teeth like nail polish and brushes off with a toothbrush, by Ben Nye or Mehron.

Hair Coloring
Cheap: Kool-Aid, Jell-O mix or spray paint; dying a (cheap) wig is best—if you have dark hair, it is hard to get bright colors to show.
Pro: Temporary hair dyes from a salon store—and a wig

Where to Get It
With more than 700 locations nationwide, Spirit Halloween (multiple locations, SpiritHalloween.com) has the biggest selection in town, so you can outfit the whole family, including pets. Hard-core costumers will marvel at the huge selection of thematically specific accessories—the website features 13 different pirate hats—and appreciate the chance to order prescription theatrical contact lenses. Those still scratching their heads over which costume to choose can find a huge variety of pre-made outfits, group costumes and basic yet scarily specific themes, from evil clowns to flappers.

If you're in a Halloween state of mind all year, you can stop by Spoox Boutique (3453 S. State, Salt Lake City, 801-867-2777) to grab a last few accessories for that costume you've been working on since December and browse the year-round horror shop's selection of creepy-themed décor and gift items. After all, one couldn't be a proper Halloween party host without serving booze from a skull-shaped decanter and displaying disturbing local art on the walls.

Mask Costumes doesn't stop at Halloween; you can get outfitted for upcoming renaissance faires, masquerade balls and self-produced plays here, too. The store's two locations (718 E. 3900 South, Salt Lake City, 801-268-8466; 1826 W. 5400 South, Taylorsville, 801-828-3484, MaskCostumes.com) offer costume kits and inexpensive wigs to purchase. Costume perfectionists can find high-quality, customizable wigs, as well as costume rentals and professional-grade makeup, adhesives and tools; you can even hire a makeup professional to teach you how to be authentically gory or historically harlot-y.

For the DIY-er, it doesn't get better than Pib's Exchange (1147 E. Ashton Ave. [2310 South], Salt Lake City, 801-484-7996, PibsExchangeOnline.com), where you can mix and match from the selection of vintage and current styles of clothing, shoes and accessories to create a subtle or ironic costume, or go full-bore with men's and women's costumes available for purchase.

While "sexy" costumes have become the norm even at Walmart, anyone who wants to be truly sexy on Halloween (or any time of year) should stop at Blue Boutique (multiple locations, BlueBoutique.com), which takes standard schoolgirl and French maid costumes to the next level of eyebrow-raising naughtiness. It's also the place to stock up on false eyelashes and sexy masks so that your Halloween role-play can continue through the holiday season.